Germany Wagner, Die Meistersinger von Nürnberg: Bayerisches Staatsorchester, Chorus, Kirill Petrenko (conductor), Nationaltheater, Munich, 26.5.2016. (JMI)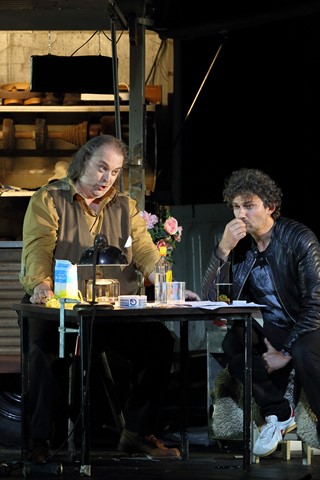 Wagner, Die Meistersinger
Production:
Direction: David Bösch
Sets: Patrick Bannwart
Costumes: Meentje Nielsen
Lighting: Michael Bauer
Videos: Falko Herold
Cast:
Hans Sachs: Wolfgang Koch
Walther: Jonas Kaufmann
Beckmesser: Markus Eiche
Eva: Sara Jakubiak
David: Benjamin Bruns
Pogner: Christof Fischesser
Magdalene: Okka Von Der Damerau
Fritz Kothner: Eike Wilm Schulte
Kunz Vogelgesang: Kevin Conners
Konrad Nachtigall: Christian Rieger
Balthasar Zorn: Ulrich Ress
Ulrich Eisslinger: Stefan Heibach
Augustin Moser: Thorsten Scharnke
Hermann Oertel: Friedemann Röhling
Hans Schwarz: Peter Lobert
Hans Foltz: Christoph Stephinger
Nachwächter: Tareq Nazmi
The Bayerische Staatsoper has mounted a new production that replaces the one by Thomas Langhoff, traditionally used to close the July Festival. This new staging is by David Bösch, whose works ̶ well known in Munich  ̶ include L'elisir d'amore, Mitridate, re di Ponto and, more recently, Monteverdi's L'Orfeo.
David Bösch brings the action to modern times, turning the Feast of St. John into something like Munich's Oktoberfest. I've often referred to time transpositions and the need for them to be done intelligently. David Bösch does it satisfactorily here, although his production is not very friendly toward the projection of voices: the stage is very open, especially in Act I where a great feast is being prepared outdoors. The opening scene in the church is placed outside, with a procession in the religious song. A beer truck on one side and a platform for the singing contest complete the set.
In the second act we are at a crossroad with apartment houses, and Hans Sachs parks his caravan there to sell his shoes. Beckmesser appears and sings to Eva from a lighted cherry picker, which is quite funny. In the first scene of Act III we are back in the same location, now with Beckmesser in a wheelchair. The meadow scene is resolved nicely, with the public located in metal scaffolding at the sides of the stage, but there are two drawbacks. On the one hand, the stage is rather dark, which does not seem a sensible idea for St. John's day. On the other, Bösch adds a personal touch by having Walther refuse definitively the appointment of Master, take his belongings and Eva, and leave the stage.
The costumes are well-suited to the setting. Walther is a young singer in a leather jacket, while the guilds are in Bavarian clothes. The lighting is effective, and the final scene features some amusing videos. The stage direction is excellent and perfectly defines all the characters; the performances by Walther, Beckmesser and Hans Sachs are particularly notable. All in all, it is a production that follows the libretto and is fun: we shouldn't forget that Meistersinger is not a drama.
There is no question that Kirill Petrenko's arrival in Munich has given this city another dimension in the world of opera, and it is now almost a must to come here. His conducting was magnificent, spectacular throughout the opera, but if I had to stay with a single passage it would be the short prelude to Act III, which I found truly miraculous. A few months ago I enjoyed Meistersinger in Berlin under the direction of Daniel Barenboim. Comparisons are odious, but I prefer Mr. Petrenko's reading. This conductor possesses a rare virtue, shared with another great conductor, Pierre Boulez, whose Parsifal was the fastest I've ever experienced. The same applies to Kirill Petrenko, in both the Ring and Meistersinger. Suffice it to say that his version of Meistersinger was eighteen minutes faster than Barenboim's in Berlin. Under Petrenko's baton the orchestra offered an amazing sound, at the level of the best orchestras in the world. Something similar can be said of the chorus, which is always bright and was superb in the meadow scene.
Having Wolfgang Koch as Hans Sachs is a luxury, as he has proved so many times in the past. Only outstanding singers can take on this part and survive, and Koch was a great Hans Sachs, powerful and moving at the same time.
Perhaps the biggest attraction of the performance was Jonas Kaufmann, who made his debut in the character of Walther von Stolzing. I cannot say that his performance was disappointing, but it was not up to my expectations. Kaufmann can have problems projecting his voice, and that happened here with the wide open stage in Act I. During the first two acts Mr. Kaufmann's voice did not impress, although his stage performance was always outstanding. Things improved dramatically in the last act, especially in the meadow scene where the stage was not so open; Kaufmann was excellent in the singing contest.
Markus Eiche was impressive in the part of Beckmesser. He is a better singer than many others who frequent the character, although he might not be as amusing as some of them. In any case, he made a remarkable Beckmesser.
American soprano Sara Jakubiak was correct as Eva, without any special glow. Tenor Benjamin Bruns in the part of the sympathetic David gave a strong performance, and mezzo-soprano Okka Von Der Damerau as Magdalene was good too. Bass Christof Fischesser was well suited to the part of Pogner, although I missed some amplitude in his voice. I should also mention the presence of veteran Eike Wilm Schulte in the part of Fritz Kothner, who was for so many years a reference as Beckmesser and still retains a fresh voice. Finally, the rest of Mastersingers were well cast and this leaves Tareq Nazmi as the Night Watchman who was somewhat short of power.
The audience showed their satisfaction with great enthusiasm and some sixteen minutes of ovations and cheers, especially for Kirill Petrenko and Wolfgang Koch. Jonas Kaufmann and Markus Eiche were also well received.
José M. Irurzun