United Kingdom Tchaikovsky, Swan Lake: Soloists and Artists of The Australian Ballet, English National Opera Orchestra / Nicolette Fraillon (conductor), London Coliseum, London, 14.7.2016. (JPr)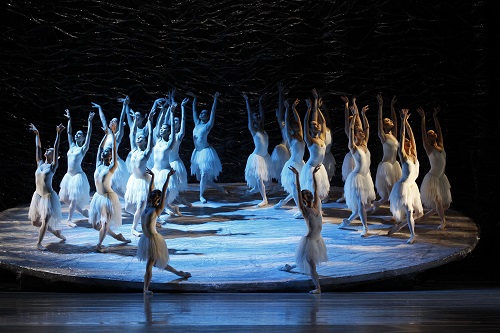 Production:
Choreography: Graeme Murphy
Concept: Graeme Murphy, Janet Vernon & Kristian Fredrikson
Creative Associate: Janet Vernon
Set & Costume Design: Kristian Fredrikson
Original Lighting: Damien Cooper (reproduced by Graham Silver)
Principal Dancers:
Leanne Stojmenov (Odette)
Kevin Jackson (Prince Siegfried)
Ako Kondo (Baroness von Rothbart)
Before entering the auditorium at the London Coilseum I sat down next to someone who has obviously known Swan Lake for as many decades as I have – but is not clearly as open-minded as me – and heard them say: 'I wish people wouldn't mess around with these ballets. People like them as they are.' Their companion said that at least it was Tchaikovsky's music. Indeed, it was but it would prove not to be the version of the score they could recognise. Not to waste words, this was the 200th performance of The Australian Ballet's revisionist Swan Lake which is more about Diana, Charles and Camilla than swans. For such a simple premise it was all much too long. I appreciate how successful this Swan Lake has been for the company which has toured it far and wide since 2002 but surely someone could have suggested how much better it would have been if cut by around 30 minutes? Indeed, the Baroness (more about her later) has a jealously-riven solo in Act III (to music for the Russian Dance!) that could be one of the longest in the history of classical ballet.
As Act I went on the voice of a young child was heard close to me asking 'When will we see the swans?'. It was 80 minutes and more into the evening before we saw the 'swans' but this version of the ballet by Graeme Murphy, Janet Vernon and Kristian Fredrikson isn't about them but just three characters; one emotionally conflicted (Prince Siegfried), one emotionally fragile (Odette) and one predatory and extremely jealous (Baroness von Rothbart). Their psychodrama is shoehorned into the traditional story. There is no Odile and part of her Black Swan persona is incorporated into Odette. We do see her multiple fouettés to more or less the proper music but here it is a depiction of her character's despair and mental turmoil. Tchaikovsky's music – as he might have recognised it – has been scrambled with familiar passages occurring or reoccurring at whim throughout the evening. For instance, its leitmotif (Tchaikovsky knew Wagner's music) is the 'Swan Theme' which calls to mind the swans (of course) – as well as their mystery and their fate – and we hear this again and again, whether relevant to the action or not. Sometimes the dancing and acting fitted what we heard, sometimes it didn't seem to.
Diana famously said on the BBC's Panorama 'Well, there were three of us in this marriage, so it was a bit crowded'. Of course, Diana, Charles and Camilla do not have those names here but become Odette, Prince Siegfried and the Baroness. Graeme Murphy's neoclassical choreography includes several pas de trois for the three leads clearly illustrating Diana's famous words; there are also a number of mournful or raging solos, quasi-romantic duets, and ensemble moments for the guests at the wedding or the subsequent party. Apart from the swans – white at first and later black – that is all we see spread thinly over nearly three hours (including intervals). (The biggest audience response was for the Cygnets' Dance which was fairly traditional and had been recognised as some of the Swan Lake they had grown up loving.)
There is an Edwardian – and clearly touring-friendly – setting though it is never entirely clear when or where it is supposed to be … or often who anyone else is apart from the leading three characters. The Royal Physician and some nuns are recurring non-dancing figures and there is also 'The Queen' who doesn't seem to resemble anyone we know but takes an immediate dislike to Odette hinting that she is not good enough to marry her son. The length of the train on Odette's wedding dress certainly confirms the memories of Diana which are fading as the years pass. There is some use of that train in a La Bayadère sort of way but it does also hinder the dancers' movement at times. Don't get me wrong the British Royal family are not lampooned in any way and there is no over-elaborate obeisance or corgis. The important action (such as is) occurs in a sanatorium where the psychotic Odette is being looked after by nuns and everything else we see is played out in her mind as she dreams of ballet (a particular interest of Diana) and swans. Odette does rather better than Diana and in the end reclaims the Prince's love but – as for her – there is to be no happy ending. Odette attempted to drown herself in the very helpful lake seen at the back of the stage during the Act I festivities and eventually succeeds in Act IV. The ending was very fine – an atmospheric and dramatically compelling denouement – as the Prince spurns the Baroness and commits himself to Odette, but she succumbs to a mind in disarray and appears to be sucked into the lake.
Adding the swans to the love triangle is where the production makes least sense. I accept the idea of the heroine retreating into her distorted world of ballet and swans when real life is too much for her, but the actual swans seem entirely incidental to this retelling of Swan Lake. Graeme Murphy's otherworldly swans are given a touch of the dead-before-their-wedding-night Wilis of Giselle and this is probably intentional. Anyway, Odette's 'mad scene' with her fouettés that pre-empt her banishment to the sanatorium is almost a pastiche of what Giselle goes through when she finds Albrecht has deceived her.
I saw the second cast led by Leanne Stojmenov (Odette), Kevin Jackson (Prince Siegfried) and Ako Kondo (Baroness von Rothbart) and they were all as effective as the choreography would allow. None of them get the chance – fouettés notwithstanding –  to display much true classical technique. There are few bravura steps for the men and even though the women dance en pointe they often have their arms folded in to display their inhibitions. There is little opportunity for eloquent sustained phrasing despite the emotional intensity to much of the movement.
As I mentioned this Swan Lake has toured the world since 2002 and subsequent to its first appearance in London in 2005 it has been seen internationally in Paris, New York, Los Angeles, Tokyo, Beijing and Shanghai. I know how important this production is to The Australian Ballet but for me some of the dancers (whether principals or corps de ballet) looked as if they wanted something different to dance in sooner rather than later. I've mentioned the compelling ending but have not yet written how the opera begins. The prelude shows Odette (on her wedding night?) wandering a presumed palace and catching the Prince with the Baroness. This is supposedly an erotic, sexual encounter – and I know there is only so much that can be shown with children watching – but at least Kevin Jackson and Ako Kondo could have looked as though they were enjoying their acrobatics. After this there was a similar hint of the routine which permeated the whole performance and this was a pity.
Shame the English National Ballet Philharmonic were not available and this was the Orchestra of the English National Opera who sounded occasionally unfamiliar with the music, though they played better as the evening progressed under the baton of The Australian Ballet's music director and chief conductor, Nicolette Fraillon. She did her best with a score which lacks some coherence and has jarring changes of tempo. Probably much too late now, but with judicious editing what genuinely works in this Swan Lake would be even better. Having cashed in on the Diana story in 2002; in 2016 it doesn't now seem to do her, Tchaikovsky's score (as cut and reordered) or the dramatic heart of Swan Lake true justice.
Jim Pritchard
For more about The Australian Ballet's visit to the London Coliseum visit https://www.eno.org/whats-on/.