Argentina Puccini, Manon Lescaut: Soloists, Chorus and Orchestra of Buenos Aires Lírica / Mario Perusso (conductor). Teatro Avenida, Buenos Aires. 14.10.2016. (JSJ)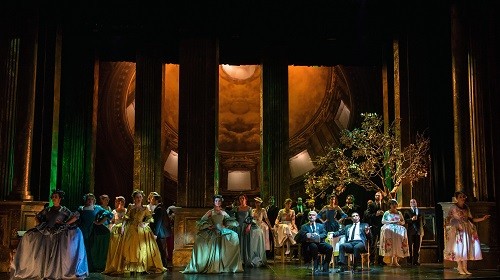 Cast:
Manon Lescaut – Macarena Valenzuela
Des Grieux – Eric Herrero
Lescaut – Ernesto Bauer
Geronte – Norberto Marcos
Edmondo/Lamplighter/Ballet master – Iván Maier
Singer – Trinidad Goyeneche / Guadalupe Maiorino
Innkeeper/Sergeant/Captain – Enzo Romano
Production:
Director – André Heller-Lopes
Sets – Daniela Taiana
Costumes – Sofía Di Nunzio
Lighting – Gonzalo Córdova
Chorus – Juan Casasbellas
Four out of four – at least for the official season – for Buenos Aires Lírica (with one more, a 'surprise' production, to come) in 2016! That is, works that haven't been put on much or at all locally in recent years – potentially setting a record and a very welcome change from the regular Carmens and Traviatas that appear …
And contrary to prevailing wisdom it doesn't seem that the absence of these regulars is denting attendance, if the enthusiastic and supportive audiences are anything to go by.
Manon Lescaut, this fourth production, is Puccini's third opera and the one that brought him his first success. Based on the 1731 novel by the Abbé Prévost on the 'history of Des Grieux and Manon Lescaut', it contains all the elements of love and tragedy that mark and found greater dramatic and stylistic refinement in the composer's later works.
In a commentary in the hand programme entitled 'the riddle/puzzle of the dream', Brazilian director André Heller-Lopes asserts to "place Manon in the universe of memory and dreams", i.e. of Des Grieux, with his desk in a corner as a constant presence. The plush scenery, with a dome and pillars, also is a constant, although more appropriate for the second act indoor scene than the other outdoor ones. Likewise, the equally stylish dress showed inconsistencies in seemingly being of different eras for the men than for the women.
Veteran conductor Mario Perusso ably led a reduced orchestra and particularly notable was the well know Intermezzo, marking the journey from Paris to Le Havre.
Chilean soprano Macarena Valenzuela was a convincing Manon, finding her best expression in the later acts. Brazilian tenor Eric Herrero as Des Grieux looked the part but wasn't at his best in the highs.
The best characters of the evening were Ernesto Bauer as a smooth Lescaut, Manon's brother – but why his presence in Manon's bed in Act 2, more suggestive of Lucrezia Borgia? – and the appropriately bearing elderly, wealthy Geronte of Norberto Marcos. The other roles were well filled by Iván Maier, Enzo Romano and Trinidad Goyeneche.
The chorus has a lot to do in this work and was on form, although with a tendency to be too loud and to overshadow soloists singing alongside.
Jonathan Spencer Jones