United States Mozart – Idomeneo:  Soloists, Chorus and Orchestra of the Metropolitan Opera, New York / James Levine (conductor). Broadcast live to the Komedia Cinema, Brighton, from the Metropolitan Opera, New York, 25.3.2017. (RB)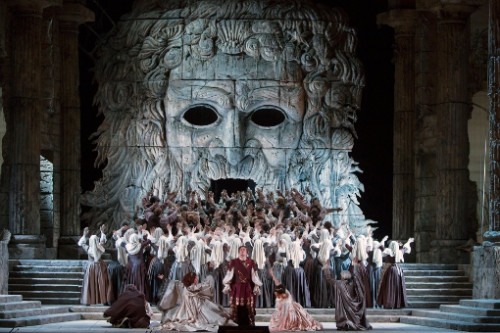 Cast:
Ilia – Nadine Sierra
Elettra – Elza van den Heever
Idamante – Alice Coote
Idomeneo – Matthew Polenzani
Arbace – Alan Opie
Production:
Production – Jean-Pierre Ponnelle
Set & Costume Designer – Jean-Pierre Ponnelle
Lighting Designer – Gil Wechsler
Live in HD Director – Barbara Willis Sweete
Live in HD Host – Eric Owens
Jean-Pierre Ponnelle's production of Idomeneo was first staged in 1982 when Luciano Pavarotti sang the title role and James Levine was the conductor.  Levine has remained a champion of this opera and, undeterred by recent health problems, he was back 35 years after the first performance offering fresh insights and perspectives on the score. For me Mozart's Da Ponte operas are among the greatest pieces of music ever written but they are very different from Idomeneo which is an early opera seria.  I must confess that I have always admired rather than liked this work and on the few occasions when I have listened to it I have found it rather patchy and overly formal.  It lacks the wealth of invention and emotional depth and richness of Mozart's later operas.  I was intrigued to see if Levine and his new band of singers and instrumentalists could change my mind.
The opera is set immediately after the Trojan War and Idomeneo, the King of Crete, is making his way back home by sea.  His fleet gets caught in a storm and he offers  to sacrifice the first man he comes across on land if Neptune will save him and his men.  Neptune duly intervenes and saves them but Idomeneo is then placed on the horns of a dilemma as the first man he comes across on land is his son, Idamante.  Mozart inserts a love triangle into the plot as the captive Trojan Princess, Ilia, and the Princess of Argos, Elettra are both in love with Idamante.  Idamante only has eyes for Ilia but the two of them must contend with the jealous rages of the unhinged Elettra.  Idomeneo attempts to get out of his deal with Neptune by sending Idamante away with Elettra but Neptune intervenes, sending a sea monster to terrorise the local population.  Idomeneo is forced to confess what has happened and is prepared to sacrifice his son when Neptune relents, declaring that he will be satisfied if Idomeneo yields his throne to Idamante and Ilia.  Idomeneo willingly complies and the opera ends with the lovers happily united.
Ponnelle's set consisted of semi-circular steps leading up to a relatively open stage with enormous Grecian pillars on either side.  A huge sculpture of Neptune's head with a vast gaping mouth and thick tousled hair dominated the background.  At various points screens were lowered to depict scene changes and the cast wore traditional Classical costumes.  Elletra's costume was particularly striking:  she wore a dark pannier dress with an intricate design together with an eye-catching necklace and tiara all of which made her an imposing figure on stage.  I remember seeing the same production many years ago and it has more than withstood the test of time by continuing to make the opera relevant and accessible to modern audiences.
Matthew Polenzani gave a fine portrayal of the conflicted Idomeneo radiating regal authority while at the same time conveying the very real alarm and anguish of the character.  His voice has a wonderful tonal lustre and he brought a rich lyricism to Mozart's vocal writing.  He did a reasonably good job with the demanding Act II aria 'Fuor del mar' although the coloratura were a little stiff and could have been delineated more cleanly and evenly.  The stand out performance of the evening was that of Elza van den Heever in the role of the deranged Elettra.  I last saw van den Heever in the role of Ellen Orford in the English National Opera's production of Peter Grimes.  She was superb in the role of Ellen and equally good here in the very different role of Elletra.  Van den Heever produces a very clear focused sound and she brought a wealth of colour and enormous technical control to the role.  She brought vocal power and high drama to her Act I aria when she summoned up the furies and she brought home the very unstable nature of the character by making sharp angular movements with her body.  She sang her Act II aria 'Idol mio' with an ethereal delicacy and the unreal romantic fantasies and projections she created foreshadowed Mozart's Così fan tutte.  Her final aria in Act III was a real show stopper and culminated with van den Heever lying twitching on the stage (a nice touch!)
Alice Coote has become something of a specialist in trouser roles and she gave a fine portrayal of the love struck and heroic Idamante.  She projected the maleness of the character in a very natural, nuanced way and her relationship with Nadine Sierra's Ilia was very believable.  I liked the rich colours of Coote's lower vocal register and the richness and flexibility she brought to Mozart's vocal writing.  Occasionally, I would have liked a brighter sound in the upper vocal register although overall this was a very polished and accomplished performance.  Nadine Sierra captured the dignified and principled qualities of the adoring Ilia to perfection.  Her Act I aria 'Padre, germani, addio' was technically assured although I would have liked a wider range of colour and a greater flexibility and expressiveness to reflect better the character's state of mind.  Her arias in Act II and III were better and showcased her bright lyrical soprano voice – she was particularly impressive in 'Se il padre perdei'.
James Levine showed that conducting from a motorised wheelchair is no barrier to producing an absolutely outstanding performance.  The Overture had a muscularity and rhythmic zest which was very arresting while the ornamentation was executed with cut glass refinement.  Levine highlighted key features of the score in new and invigorating ways throughout the evening, including the edgy way in which woodwind and strings reflected Elletra's mental instability in her Act I aria; the dark elemental power of the opera's storm scenes with their Romantic colouring; and the ingenuity of Mozart's writing in the ensemble scenes.  The Met Orchestra were clearly firing on all cylinders throughout the performance while the Met Chorus dispatched the crowd numbers with vocal authority.
Levine's conducting helped me to see Idomeneo in a new way although I continue to have reservations about the work and I doubt if it will ever be one of my favourite Mozart operas.  Overall, there was much to enjoy in this performance with the plaudits going to Levine and van den Heever.
Robert Beattie