Argentina Vivaldi: Venice Baroque Orchestra, Romina Basso (mezzo soprano), Mozarteum Argentino at Teatro Colón, Buenos Aires, 8.5.2017. (JSJ)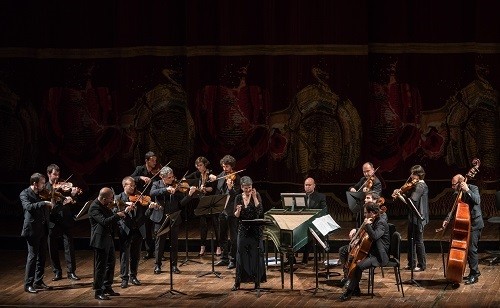 Vivaldi – Sinfonía for Strings in G major (RV 146); 'In si torbida procela' (Bajazet RV 703); Concerto for Strings in G minor (RV 157); 'Gelido in ogni vena' (Farnace RV 711); Concerto for 2 Violins in G major (RV 516); 'Rompo i ceppi' (Orlando Furioso RV 728); Concerto for Piccolo in C major (RV 443)|; 'Cor mio che prigion sei' (Atenaide RV 702); 'Vedrò con mio diletto' (Giustino, RV 717); Concerto for 2 Cellos in G minor (RV 531); 'Se lento ancora il fulmine' (Argippo RV 697)
For what for this reviewer at least was one of the most awaited concerts of 2017, Mozarteum Argentino – once again at the forefront of bringing the cream of singers to Buenos Aires – put on for its second concert of the year an all Vivaldi programme with the Venice Baroque Orchestra and mezzo Romina Basso.
This appearance is as far as I know, a first for both in Buenos Aires and gave local audiences an opportunity to hear some rarely performed works in the city by some experts in their art.
The Venice Baroque Orchestra, which was founded by Andrea Marcon, is a 14-strong group comprised of eight violins, two violas, two cellos, double bass and harpsichord. The programme, presented identically on two evenings, was wide ranging and in addition to the Sinfonia and Concerto for the whole group, included works that highlighted the playing of individuals.
All of these are in three movements of a fast-slow-fast form but none are long, and all were outstandingly performed. Especially the piccolo concerto played by first violinist Anna Fusek with her astonishing breath control and dexterity of the fingers was well received.
Romina Basso's reputation far precedes her for Vivaldi lovers and she well lived up to this, with an appropriately chosen selection of works, some if not all of which one might have seen or heard in a recording. However, to hear them live is another experience and her warm and honeyed and articulate tones were all one could wish for whether in the sorrow of 'Gelido in ogni vena' or the apparently effortless fury of 'Rompo i ceppi'.
The one surprising note in this outstanding evening was Handel's 'Lascia ch'io pianga' from Rinaldo as the encore. Although exquisitely sung with a particularly rapt audience, it nevertheless felt somewhat out of place from the Vivaldi atmosphere.
Jonathan Spencer Jones