United Kingdom Puccini, La bohème: Scottish Opera / Stuart Stratford (conductor), Edinburgh Festival Theatre, 31.5.2017. (SRT)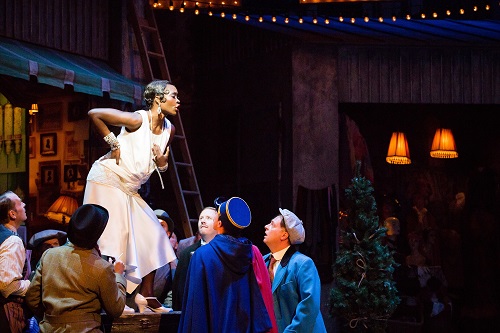 Cast:
Marcello – David Stout
Rodolfo – Luis Gomes
Colline – Damien Pass
Schaunard – Božidar Smiljanić
Mimì – Hye-Youn Lee
Musetta – Jeanine De Bique
Production:
Director – Renaud Doucet
Designer – André Barbé
Lighting – Guy Simard
Scottish Opera's 2010 production of La bohème, set in contemporary New York, was a total stinker, so they wisely chose not to revive it, and instead they replace it with this new one by their trusted pairing of Doucet and Barbé who were also responsible for their Manon and Don Pasquale, successes from previous seasons.
They set Puccini's opera in the Paris of the 1920s, a key moment in the city's history and in our Romantic reimagination of it.  In this setting the Bohemians are members of the artistic set that Gertrude Stein dubbed 'The Lost Generation' and Musetta takes on the persona of Josephine Baker. The same set serves for all four acts, but it's adaptable and each scene is characterised with distinctive individuality.
It works well to see in Puccini's artistic heroes the same preoccupations that affected the likes of Hemingway, Joyce and Beckett, but they almost throw it away with a bizarre and totally expendable framing device where we open in the 21st century flea market of Saint Ouen.  We see an ill lady entranced by the objects she finds there and using them to imagine the lost world of Rodolfo and Marcello, through which she decides to give in to her fantasies and to become Mimì in the opera itself.  It's a bit too clever by half, and feels flabby.  They'd do well to cut the whole notion before any revivals.
The young singing cast mostly acquit themselves well, except for a rather grey-voiced Luis Gomes as Rodolfo who, though he warms up for his ensembles in the second half, misses all the high impact moments in Act I.  The others are better, led by David Stout as a bluff Marcello, and Damien Pass sings a very moving raincoat aria as Colline.  Hye-Youn Lee has already proven her Puccinian credentials as an excellent Madam Butterfly, and she showed every facet of Mimì very successfully, glorious in the third act farewell, and very moving in her death scene.  However, the show is comprehensively stolen by Jeanine De Bique, whose sultry, smoky Musetta is a delight to watch as well as a treat for the ear.  She is one to watch.
The orchestra, too, were on fine form for their music director, and it's a credit to Stuart Stratford that he has chosen to conduct so much of the season himself.  The orchestra play well for him, with impressive precision in the tricky openings of each act, though Stratford hurries unaccountably through the lovely passage that accompanies Rodolfo watching the sleeping Mimi in Act IV.  Still, there's progress there where previously there was little, and I'm looking forward to seeing more of how the company develops under Stratford's leadership.
Simon Thompson
Booking is currently open for Scottish Opera's 2017-18 season.  For full details click here.