United States Various composers, BalletNOW: Principals, soloists and corps de ballet of New York City Ballet, The Royal Ballet, TV's So You Think You Can Dance, Dorrance Dance, American Ballet Theatre, Paris Opera Ballet and Miami City Ballet / Grant Gershon (conductor), Dorothy Chandler Pavilion, Los Angeles, 28.7.2017. (JRo)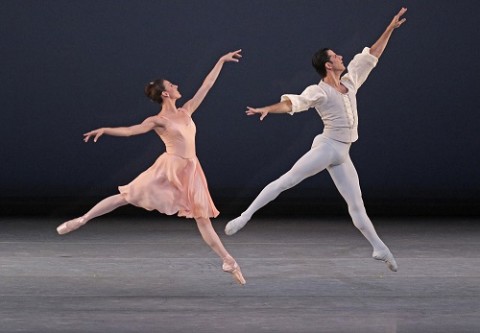 1•2•3•4•5•6
Dancers – Michelle Dorrance, Virgil 'Lil O' Gadson, Tiler Peck, Byron Tittle
Improvography – by the artists, developed by Michelle Dorrance and Damian Woetzel
Music – based on a rhythm by Steve Reich
Chutes and Ladders
Dancers – Jeanette Delgado and Kleber Rebello
Choreography – Justin Peck
Music – Benjamin Britten
Lighting Design – Brandon Stirling Baker
Pas de deux from Romeo and Juliet
Dancers – Isabella Boylston and James Whiteside
Choreography – Kenneth MacMillan
Music – Sergei Prokofiev
Lighting Design – Mark Stanley
Pas de deux from After the Rain
Dancers – Reece Clarke and Lauren Cuthbertson
Choreography – Christopher Wheeldon
Music – Arvo Pärt
Lighting Design – Mark Stanley
Allegro Brillante
Dancers – Tiler Peck, Marcelo Gomes, Preston Chamblee, Harrison Coll, Rachel Hutsell, Lauren King, Claire Kretzschmar, Lars Nelson, Taylor Stanley, Indiana Woodward
Choreography – George Balanchine
Music – Pyotr Ilyich Tchaikovsky
Piano soloist – Bryan Pezzone
Lighting Design – Jean Rosenthal
Fancy Free
Dancers – Marcelo Gomes, Cory Stearns, Daniel Ulbricht, Jeanette Delgado, Tiler Peck, Claire Kretzschmar
Choreography – Jerome Robbins
Music – Leonard Bernstein
Set Design – Oliver Smith
Costume Design – Kermit Love
Lighting Design – Ronald Bates
Commissioned by the Music Center of Los Angeles, curated by Tiler Peck, the virtuoso New York City Ballet ballerina, and performed by stars from major ballet companies, BalletNOW was a successful and satisfying evening of dance. With intelligence and showmanship, Peck created a program that raised the spirits and nourished the soul.
It's a tough formula to include principals and soloists from different companies with different stylistic approaches to ballet, but the result was surprisingly coherent. For example, ABT's versatile and charismatic Marcelo Gomes, who has often performed Balanchine ballets, blended seamlessly into the choreographer's Allegro Brillante, partnering the effervescent Peck and dancing with members of the NYCB corps.
Los Angeles audiences haven't seen NYCB artists perform here for 13 years, so that alone was a compelling reason to attend the performance. Allegro Brillante, as Balanchine famously said, is 'everything I know about classical ballet in thirteen minutes'. Peck is a wonderfully musical performer who combines impeccable technique with fire and suppleness, and the ballet showed off her gifts as well as those of her fellow dancers.
Another clever choice for the evening was Jerome Robbins's delightful Fancy Free, created in 1944 for Ballet Theatre, an earlier incarnation of American Ballet Theatre. A narrative of three wartime sailors on leave in Manhattan, this iconic dance was the inspiration for Leonard Bernstein's On the Town. The perpetual surprise of this ballet is that while specific to the 1940s, it transcends time to become a knowing character study of the individual sailors, the girls they fancy and the city itself. Add to that the brilliant Oliver Smith set and the jazzy Bernstein score, and it's no wonder the work continues to enchant audiences.
Conducting an orchestra of largely LA Opera musicians, Grant Gershon captured the freshness and vitality of the score. As the three sailors, Marcelo Gomes was a marvel of grace and sharp comedic timing; Cory Stearns of ABT was at once innocent and romantic; and Daniel Ulbricht of NYCB was a bundle of energy. Tiler Peck, in a completely different role from Allegro Brillante, again showed off her musicality, and Miami City Ballet's Jeanette Delgado was adorable as the besieged girl with the red purse.
The evening opened with a semi-improvised cross-discipline dance of tap, hip-hop and ballet featuring tap artists Michelle Dorrance and Byron Tittle, the versatile Virgil 'Lil O' Gadson and Tiler Peck tapping in toe shoes. It was short and intriguing but could have used a bit more development.
Continuing in a contemporary vein, Justin Peck's Chutes and Ladders placed a string quartet on stage with music by Benjamin Britten. String Quartet No.1 is a moody piece, but Peck slyly contrasted the atmosphere with quirky movements juxtaposed against classical ballet partnering by Delgado and another Miami City Ballet principal, Kleber Rebello. With their understated and effortless dancing, they were ideally suited.
Other pairings included Isabella Boylston and James Whiteside of ABT dancing the Balcony Scene from Kenneth MacMillan's Romeo and Juliet. An unfortunate staircase and balcony, which looked like they were borrowed from an amateur theatrical production, threatened to destroy the mood, but the dancing prevailed. For me, Macmillan's version is the ultimate dance interpretation of this most popular of Shakespeare's plays adapted for ballet. Boylston was a convincing Juliet, and with Whiteside's assured presence they exquisitely interpreted the choreography.
Perhaps the most idiosyncratic of the evening's offerings was a pas de deux from Christopher Wheeldon's After the Rain, with music by Arvo Pärt, danced by The Royal Ballet's Lauren Cuthbertson and Reece Clarke. There was an intimacy to the ballet as the couple, in the sparest of pale colored leotards, moved with an almost childlike awkwardness one moment, then with Apollonian grace the next.
The program varies over the next two performances to include more MacMillan, Balanchine, Wheeldon, Peck and others. And as a surprise: Bill Irwin of clown fame, and a favorite of mine, dancing with Tiler Peck. This I've got to see!
Jane Rosenberg