United Kingdom Wagner, Götterdämmerung Act III: The Mastersingers Chorale, Rehearsal Orchestra / Tony Legge (conductor), Henry Wood Hall, London, 23.10.2017. (JPr)
Singers:
Brünnhilde – Katie Lowe
Siegfried – Jonathan Stoughton
Gunther – Paul Carey Jones
Gutrune – Lisa Howarth
Hagen – Julian Close
Woglinde – Mari Wyn Williams
Wellgunde – Rosemary Braddy
Flosshilde – Emma Carrington
In October 2016 there were five things to celebrate (click here); and now one year on, it was much the same and more back at Henry Wood Hall for the open rehearsal and run-through of Act III of Wagner's Götterdämmerung. Opened in 1975 the hall is named after the famous conductor and was formerly the Holy Trinity Church.
All you need to know about the Rehearsal Orchestra can be found on their website, but it is worth repeating how it began at the Edinburgh International Festival in 1957. Harry Legge – look out for that surname later – was a member of the Royal Philharmonic Orchestra 'who had regularly enjoyed the RPO's visits to the Festival and noticed the number of players about during the day waiting for evening concerts. To "keep them out of the rain" he came up with the brilliant idea of forming a rehearsal orchestra to enable them to study the major works they would then hear performed professionally in the evenings!' With Gillian Halse's help he made a great success of this in Edinburgh, and from this began the series of weekend courses held every year in London and Manchester. Legge himself led most of the courses from 1957 to 1999 and through his association with the RPO, the distinguished conductor Rudolf Kempe became involved. Other guest conductors have included Sir Charles Mackerras, Sir Charles Groves, Sir Andrew Davis and Sir Simon Rattle and during the RO's 50th anniversary year in 2007 Sir Mark Elder joined that distinguished company. Every professional orchestra in the UK possibly includes players who have previously played for the RO. It gives opportunities to soloists and talented players of all ages who want to tackle difficult repertoire, but are happier to put their reputations on the line in rehearsal and not immediately in a public performance. The RO is a registered charity and charges those involved affordable fees for each of their courses.
The Mastersingers continues to owe a huge debt to the distinguished baritone Malcolm Rivers who is now 80 years young. As their website explains the Mastersingers take their inspiration 'from the celebrated conductor Sir Reginald Goodall, whose pioneering work at English National Opera in the 1970s and '80s laid the foundation of great Wagner interpretation in this country.' Their purpose 'is to train, mentor and promote British singers in the German Romantic repertoire – mainly in the works of Wagner, but also including those of Richard Strauss. With the direct involvement of Britain's most senior and distinguished artists, we are nurturing singers who are usually mid-career and who are discovering that their voices are growing into heavier and more dramatic repertoire.' To do this they put on a number of events including open rehearsals such as this. The Mastersingers is another registered charity and receives no public funding; so their work is entirely dependent on the generosity of individual and corporate benefactors in any number of ways, including their Friends scheme.
The conductor for this final act of Wagner's Götterdämmerung was Tony Legge who is the son of the RO's founder. He is a vastly experienced accompanist and conductor, and like some contemporaries – such as Lionel Friend, Anthony Negus and David Syrus – deserves to be better known by the wider operagoing public than just the cognoscenti. Tony was head of music at English National Opera for 14 years where he conducted Dido and Aeneas, Orpheus and Eurydice, Lulu, and Alcina.  He is currently assistant music director for Opera Australia and was associate conductor for their 2016 Ring. In fact, Tony has worked regularly with the principal British opera companies, many European ones and at Bayreuth, where he assisted on the Kupfer-Barenboim Ring for five years and Die Meistersinger von Nürnberg. For the Mastersingers he has previously conducted excerpts of Das Rheingold, Die Walküre, Siegfried and Götterdämmerung with the Rehearsal Orchestra.
Once again I just came and saw the concluding run-through at the end of the RO's weekend course, and as it was basically a Sitzprobe (literally 'seated rehearsal') it is not correct to review it in the normal way, but that doesn't mean I shouldn't celebrate the achievement of all concerned. It is significant what a loyal following the Mastersingers and the RO has; as watching on in the Henry Wood Hall – half-filled with a full-sized orchestra (including six harps!) and the valiant 'The Mastersingers Chorale' (of just 7!) – was an impressively large gathering of onlookers. After the drawing of the prizes for a fundraising raffle and the awarding of bursaries and awards to three of the singers we would be hearing – Katie Lowe, Jonathan Stoughton and Mari Wyn Williams – with a cheery 'Let's make some music' Tony Legge got Götterdämmerung Act III underway. His conducting was sympathetic, incisive and well-paced; he also attempted some scrupulously observed detail even if his musicians occasionally sounded as if they would have benefitted from even more rehearsal time. Everything came together for Siegfried's Death and Funeral Music, and from then through to the radiant final bars the orchestra triumphed.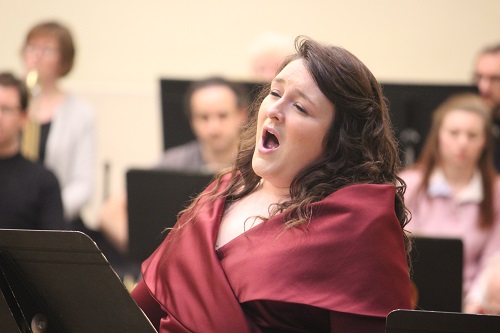 This appropriately incandescent ending was helped by having heard Katie Lowe as Brünnhilde.  Her Immolation was a wonderfully noble account and already ranks among the best I have heard from the current generation of singers; whether putting their foot on the Wagner road – like Katie – or those at the top of the Green Hill. Her voice was tireless and full sounding with laser-bright top notes, but most importantly there were interpretative insights not so often heard from someone so new to Wagner. Only this September Katie won the fourth annual Elizabeth Connell Prize for aspiring Dramatic Sopranos, although she had been talented-spotted by the Mastersingers long before that. She received $30,000 and an audition at the Royal Opera House, Covent Garden, and for more about her background and her success in Sydney click here. I was able to single out Norway's Lise Davidsen at the 2015 Operalia competition (click here) as a star Wagner singer of the future and this is coming to pass as she will be singing Elisabeth when Tannhäuser returns to Bayreuth in 2019. I have no doubt that Katie Lowe will also be a name to look out for in coming years.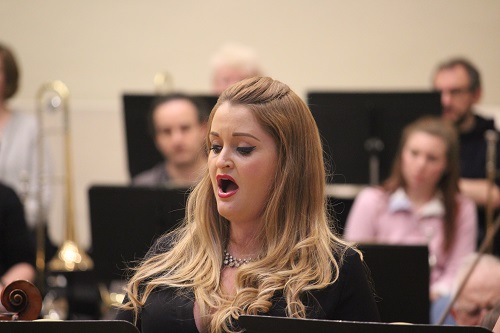 The rest of the singers were an interesting mix of youth and experience. There was a fine trio of Rhinedaughters – Mari Wyn Williams (Woglinde), Rosemary Braddy (Wellgunde) and Emma Carrington (Flosshilde) – each providing a compelling vignette in the little they have to do in this act. Julian Close was his familiar baleful and lugubrious presence as the evil Hagen, and despite also not having much to sing, the voices of both Paul Carey Jones (Gunther) and Lisa Howarth (Gutrune) displayed their Wagner pedigree.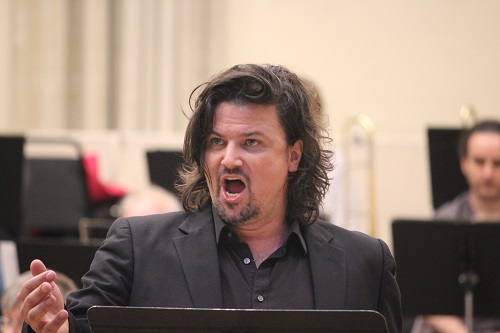 Another who particularly impressed me was Jonathan Stoughton as Siegfried. He is already the official cover for this role in the autumn at Covent Garden when there are four full cycles of Wagner's Ring. Stoughton will learn a lot from being involved in that, though probably nothing from Stefan Vinke – who should be singing Siegfried – because he is an entirely different singer to him. Stoughton has the opportunity – because of his basically lyrical sound – to return the 'beauty' to Siegfried and not just because he looks like a Byronic hero. Yes I know the character can be brutal at times, but it needn't be sung throughout that way.
The Mastersingers are going from strength to strength and who knows what they can achieve in the future? Watch this space …and their website (click here).
Jim Pritchard