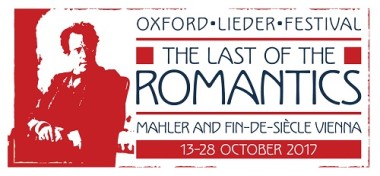 United Kingdom Oxford Lieder Festival [4] – Schubert: Roderick Williams (baritone), Roderick Williams (piano), St John the Evangelist Church, Oxford 23.10.2017. (CR)
Schubert – Die schöne Müllerin, D795
Schubert may be quite far from Mahler and the late Romantics (the focus of 2017's Oxford Lieder Festival) in terms of time and musical style but there was still a logic in including his first great song cycle this year, and not only because it has become a traditional feature of the annual festival. Notwithstanding Beethoven's earlier An die ferne Geliebte, Schubert's more extended series of twenty songs established a potent model for subsequent generations of composers in weaving groups of lieder together into a more sustained narrative or more usually, as here, an inner psychological journey. The young lover of Die schöne Müllerin may be more tragically innocent than Mahler's wayfarer, or boy with the magic horn, in that the former does not quite so consciously go in search of adventure, development, or experience, but rather finds himself bewildered at the state of things being not how he had thought or hoped they would be. Nevertheless, the impulse in charting that interior trajectory is as clear and powerfully expressed in Schubert's cycle as it is in the song cycles of composers after him, down to Mahler and beyond (the Festival's programming of Schoenberg's Pierrot Lunaire was reviewed by this writer click here).
Roderick Williams has written about the course of his discovery and experience of Schubert's song cycles in a blog, and before the recital he spoke of his view of this cycle as young man's music, even that of an adolescent, and accordingly sought to tap into his own inner teenager (in his case lived partly in the same city where this recital was given, where he had been a student and choral scholar at Magdalen College). Certainly there was a considerable ardour and passion in his account of this work from the beginning, which already seemed to encompass more than adolescent innocence. Partly that derived from the urgent and forceful lead given by Iain Burnside at the piano in the rollicking semiquavers of the opening song, Das Wandern, giving rise to a certain deliberate repetitiveness in Schubert's musical gestures, as though also belying that innocence and to say that the miller's experience is nothing new in the course of human affairs.
The first three songs were taken more or less together in one sweep, at a brisk tempo establishing the essential spirit of this performance, which was perhaps more restless and impetuous than the work is usually interpreted. There were moments of comparative calm, but little time for reflection in Burnside's account as evidenced, for example, by the assertive, even choppy, projection of the questioning opening motif of Der Neugierige; the little improvised cadenza after the peremptory pairs of chords which begin Am Feierabend; the pressing on of the performance between each verse of Tränenregen; or the rather hurried way with Pause which skated over what should otherwise be the lulling, soporific effect of its characteristically repeated motifs to express emotional exhaustion. Similarly, the dotted figure of the concluding Des Baches Wiegenlied was rather too mannered than consoling. The result overall was a performance that was tended to be overbearing and hectoring rather than recollecting the miller's emotions in tranquillity, to borrow Wordsworth's phrase.
Williams's interpretation represented something of a restraining force to that, with a more lyrically impassioned and sustained character, finding a yearning, full-toned approach for Danksagung an den Bach; a deeper, more serious disposition for Morgengruss, lightening up for the last pair of lines of each of its verses; and rising to a state of desperation for Die böse Farbe. One might take issue with more minor matters such as a comparative lack of rapture on the all-important, climactic word "mine" in the song of the same name, Mein, and that the effortlessly floated vocal line of Des Müllers Blumen did not attain a sufficient degree of warmth and richness. The intonation of the melody's sharpwards turns in Der Müller und der Bach was not exact either, but the sincerity of Williams's performance was beyond doubt, and by the time he reached the lullaby of the final song, he had taken the audience through the highs and lows of the miller's emotional drama, finding not so much of a cathartic release at the end, but achieving a logically reposeful conclusion to a satisfyingly nuanced survey of the changes in mood and perspective expressed throughout the cycle.
Curtis Rogers