United Kingdom Sullivan and Bernstein: Soloists, Chorus, and Orchestra of Opera North / Tobias Ringborg and Oliver Rundell (conductors), The Lowry Theatre, Salford Quays, 17.11.2017. (RJF)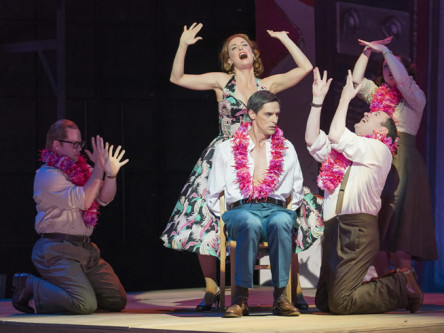 Bernstein – Trouble in Tahiti
Cast:

Sam – Quirijn de Lang
Dinah – Wallis Giunta
Trio – Fflur Wyn, Joseph Sovelton & Nicholas Butterfield
Junior – Charlie Southby
Production:
Conductor – Tobias Ringborg
Director – Annabel Arden
Set Designer – Charles Edwards
Costume Designer – Hannah Clark
Lighting Designer – Charles Edwards
Choreographer – Theo Clinkard
Gilbert and Sullivan – Trial by Jury
Cast:

The Learned Judge – Jeremy Peaker
The Plaintiff, – Amy Freston
The Defendant – Nicholas Watts
Counsel for the Plaintiff – Claire Pascoe
Usher – Richard Mosley-Evans
Production:

Conductor – Oliver Rundell
Director – John Savournin
Set and Lighting Designer – Charles Edwards
Costume Designer – Gabrielle Dalton
Movement Directory – Tim Claydon
After the heavier orchestration of Ravel -and particularly Janáček – the previous evening, the jazz-like Bernstein along with Sir Arthur Sullivan's more simple melodic music came as something of a culture shock, but none the less enjoyable for that.
The Bernstein is set in 1950s comfortable suburbia; Sam and Dinah appear to have the perfect life in their little white house. Trouble in Tahiti tells the story of liaisons that turn sour as two lovers gradual detachment exposes a mutual feeling that they are trapped in a life that has turned into a lie. Macho Sam escapes to the masculine outlet of the gym, while Dinah loses herself in movies, where the hit picture of the day is the ominously titled Trouble in Tahiti. Bernstein's score for this his first opera is heavily influenced by the syncopated rhythms of jazz. Dating from 1952 it is short and sour-sweet with Matthew Eberhardt's staging ideal for the music and the story. With echoes of the later, and better known, West Side Story the musical idiom is easy on the ear. The production by Matthew Eberhardt is simple and straightforward in Charles Edwards's designs. The close harmony trio sings harmonies that keep the Broadway dream alive. Quirijn de Lang and Wallis Giunta sing and play the couple to near perfection.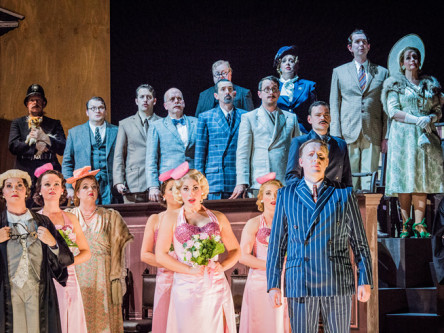 Trial by Jury was the first of the Gilbert and Sullivan operettas by the socially diverse couple. The former, of affluent background, his father a trained surgeon and himself a barrister, joined together in this first endeavour and which led to many more successful co-operative efforts that have sustained the British contribution to musical theatre for over a century. The presence in the audience of many members of the Manchester – and other branches – of the G & S Society was a tribute to their loyalty and enjoyment of the many operettas the unlikely couple produced together since impresario Richard D'Oyly Carte brought them together in 1875.
The cast, mainly from the chorus of Opera North, showed the quality in depth of that vocal source allied to characterful acting in all the roles. It would be invidious to separate any out. However, I must mention the apt set, John Savournin's direction and, above all, Oliver Rundell and his orchestral contribution.
Robert J Farr
For more about Opera North click here.