United Kingdom Bampton Classical Opera – Young Singers' Competition 2017: Holywell Music Room, Oxford 19.11.2017. (CR)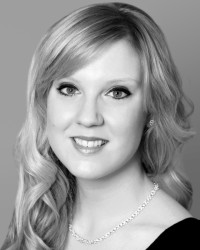 Contestant #1: Corinne Cowling (soprano), Maya Irgalina (piano)
Handel – Radamisto – 'Barbaro, partiro!'
Schumann – Sechs Gedichte und Requiem, op.90 – 'Meine Rose'
Britten – The Poet's Echo, op.76 – 'The nightingale and the rose'
Joaquín Turina – Tres Poemas, op.81 – 'Tu pupila es azul'
Wolf – Spanisches Liederbuch, Part II – 'Sagt, seid Ihr es, feiner Herr'
Gounod – Roméo et Juliette – 'Je veux vivre'
Contestant #2: Kamilla Dunstan (mezzo-soprano), Jo Ramadan (piano)
Mozart – La finta giardiniera, K196 – 'Va pure ad altri in braccio'
Elgar – Sea Pictures, op.37 – 'The Swimmer'
Saint-Saëns – Samson et Dalila, op.47 – 'Mon cœur s'ouvre à ta voix'
Ben Moore – 'Sexy Lady'
Contestant #3: Wagner Moreira (tenor), Michael Pandya (piano)
Mozart – Die Entführung aus dem Serail – 'Konstanze … O wie ängstlich'
Respighi – 'Pioggia'
Massenet – Manon – 'Instant charmant … En fermant les yeux'
Wolf – Mörike-Lieder – 'Schlafendes Jesuskind'
Turina – Poema en forma de canciones, op.19 – 'Cantares'
Stravinsky – The Rake's Progress – 'Here I stand'
Contestant #4: Emma Stannard (mezzo-soprano), Keval Shah (piano)
Gounod – Roméo et Juliette – 'Que fais tu blanche tourterelle'
Schumann – 'Belsatzar', op.57
Mozart – La clemenza di Tito – 'Parto, parto ma tu ben mio'
Britten – Charm of Lullabies – 'The Highland Balou'
de Falla – 7 canciones populares españolas – 'Polo'
Contestant #5: Samuel Pantcheff (baritone), Michael Waldron (piano)
Mozart – Le nozze di Figaro – 'Hai già vinta la causa! … Vedrò mentr'io sospiro'
Chabrier – 'Chanson pour Jeanne'
Schubert – 'Alinde', D904
Rachmaninov – Aleko – 'Aleko's Cavatina'
Michael Head – 'Limehouse Reach'
Lehár – The Merry Widow – 'I'll go down to Maxim's'
Contestant #6: Olivia Warburton (mezzo-soprano), Edward Liddall (piano)
Mozart – La clemenza di Tito – 'Parto, parto ma tu ben mio'
Howells – 'Come sing and dance'
Wolf – 'An eine Aeolsharfe'
Rossini – Il Barbiere di Siviglia – 'Una voce poco fa'
This was the third Young Singers' Competition convened by Bampton Classical Opera since the competition's inception in 2013, aimed at identifying emerging talent among opera singers working in this country who are aged between 21 and 32. Certainly there was a conspicuously varied and impressive array of vocal ability on display amongst the six competitors here, and they have all already acquitted themselves superbly at conservatoires around the country, as well as in performances mounted by those institutions and various opera festivals. Anybody who has attended these will have already seen and heard for themselves at least some of these promising singers.
The challenge for each contestant in this competition was to devise a programme of around 20 minutes each, comprising a diversity of repertoire from different periods and countries, and featuring operatic and non-operatic fare.
Corinne Cowling's selection of no fewer than six items played well to her strengths as a dramatic soprano, from the arresting opening exclamations in the extract from Handel's Radamisto, the bright, brittle tone of Britten's 'The nightingale and the rose', to the coquettish vivacity of her rendition of Gounod's 'Je veux vivre'. Although powerful in her upper register, Cowling seemed a little breathless and flustered in Schumann's 'Meine Rose', and there could have been more rhythmic flexibility for Turina's 'Tu pupila es azul'. Her accompanist, Maya Irgalina, offered by turns some delicate and robust support.
There were strong, urgent performances from Kamilla Dunstan in her four pieces, the drama suitably brought out from the operatic extracts by Mozart and Saint-Saëns, but less lyricism in both the latter and 'The Swimmer' from Elgar's Sea Pictures, where the words were forcefully enunciated at the expense of their poetry and the music's structure. She was more at home in the cabaret-style wit and irony of Ben Moore's 'Sexy Lady' (which quotes from Cherubino's 'Voi che sapete') with a sort of cooing, shrill tone used to convey its insouciant mood, supported by equally light-hearted accompaniment from Jo Ramadan.
Michael Pandya set a lively atmosphere for Wagner Moreira's offerings. The latter sounded rather too rigid and formal for the Mozart to start his programme, and a tendency to declaim missed the intimacy and charm of the extract from Massenet's Manon. But he gained more confidence for the stillness and hushed awe of Wolf's 'Schlafendes Jesuskind' and finally in the swagger of Tom Rakewell for the extract from The Rake's Progress, which was sung and acted with aplomb.
It was a trait of all six singers that they generally declaimed their music well, no doubt honed from their experience in operatic performances in filling a stage with the personality of a given character and an auditorium with a fullness of sound in order to convey theatrical conviction. Their performances of the self-contained items in their programmes, however, tended to lack a more subtle dimension so as to draw the audience into their private world, but rather fell back upon merely projecting it outwards to them. In that respect Emma Stannard was wise to choose pieces in which she could sustain a suitably dramatic temper throughout, such as in Schumann's 'Belsatzar' (effectively a little cantata or German-language scena) – though its musical challenges occasionally overreached her – and the snarling moodiness of de Falla's 'Polo'. Her two operatic extracts were assertive and assured, providing a characterful approach to the Gounod, although the aria from La clamenza di Tito needed a more sharply-cut delicacy in vocal tone for the crystal clarity of Mozart's melody. Keval Shah kept up an ideal pace and attention to detail in his accompaniments, though cultivating a special, rarefied background for Britten's 'The Highland Balou' over which Stannard floated a seamless vocal line complete with Scottish accent.
From the beginning of his programme, Samuel Pantcheff engaged the audience with great alacrity, even to the extent that the Count's scene from The Marriage of Figaro could have taken us more directly into his inner thoughts rather than directing bluster and rage outwards. But the gentler lyricism of the Chabrier and Schubert songs were sung with warmth and impressive concentration, matched by the controlled ardour of the accompaniments from Michael Waldron, and it was an imaginative touch to run these songs more or less together. After that, with the almost inscrutable darkness of Aleko's 'Cavatina' and the guileless folksong-like simplicity of Michael Head's setting of 'Limehouse Reach' Pantcheff offered well-executed contrast, before the exuberant energy and comedy of his extract from The Merry Widow rounded off a programme demonstrating enviable versatility from him and Waldron.
In the final selection, Olivia Warburton sang with expressive radiance, her joyful tone decently matched to Howells's delightful 'Come sing and dance', and bringing a Schubertain ecstasy to Wolf's 'An eine Aeolsharfe'. It was interesting to compare her performance of the same extract from La clemenza di Tito which Stannard offered; Warburton's may have embodied less inherent drama, but her incisive tone brought its own ideal musical sense and pleasure to Mozart's particular style, and similarly for the pristine coloratura of Rossini's 'Una voce poco fa' where the difficult vocal leaps and roulades were handled with flair and virtually flawless intonation. Edward Liddall gave solid, steady support on the piano, perhaps slightly lacking some sparkle and humour, but otherwise providing a good framework for Warburton's vocal displays, and integrated with her interpretations.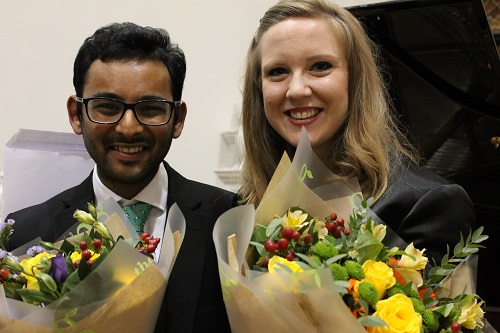 Bonaventura Bottone and Jean Rigby constituted the panel of judges, and would have been joined by Paul Wynne Griffiths, had he not been indisposed. They awarded the first prize to Emma Stannard, and second prize to Wagner Moreira. A new prize for the accompanists was inaugurated this year, and that was awarded to Keval Shah (Maya Irgalina and Jo Ramadan, incidentally, not being eligible). All the performers quite obviously have something to offer in terms of technique and musical ability, and I am sure that we shall continue to hear more from them, but the winners this evening will clearly have received a great boost in their careers from their prizes.
Curtis Rogers
For more about Bampton Classical Opera click here.