Spain Weill, Street Scene: Teatro Real Chorus and Orchestra / Tim Murray (conductor), Teatro Real, Madrid, 27.5.2018. (JMI)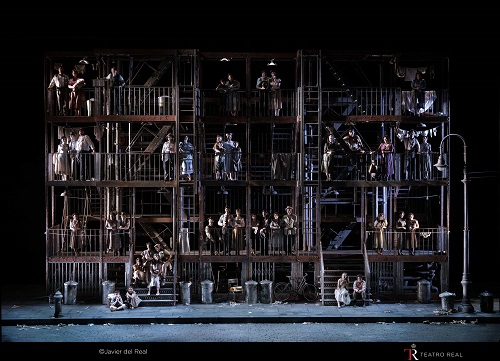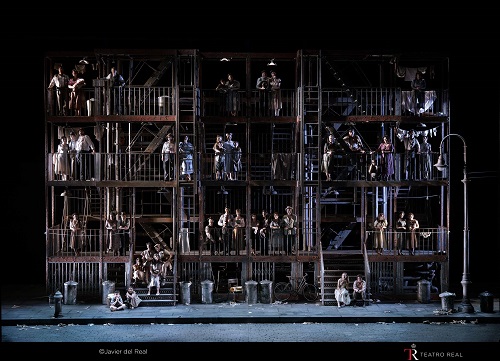 Cast:
Ann Maurrant – Patricia Racette
Frank Maurrant – Paulo Szot
Rose Maurrant – Mary Bevan
Sam Kaplan – Joel Prieto
Abraham Kaplan – Geoffrey Dolton
Shirley Kaplan – Verónica Polo
Willie Maurrant – Matteo Artuñedo
Lippo Fiorentino – Vicente Ombuena
Nursemaids – Sarah-Marie Maxwell and Laurel Dougall
New Production: Teatro Real, Opéra de Montecarlo and Oper Köln
Direction – John Fulljames
Sets and Costumes – Dick Bird
Lighting – James Farncombe
Kurt Weill's opera is based on the Pulitzer Prize-winning 1929 play by Elmer Rice, who also wrote the libretto; in 1931, the play was made into a movie directed by King Vidor. The action in the opera takes place in 1946 in one of the poorer areas of New York, Manhattan's Lower East Side, a neighbourhood inhabited by immigrants of all nationalities who have come to America in search of a better life. Weill explores their problems and aspirations against a background of poverty, injustice and violence.
For its premiere at Teatro Real, there is a new production by John Fulljames, who was also the stage director of an earlier production seen at the Liceu five years ago. The stage is the same for the entire opera and consists of the facade of a tenement where the various characters live. The production gains in intensity in the second act, which is when the real drama takes place; the long first act is mainly a presentation of the numerous characters. Although this is presented as a new production, it really does not go much beyond updating the one seen in Barcelona.
Also, as in Barcelona, Tim Murray was the conductor, and he did a fine job. The orchestra offered a remarkable performance, and the chorus was superb, especially in its important song in Act II.
The most important character in the opera is Anna Maurrant, who was played by American soprano Patricia Racette. She gave a convincing performance, although I did not find her vocally at her best. Brazilian baritone Paulo Szot was impressive in the part of the violent Frank Maurrant, whose recitations here are almost more important than his singing. He has a powerful voice and is a remarkable actor.
Mary Bevan as Rose Maurrant was excellent too. She sang with delicacy and good taste, particularly in her main final scene with Sam Kaplan. Joel Prieto in the part of Sam Kaplan was outstanding – definitely the most beloved character for this audience.
The rest of the numerous characters were well covered. Matteo Artuñedo gave life to Willie Maurrant, the youngest member of the family. Baritone Geoffrey Dolton played Abraham Kaplan, who has much more to recite than to sing; he had sung the part of Frank Maurrant in Barcelona. Verónica Polo was correct as Shirley Kaplan.
Tenor Vicente Ombuena was well suited to Lippo Fiorentino, and the fun Nannies were nicely interpreted by Sarah-Marie Maxwell and Laurel Dougall.
José M. Irurzun