Switzerland Massenet, Werther: Soloists, Chorus and Children's' Chorus of the Zurich Opera, Philharmonia Zurich / Lorenzo Viotti (conductor). Zurich Opera, Zurich 18.5.2018. (JR)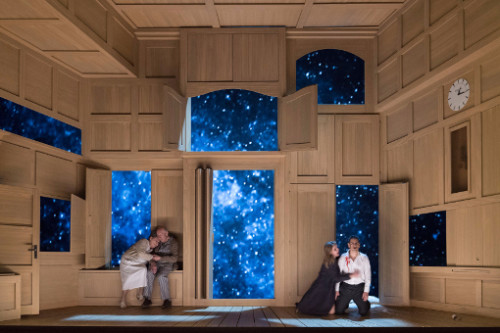 Cast:
Werther – Piotr Beczala
Charlotte – Anaïk Morel
Sophie – Mélissa Petit
Albert – Andrei Bondarenko
Le Bailli – Cheyne Davidson
Schmidt – Martin Zysset
Johann – Yuriy Tsiple
Brühlmann – Stanislav Vorobyov
Käthchen – Soyoung Lee
Production:
Director – Tatjana Gürbaca
Scenic Assistant – Jean-François Kessler
Set and lighting – Klaus Grünberg
Costumes – Silke Willrett
Costume assistant – Carl-Christian Andresen
Chorus master – Ernst Raffelsberger
Dramaturgy – Claus Spahn
For many well-educated Germans, and some advanced students of the German language, Goethe's The Sorrows Of Young Werther (published in 1774) was, and still is, required reading. It is hard going and I must admit I gave up after not many pages. European readers at the time of its publication were, however, captivated by Werther's romantic musings, his ardour leading to suicide – it is a thinly veiled semi-autobiography.
In 1886, Massenet had been to Bayreuth to see Parsifal and on the way back with librettist Georges Hartmann stopped off in the German provincial town of Wetzlar, just north of Frankfurt. It was in Wetzlar that Goethe had lived and written his novel. Hartmann gave Massenet a French translation and so the plot was hatched to write an opera on the main theme of the book. The opera premièred six years later.
Massenet's work is a prime example of 'drame lyrique', almost an antithesis of the style of German and Italian opera. I am not sure I can detect much of Wagner's influence in Werther. There are leitmotifs, but they are not repeated, and I came out humming the only real tune of the opera.
In the opera, Werther falls in love with the Mayor's eldest daughter, Charlotte. Little does he know that she has promised her deceased mother that she would marry the dull, wealthy businessman Albert, who when Werther stumbles onto the scene is conveniently away on his business travels. Werther and Charlotte fall in love, Albert returns, Charlotte sends Werther away for a sort of trial separation, Charlotte marries Albert while Werther is away. Werther returns, realising how strong his love is and but he sees that his love must be unrequited and shoots himself. The stuff of many an opera.
Three things made this performance, a revival, a winner: (in no particular order) the set, the tenor and the conductor.
The set is a wooden room suspended at the front of the stage, a virtual doll's house, not two metres deep. There are numerous doors and panels which slide open and through which various characters come and go, often as though in a dream. The room serves in turn as the Mayor's living room, as the local hostelry in which a Golden Wedding is being celebrated, as a church (the rear panel sliding open to reveal an organist), as a garden and finally as Werther's home. It does not always work to conjure up the scene, the seasons cannot effectively be shown, but it's a wonderful set. Towards the end, Werther and Charlotte fly through the cosmos with the backdrop of impressive video images of the Milky Way and Planet Earth, seen through openings at the rear of the set.
Tatjana Gürbaca has devised a profound production, focussing naturally on the emotions of the main protagonists, but with some thoughtful twists. A group of old ladies entertain us at the Golden Wedding festivities and, right at the end, an elderly couple – in their nightwear – cuddle touchingly to signify, I suppose, the lasting love which the protagonists must miss.
The impressive tenor is Piotr Beczala. At the première in 2017, the role of Werther was taken by Juan Diego Flórez, who had been equally impressive, even though his style of singing is different to Beczala's. Beczala's honeyed tone and strength cut through the orchestra, to the audience's evident delight. Flórez was the better actor, however. The tenor does get the best tune in the opera, which helps.
At the première Anna Stéphany sang the role of Charlotte, the revival brought us Anaïk Morel; there is not much to choose between them. Morel sang well, and was well received. Stéphany's acting was more neurotic and thereby more convincing.
Most of the other parts were taken by the same singers as at the première, Mélissa Petit was the best of the rest and made for a charming, attractive Sophie. Her voice sparkled, especially beautifully in her happy Act II aria 'Du gai soleil'.
Andrei Bondarenko took over the role of Albert and made a solid impression, a mite dull: perhaps that is however how he is supposed to come across.
Cheyne Davidson's only failing was his French diction, or rather his lack of it. Martin Zysset, opera house stalwart, as Schmidt, caught attention not only for his firm tenor but also his comic acting skills.
The third element of this performance's success was the conductor, Lorenzo Viotti, described in the advance information from the opera house as a 'shooting star'. Still a mere 28, born in Lausanne, winner of several prestigious conducting competitions, he has already conducted a long list of top orchestras including the Concertgebouw and the Dresdner Staatskapelle. In 2017 International Opera Award made him 'Newcomer of the Year' and they were right. He extracted lush swathes of sound from the orchestra.
If I managed to whet your appetite for this opera and this production in particular, then do consider purchasing the DVD, which has been included on the Honorary List of the German Record Critics' Award. It is available on Accentus Music and can be purchased  here or though the usual channels.
John Rhodes