Switzerland Beethoven, Brahms: Frank-Peter Zimmermann (violin), Tonhalle Orchestra Zurich / Manfred Honeck (conductor), Tonhalle Maag, Zurich, 22.6.2018. (JR)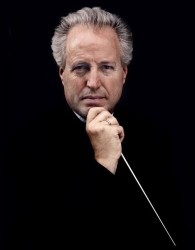 Beethoven – Overture to Egmont op.84; Violin Concerto op.61
Brahms – Symphony No.4 op.98
The Zurich Festival was hoping for some illustrious names but fate stepped in. Two weeks ago the venerable maestro Bernard Haitink, 89, stumbled and fell on stage at a concert with and in the Concertgebouw, while taking applause. Thankfully, he seems to be uninjured but is understandably taking a break. Unsubstantiated rumours of his retirement have been circulating in musical circles of late and his fall might precipitate his decision. It will be a very sad day for many, when it comes. Meanwhile one must take every opportunity to hear the great master, especially in Bruckner. It is hoped he will be able to conduct the Tonhalle Orchestra in Zurich in two performances of Bruckner's mighty Seventh Symphony in September, quite a test of strength even for a younger conductor.
Manfred Honeck stepped in for this series of concerts. He has been the highly acclaimed Music Director in Pittsburgh for the last ten years and was a regular at Zurich Opera House in the 1990s. He asked for a change of programme: instead of Schumann's Second Symphony, we were treated to Brahms's Fourth Symphony, which I had heard only a few weeks ago in Lucerne under Christian Thielemann and the Sächsische Staatskapelle (review click here); theirs, I thought, was going to be a hard act to follow. To see if they succeeded, read on.
First the orchestra warmed up with a Beethoven Overture, Egmont. Normally stirring, this was giving a perfunctory reading. It did no damage. It's clearly not easy taking on someone else's programme at fairly short notice, but Honeck's heart wasn't in it.
Zimmermann's account of the Beethoven Violin Concerto was not too weighty. It was swift, especially in the outer movements and with a sweet Larghetto in between. And yet I was not bowled over, even though his playing of the Fritz Kreisler cadenza left both audience and orchestra spellbound. Perhaps it was all too flawless, pitch-perfect intonation, faultless technique; Honeck also seemed disengaged. We are getting to used to seeing violinists arrive bare-footed or with manes flowing, dresses swirling, feet stamping, but with Zimmermann there are no histrionics, no idiosyncrasies, no flamboyance of any sort. That left me feeling rather unsatisfied, though the concert hall's air-conditioning was struggling to function and I now wonder if the heat was getting to me. The audience clamoured for an encore and we were calmed by some cleansing Bach, part of his A minor Sonata.
Frank-Peter Zimmermann plays the 'Lady Inchiquin' 1711 Stradivarius, named after its first owner, an Irish aristocrat, which was loaned to him for many years, until the contract expired a few years ago and he lost access to it. It had been Fritz Kreisler's instrument. Luckily he has been reunited with it (he says it feels like part of his body), having been purchased by the Government of North-Rhine-Westphalia and lent back to Zimmermann.
The Brahms symphony was given a powerful, urgent and cogent reading and proved every bit as persuasive and thrilling as Thielemann's a few weeks earlier. Lucerne may have slightly better acoustics, and the Dresden strings have greater fullness and sheen, but Honeck was wholly inside the music. His conducting style was muscular, fluid in the slow movement. The opening Allegro non troppo had great Brahmsian sweep and left the audience reeling. The Scherzo (Allegro giocoso to be exact) thrilled, the triangle tinkled to great effect. Full weight returned for the final Allegro energico e passionato, in which Sabine Poyé's golden flute sparkled. Honeck was given a rousing reception, and is clearly a favourite with the orchestra. We look forward to his return in January to conduct Dvořák's Eighth Symphony (together with Shostakovich's First Cello Concerto).
John Rhodes