Argentina Verdi: Soloists, Chorus and Orchestra of Teatro Colón / Enrique Arturo Diemecke (conductor), Teatro Colón, Buenos Aires. 3.7.2018. (JSJ)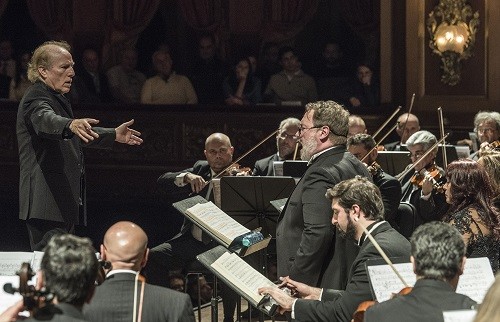 Verdi – Messa da Requiem
María José Siri (soprano)
María Lujan Mirabelli (mezzosoprano)
Dario Schmunck (tenor)
Goderdzi Janelidze (bass)
Chorus master – Miguel Fabián Martínez
An innovation in the current season is a series of choral works, which otherwise see little outing in Buenos Aires. These include Rossini's two great works, the Stabat Mater (which this reviewer unfortunately missed) earlier in the year and to come in September the Petite Messe Solennelle.
Sandwiched between them, and not unconnected, is Verdi's majestic Messa da Requiem. This monumental – some say operatic – work had its origins in an intended but unperformed (until 1988) mass for Rossini that was prepared by several Italian composers. Verdi, who had initiated the project, contributed the 'Libera me', subsequently revising it as part of a full mass for the writer Alessandro Manzoni, whom he had met and admired. Indeed, the work was known initially as 'Manzoni's Requiem'.
As a work it has been both widely performed and recorded (see a published partial survey of the discography). The privately compiled opera database of the Teatro Colón details just two previous performances – in 2007 and 2008, although undoubtedly there have been more. In any event, this was a welcome concert that excelled in every aspect.
From the emerging notes of the opening 'Requiem' and 'Kyrie' to the closing fading notes of the 'Libera me', we were treated to a full extent of contrasts and emotions from orchestra and Colón artistic director Enrique Arturo Diemecke on the podium. From the stabbing terror of the 'Dies Irae' to the lyricism of the 'Sanctus' the chorus under Miguel Martínez provided a solid and powerful performance.
As for the soloists, each contributed with the appropriate vocal weight and handling, both in the solo and unison movements such as the sublime soprano/mezzo 'Recordare' from María José Siri and María Lujan Mirabelli
New to the local stage was the young Georgian bass Goderdzi Janelidze, who impressed with his vocal scope and power, haunting in the 'Mors stupebit' to dramatic in the 'Confutatis'.
With Verdi's 'Libera me' it is the soprano who has the last word in this work and María José Siri along with the chorus, brought it to a poignant but uncertain conclusion. The plea for absolution is made, but will it be granted?
Jonathan Spencer Jones