Sweden Dala-Floda Opera Festival 2018 (GF)
[1] Mascagni, Cavalleria rusticana: Soloists, Dala-Floda Opera Chorus, Orchestra / Sven-Olof Juvas (conductor). Dala-Floda. Björbo. 5.8.2018.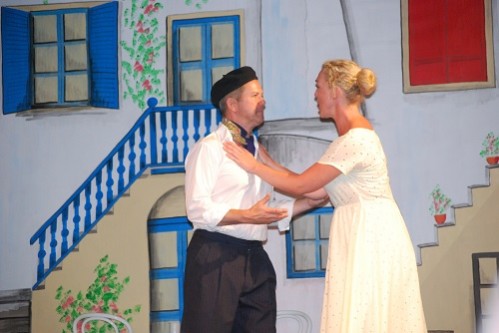 Cast:
Santuzza – Paulina Pfeiffer
Turiddu – Mathias Zachariassen
Alfio – Linus Flogell
Mamma Lucia – Ulrika Tenstam
Lola – Maria Sveinungsen
A Villager – Stina Lindberg
Production:
Direction – Mathias Zachariassen
Arrangements – Jonas Dominique
Translations – The Ensemble
During last winter, which was uncommonly severe with heavy snowfalls, the building where Dala-Floda Opera Festival have played their productions collapsed under the pressure of the snow and is now a gigantic heap of boards. There was no possibility to rebuild the premises in time for this year's festival, but fortunately the IOGT hall in nearby Björbo was available with a stage, lighting equipment, curtain and seating for an audience of almost 450. The acoustics are excellent and the stage large enough to hold a chorus of more than twenty singers – albeit tightly packed.
The choice of Cavalleria rusticana as the festival's own production this year was inspired. With its compressed story, filled with strong emotions and overwhelming music, it is easily accessible even for visitors without much opera experience, but to facilitate the understanding further a half-hour-long prologue has been added to introduce the characters and convey the background of the drama about to follow. The prologue is accompanied by an accordionist and a clarinettist seated on the stage. In the opera proper, they move down to the imaginary pit in front of the stage and join the other seven musicians that constitute the orchestra. For this combination of three strings, five winds and accordion (plus tubular bells for the church bell ringing), Jonas Dominique has arranged a surprisingly colourful score that is an excellent substitute for the full orchestra. The sets are also simple but efficient: at the back a white Mediterranean façade, to the left Mamma Lucia's tavern, and we can imagine the church to the right. The story has been moved forward to the 1930s, and Alfio arrives on a thundering motorbike instead of the usual horse and carriage.
Sven-Olof Juvas draws excellent playing from his nine musicians and I was most impressed by the singing – and even so more by the acting of the chorus, many of whom are amateurs. The chorus is very busy in this opera: the opening spring song, for instance, the mighty 'Regina Coeli' and of course the drinking song with Turiddu.
This is a comparatively short opera but a challenge for the soloists nevertheless, since the dramatic situations require high-octave intensity throughout. Mathias Zachariassen, who is also the director of the production and should have received an extra bunch of roses for his psychological insight into the conflicts, is a tremendously vital and vivid Turiddu but also deeply touching in his farewell to his mother when he, alas too late, recognizes the predicament he is in. I think he surpasses even his excellent Don José in Carmen of the past two years. As in that production, his partner is Paulina Pfeiffer, who here is the Santuzza of one's dreams. 'Voi lo sapete' is masterly and the big scene with Turiddu is truly electrifying in its intensity. Linus Flogell is a strong and dangerous Alfio and Ulrika Tenstam's deep contralto tones give character to Mamma Lucia, while Maria Sveinungsen's southern darkness makes her an alluring Lola. And let us not forget Stina Lindberg, who guides the audience through the prologue.
In short: yet another success for the Dala-Floda Opera Festival!
[2] Opera Concert: Soloists, Dala Floda Opera Chorus, Ann-Christin Wassberg (chorus master), Anita Agnas (piano & accordion), Tomas Agnas (clarinet), Dala Floda Church, 6.8.2018.
One of the great things about Dala Floda Opera Festival is that it is a meeting point for people of all categories with one common denominator: they love music and they love to make music together. Professional and amateurs work side by side, for instance in the Festival's opera chorus. The basis for this chorus is the local church choir, enriched with both additional singers – amateurs and professionals alike. At the opera concert on Monday evening in the intimate little church in Dala Floda, situated just a stone's throw from the mighty River Dalälven, they opened the proceedings with a choral arrangement of the barcarole from Offenbach's Les contes d'Hoffmann, sung in a taught, homogenous tone. Several of the choristers then appeared as soloists, and their choice of repertoire was not always what one expected. Mira Klintrot was the first, with an Italian baroque arietta once attributed to Giovanni Battista Pergolesi (1710 – 1736), 'Se tu m'ami'. Today, however, it is assumed to have been written much later, by one Alessandro Parisotti (1853 – 1913). In any case it is a lovely song, whether authentic baroque or not. The next piece, Purcell's famous 'Dido's Lament' from Dido and Aeneas, was interestingly sung by Victoria Palmer, who is Dorabella in this year's Così fan tutte, accompanied on the accordion by Anita Agnas. This worked very well, though some purists might frown.
Several Swedish songs followed, Carl Leopold Sjöberg's well-known 'Tonerna' sung by tenor Anders Olsson, and the lesser known 'Till en ros' (To a rose) by Wilhelm Stenhammar, sung by Agneta Pehlergård. Victoria Palmer returned, this time together with her colleague from Così fan tutte, Stina Lindberg, in a beautiful duet from Tchaikovsky's Queen of Spades. Bass Jan Söderström pointed out in his presentation of the next number that Cavalleria rusticana is not the only opera set in Sicily. 35 years before Mascagni, Giuseppe Verdi composed The Sicilian Vespers and Jan sang Procida's 'O thou Palermo, adored land…', a beautiful and dramatic aria from a rarely performed opera. Anders Olsson returned with a Danish song, 'Summer Night' by Mogens Schrader, whereupon Anita Agnas and her husband Tomas rounded off the first part of the concert with a truly riveting performance of the last two movements from Francis Poulenc's Sonata for clarinet and piano of 1962. This was one of Poulenc's last compositions and he died before the sonata was published. It might be interesting to know that it was commissioned by Benny Goodman, who premiered it at Carnegie Hall in April 1963, with Leonard Bernstein at the piano.
After the interval, Mathias Zachariassen, this year's Turiddu in Cavalleria rusticana, enthralled the audience in Danilo's entrance song from The Merry Widow. He has enormous stage presence and is a true entertainer. His colleague from Cavalleria rusticana, Maria Sveinungsen (Lola), showed her dramatic capacity in 'Blåbaer-Li' from Grieg's song cycle 'Haugtussa'. Then Karin Granström, who represents another category of participants in the festival, youngsters with special skills. Karin, or Kajsa, has taken part in the festival for several years now, and this time she sang "Pavarotti's" hit aria 'Nessun dorma' with great feeling. The next number was also linked to Pavarotti. Mathias Zachariassen, accompanying himself on the guitar, sang 'O sole mio' with a hilariously typical Pavarotti vibrato – only the hanky was missing.
As a sharp contrast we were introduced to Jennifer Ferguson, a South African singer/songwriter and former politician now living in Sweden. She sang 'Christ loved Magdalena' from The Mission, glowingly and with strong feeling.
Maria Sveinungsen came back with a seductive 'Seguidilla' from Carmen, before the chorus took over for the finale: The prisoners' chorus from Verdi's Nabucco. Ann-Christin Wassberg conducted the chorus and was also the Master of Ceremonies, and Anita Agnas had a busy evening, accompanying everyone.
There was something for everyone in this programme and the audience was enthusiastic.
[3] Mozart, Così fan tutte: Soloists, Samuel Skönberg (piano), Dala Floda, 8.8.2018.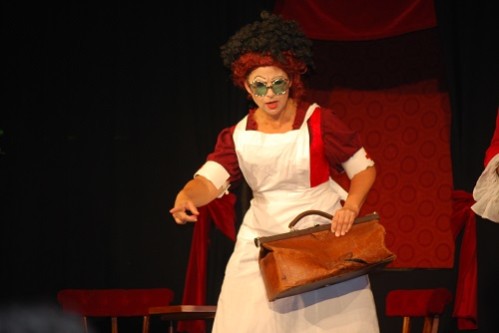 Cast:
Fiordiligi – Cecilia Annerholm
Dorabella – Victoria Palmer
Despina – Stina Lindberg
Ferrando – John Haque
Guglielmo – Lukas Ljungqvist
Don Alfonso – Erik Johansson
Chorus: Leila Brask-Jensen & Kalle Holmslet
Production:
Direction – Märit Bergvall
Costumes – Fredrik Ell
Masks & Wigs – Cecilia Blomquist
While Mozart's previous operas to librettos by Lorenzo da Ponte, Le nozze di Figaro and Don Giovanni are referred to as a 'Commedia per musica' and 'Dramma giococo' respectively, Così fan tutte is called an 'Opera buffa', which might be an indication that it could be performed as a burlesque piece. On the other hand, the music is even more sophisticated than that of the previous works, which should motivate a more refined approach. Much of this refinement is to be found in the delicate orchestration, however, so when performed with piano accompaniment, as in this production, the effect is more run-of-the-mill, which may be the reason why OperaVox chose a more coarse approach.
OperaVox is a free opera group, which has existed since 1997. They produce opera performances with modest means, small orchestra or piano and small-scale scenic resources, in order to be able to perform in small theatres and other venues not suitable for full-size productions. It was fully obvious that the members are obsessed with this artform and a wish to communicate their love of opera to their audiences. To this end, they have made cuts in the score, replaced the recitatives with spoken dialogue and adopted a very expressive and dynamic style of acting. The whole performance steamed with vitality and energy and the atmosphere was rollicking. The first act in particular was burlesque verging on farcical custard-pie comedy, though there were no real pies thrown – even if the wedding-cake in the second act came very close. In general, slapstick is not my cup of tea, but I must admit that this was an excellent performance. The acting was superb in all respects and the timing magnificent. Little gags in the background – and sometimes foreground – enlivened the proceedings further. The 'chorus' had little to sing but much to do as servants, and the fanciful costumes created a fairytale feeling.
The whole-hearted commitment was very tangible and the singing enthusiastic. The two wirepullers Don Alfonso and Despina – the latter in various disguises – were acted by Erik Johansson and the mercurial Stina Lindberg, with comparative restraint but nonetheless expressively, and Despina's two arias were – as always – the real showstoppers. The two couples – Cecilia Annerholm (Fiordiligi) and John Haque (Ferrando), Victoria Palmer (Dorabella) and Lukas Ljungqvist (Guglielmo) – made the audience laugh heartily. The sets were beautiful and appropriate, and Samuel Skönberg at the amplified piano deputised successfully for the orchestra. Though I would have preferred a more sophisticated approach, I was deeply impressed by the professionalism and commitment of the ensemble and am convinced that the performance whetted the opera appetite of first-time visitors. The ovations at the end were long and strong.
[4] Song & Opera Recital: Ann Hallenberg (mezzo-soprano), Magnus Svensson (piano), Dala Floda Church 9.8.2018.
Even though the Dala Floda Opera Festival naturally focuses on opera, it features other musical activities as well and the recital on Thursday afternoon with Ann Hallenberg and Magnus Svensson was at least partly devoted to the noble art of song. Ann Hallenberg made her international break-through when she stood in at extremely short notice for an ailing Cecilia Bartoli, singing Handel at Zurich Opera. Since then she has appeared regularly at leading opera houses and festivals and is regarded as one of the leading mezzo-sopranos worldwide. But even a world star can find her way to the rural idyll in Dala Floda, and she was accompanied by one of Sweden's foremost song interpreters.
They opened with Beethoven's song cycle An die ferne Geliebte (To a distant beloved), which arguably is the earliest cycle of all and, as opposed to the works of Schubert, Schumann and others in this genre, it is through-composed – a succession of the individual songs without pauses. Since the poems by Alois Jeitteles are directed from a man to a woman, the cycle is rarely sung by a woman – I have no recollection of ever hearing it with a female soloist – but it works eminently well. To express the feelings of love is not a question of gender, and here they are translated, so to speak, by way of images from nature. That it is a true cycle is amply demonstrated when in the last song Beethoven recalls thematic material from the first. Beethoven had of course portrayed nature in music before, in his Pastoral Symphony. Ann Hallenberg's warm voice and attention to nuance made this a truly memorable reading of An die ferne Geliebte.
Ann Hallenberg, who introduced all songs herself throughout the recital, then wished to make a case for Swedish music, which often tends to be overlooked. A contemporary of Beethoven, Adolf Fredrik Lindblad composed over 200 songs, many to his own texts. He was also to some degree influenced by Haydn and Beethoven, at least as a composer of instrumental music. His songs may not be as individual and deep as those of Schubert and Schumann, but they have a certain Swedish tone, are melodically agreeable and have retained their popularity to this day. Ann Hallenberg sang three of them, and the third, 'Aftonen' to a poem by Erik Johan Stagnelius is deemed to be one of his best. It was inwardly sung with a dark glow.
As an intermezzo Magnus Svensson played Franz Liszt's adaptation of Robert Schumann's 'Widmung', where Rückert's text begins: 'Du meine Seele, du mein Herz, du meine Wonn', o du mein Schmerz' (You my soul, my heart, my rapture, my pain), one of the most glowing love songs ever penned. In Liszt's transcription it becomes even more overwhelming, in particular when Magnus Svensson played it with such fervour and technical brilliance.
Love is the overriding theme also in Gunnar de Frumerie's 1942 song cycle Hjärtats sånger (Songs of the heart), which are settings of six poems by Nobel Prize Winner Pär Lagerkvist. I have long regarded it as the greatest group of songs by any Swedish composer, and Ann Hallenberg is the ideal interpreter of them. I heard her singing them some two years ago and was just as overwhelmed this time, in the more intimate songs, lovingly nuanced, as well as the intensity of 'Du är min Afrodite'.
After the interval we were treated to a handful of opera arias, beginning with a virtuoso tour de force with a French baroque aria, the title of which I did not catch. Baroque being Ann Hallenberg's speciality, she continued with Handel and a beautiful excerpt from his oratorio Theodora. The overriding theme for the arias was 'various aspects of love', and this aria juxtaposed heavenly and worldly love. In Sextus's 'Parto, parto' from Mozart's La clemenza di Tito, the theme was love as a means of blackmail. Dalila in Saint-Saëns's Samson et Dalila seduces Samson in order to render him harmless and possible to defeat by his enemies. 'Mon coeur s'ouvre a ta voix' was possibly the greatest achievement during the concert, sung seductively with a wonderful legato. She finished by conquering the audience in Arbace's riveting revenge aria from Rossini's Semiramide. The standing ovations were deafening and followed by not one but two encores, both Handel arias. This was music making of the highest order that will be long remembered by the approximately 160 listeners in Dala Floda Church.
[5] Gala Concert: Soloists, Dalasinfoniettan/Marie Rosenmir (conductor), Gagnef Church, Dalecarlia, 12.8.2018.
This year's Dala Floda Opera Festival is over, and the Grand Finale was a Gala Concert with no less than seven soloists in the beautiful Gagnef Church in the heart of the province of Dalecarlia. The concert opened movingly with the artistic director of the festival, Anna Eklund-Tarantino, singing a cappella from the rear of the church a composition by the recently deceased Bo Nilsson, written specifically for Anna's voice, a very beautiful and technically complicated work calling for an enormous vocal range. She then greeted the audience and the professional orchestra of the region, Dalasinfoniettan, which played Fanny Hensel-Mendelssohn's charming Overture in C major, a lively and optimistic work, expertly orchestrated and well conducted by Marie Rosenmir. The first soloist was Maria Sveinungssen with the letter scene from Massenet's Werther, sung with dramatic conviction. This was followed by the duet between Edwin and Sylva, 'Weisst du es noch?' from the operetta Die Csárdásfürstin by Emmerich Kálmán, exquisitely performed and acted by Paulina Pfeiffer and Mathias Zachariassen, who also had a spoken dialogue before the duet proper. Norina in Donizetti's Don Pasquale, was the next character to appear, in the shape of Maria Kjelsson. She sported a crystal clear lyric soprano and delivered the aria 'So anch'io la virtù magica' with great vivacity and a twinkle in her eye. As a contrast to this vividness, Joa Helgesson sang Wolfram's 'O du mein holder Abendstern' from Tannhäuser warmly and inwardly, with much sensitive nuance. Before the interval we were treated to one of the most famous ensemble numbers in the opera literature, the quartet from Rigoletto. Mathias Zachariassen was a lustrous Duke opposite Ulrika Tenstam's darkly seductive Maddalena to the left of the conductor, with Linus Flogell's brooding Rigoletto and Maria Kjelsson's glittering Gilda as onlookers to the right.
During the interval the audience could enjoy a lovely cup of coffee with home-made bread or take a refreshing walk outside, where the sun was setting behind the distant blue mountains – a typical Swedish late-summer evening picture. And typical Swedish music was on the programme when we returned: the prelude from Lars-Erik Larsson's beloved God in disguise. Paulina Pfeiffer invoked a night-time atmosphere with a beautiful reading of the song to the moon from Rusalka while Ulrika Tenstam took us to the American South with a strong reading of Clara's 'Summertime' from Gershwin's Porgy and Bess. The two main characters were then personified by Joa Helgesson and Paulina Pfeiffer in the duet 'Bess, you is my woman now' with lively acting. After an exquisitely played Pizzicato from Leo Delibes's ballet Sylvia, the gala – and the entire festival – was brought to a successful close with the duet 'Au fond du temple saint' from Bizet's Les pêcheurs de perles by Mathias Zachariassen and Linus Flogell. Standing ovations followed, but Anna Eklund-Tarantino called for silence and initiated applause for the many volunteers without whom the festival could not have taken place. This was the eighth festival and many of us look forward to the ninth next year. Preparations have already begun.
Göran Forsling