George Harliono talks with Gregor Tassie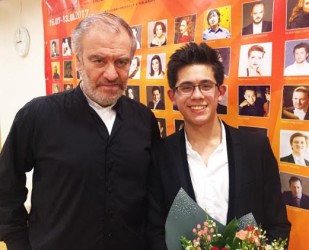 Among the finalists for the 2018 Brit Awards was the brilliant young pianist George Harliono, unfortunately he didn't win an award but certainly this seventeen-year-old has already been causing a stir in the classical music world. The young teenager George Harliono from Cambridge became a media celebrity a couple of years ago when he was invited to play with the Mariinsky Orchestra in Russia, and since which he has given several high-profile concerts in Russia and has played with the Chicago Symphony Orchestra, played at the Wigmore Hall, and this autumn will play at the Berlin Philharmonic. But he comes from a musical family for his older brother Joshua is studying violin at the Guildhall School of Music and his sister Adelaide plays cello in the National Children's Orchestra.
George Harliono has received awards from several competitions including the Grand Piano Competition in Moscow, the Royal Overseas League Music Competition, the Gina Bachauer Piano Competition and the Dino Lipatti Piano Competition in Bucharest.
However, it is rapidly developing concert career that is making him become one of the most promising talents in classical music. Despite his youth, he has shown remarkable prowess in choosing the right moves at this time, and he is already setting down markers for a major international career. Presently he studies with Vanessa Latarche Head of Keyboard studies at the Royal College of Music in London, and she together with George is carefully guiding his future musical life. George has studied with Vovka Ashkenazy and in Switzerland with his mentor Vladimir Ashkenazy.
The Chinese pianist Lang Lang has made him an ambassador for piano, and among his forthcoming engagements are with Vladimir Fedoseyev and the Tchaikovsky Symphony Orchestra, and a recital at the Mirato Minau Hall in Yokohama Japan.
GT: How did you first start playing music?
GH: When I was very young we had a very old upright piano at home. It was so bad that it couldn't be tuned properly. My brother and I just played around on it until eventually my parents got us piano lessons and that was when I began to enjoy music. I think that was when I was nearly seven years old. I was advancing very fast and completing part of the ABRSM course every couple of months. At that time, I was playing violin as well as piano and my mum had heard about a music school called Purcell, so we went along to see them, really just to find out more about the school. While I was there I played a piece on piano for one of the teachers and I was immediately told that If I was interested I could attend on a full scholarship. That was when I really started to take piano more seriously.
GT: You already had concerts but when you entered the school did you decide to become a professional pianist?
GH: No I don't think that at ten years old you think that way, it was a case of playing music because I really enjoyed it.
GT: What about your parent's musical or did you attend concerts, listen to music on radio etc.
GH: I was born in Hackney but lived there only a year or so but after that we moved to Saffron Walden and that is really where I learned to play music, that's where my childhood was spent and then when I was thirteen we moved to Cambridge. My parents are not really musical to be honest, but my dad likes rock, very different music and my mum she likes Richard Clayderman. I don't think I know where my love for playing classical music came from, but my brother was the first in our family to play an instrument. He started with the violin and I guess I just followed him. Both my sister and brother are quite musical, I don't know, it just happened.
GT: Did your parents support you when you started playing piano?
GH: I think that when they saw how much I enjoyed playing they really supported me, just because they could see how much the music meant to me, so I was truly lucky.
GT: So what was your inspiration to start playing music?
GH: When I was young I didn't really listen to anything apart from picking up from what my mum listened to on the radio, light and neo-classical music like Clayderman. I didn't listen to Beethoven in my cot or anything like that. The first piano recital that I went to was when I was ten years old. I was taken to a concert at the Birmingham Symphony Hall to see Mitsuko Uchida perform Schubert. This was the first proper concert I had attended but this was not much of a turning point, it didn't really affect me much to be honest. I have always enjoyed listening to music, but it is playing music that I really love, and it is always something that I will do. When I was younger I would go busking in Cambridge with my brother, I think that really taught me how to perform and how to react to an audience.
GT: Going to Russia, you are playing the Russian composers like Tchaikovsky, Prokofiev and Rachmaninov, are they favourite composers for you?
GH: I think my interest in particular composers comes in stages, so when I was younger between 10 and 13 my favourite composer was Beethoven. I always loved playing his music for the temperament and the passion in it, but I've always liked that sort of music. When I was in 14, I became interested in Liszt and also in the Russian composers like Rachmaninov and Tchaikovsky but also in The Five, their music is completely different from Rachmaninov and Tchaikovsky, but it is for the same reasons that I love these composers, for the passion and the great harmonies and textures that are in their music. It is this which I am really drawn to. Oh and having big hands really helps with these pieces, so for me they are not so difficult while a lot of my friends at college have problems with them. I am really lucky that I have these facilities and that I can really play anything I want at the moment.
GT: You have worked with different orchestras, how do you compare the Mariinsky and the Tatarstan orchestra, how do you find working with these orchestras and their conductors?
GH: In general, every orchestra is completely different. I have worked with a few amateur orchestras in the UK, they are all very friendly and I enjoy working with them hugely, there's not much pressure with them. But when I am working with a professional orchestra like in Tatarstan or with the Mariinsky, it's a lot better timed and a lot more exciting, in particular when you're on stage performing. For instance, when I was in Tatarstan working with Alexander Sladkovsky, it was sometimes challenging because Maestro Sladkovsky speaks very little English. Working with him is an interesting process as we can't talk much, so a lot of our communication is done through gestures which makes it a lot of fun. Alexander Sladkovsky is one of my favourite conductors because you can see that he really, really feels the music, particularly Rachmaninoff, one of his favourite composers. Then at the other end of the spectrum there is Valery Gergiev who speaks very good English but because of his schedule we have very little time to prepare for the performances. It's not unusual to have only around ten minutes of rehearsal time for a concerto. This makes working with Valery Gergiev very demanding but at the same time it can be very exciting because of the spontaneous type of performance you can get. Its only when you're playing it on stage with him that it all comes together.
GT: Is there a particular style that you like, from the different styles of piano playing?
GH: I don't think that in the UK we really have a school of playing. In France they have their style and in Russia they have their own way of doing things. Here in the UK I can play anyway that I want, I am not expected to play in a certain style, so I can mix it up. I don't feel restricted.
GT: The reason I mention is because when Van Cliburn won the Tchaikovsky, he had Russian teacher and he was lauded there because of this Russian school as it were from an American pianist everyone liked him there, because, also people like Ogdon and Lill won and there were English, and because of the success you have had in Russia is because the English school is distinct today?
GH: I don't know, I myself cannot describe the English piano music school.
GT: Now a lot of Russian musicians are teaching in England, so the English school has lost its influence perhaps, 40 or 50 years ago it was present?
GH: I think the reason that I get concerts in Russia and success from conductors there is that I don't play in the Russian way. Actually, I was working with an orchestra in Siberia, we were performing Tchaikovsky No.1 and the conductor said to me that no Russian pianist would ever play Tchaikovsky in the way that I was, he thought that was cool. I will never play the same way that Russians play, I play my own way, without restrictions.
I don't think this is a bad thing, I perform the music my way and of course not everyone will agree with my interpretation. I try to remain faithful to the composer and to myself.
GT: Obviously, the conductor in Siberia noticed you were from a different school in the last 30 or 40 years there has been a decline in funding for the arts and for music in schools so perhaps that has led to a decline in an English style of playing. Who has helped you more than anyone else, you're seventeen now and you have played a lot of concerts and taken part in competitions, and you have a career, ahead, some people get agents, opportunities, has there been help from Matsuev and from your teacher?
GH: You're right, in this country you don't get much support as a classical musician. There are a few organizations around that can give help, like YCAT and Hattori, but in general funding for my development as a pianist comes from my family and a few sponsors without whom I would not be able to do this.
The Royal College of Music and my teacher Vanessa Latarche are always amazing and the fact that I was awarded a full scholarship to study there means that I can receive the musical education that I need. Apart from this I receive most of the help from outside of the UK. The Russian pianist Denis Matsuev has been incredibly good to me, along with the conductor Alexander Sladkovsky who is, in my opinion, one of the greatest conductors around at the moment.
Working with wonderful conductors and orchestras has really helped me grow and develop as a musician, I have learnt a lot from these people and will use these skills for the rest of my life. I don't have an agent at present, but I am still getting lots of opportunities.
GT: There are good and bad agents, Sladkovsky has done everything though personal contacts. 
GH: I don't know what the problem was with him, but at my level agents can sometimes be too focused on their really big stars which means that the younger artists get overlooked, so I am very cautious in choosing an agent at this time. I just want to take it slowly and set everything up correctly for myself before taking that step.
GT: You have been with Vanessa Latarche for two years, how do you get along with her?
GH: Yes, after I met her at the Grand Piano Competition in Moscow a couple of years ago I went along for a visit to The Royal College of Music where she heard me play. We get along very well and have a great working relationship. Vanessa is really supportive in everything and makes sure I am keeping up with college work while also dealing with a reasonably busy performance schedule. She guides me in everything to do with my music, but I think the thing I like most about her is that she gives me enough freedom to do the things I want, while also giving me new ideas. I feel lucky that I can work with her.
GT: What about competitions, they can help get concerts on the so-called circuit?
GH: At the present I am getting enough concerts, I am really very busy, and I am not planning on taking part in any competitions in the near future. I would rather play music for an audience who want to hear me perform than being judged by people who are looking for a specific way of playing.
GT: I think you're quite right about a lot of these people, they have people who been doing competitions for 20 or 30 years; mature musicians are winning at 30, 32 years old and through concerts one learns music.
GH: There are some people who might play in a certain way to win a competition, safe, steady technique, nothing too flamboyant or stylish. So then the competition becomes a critique of your technique. That just leads to competitors playing without taking any risks, which might be one way to win.
People might say that this is a clinical and rather dull way to perform, they might say that music is an art form and as such it should be allowed to breathe and develop within a performer's own style. I myself don't want to change my playing style, I don't want to change my artistic ideas in order to win a competition.
GT: I think you are right, a lot of musicians come out of Russia, Korea and China and most of these musicians are being taught by their teachers to win competitions almost programmed to win £5,000 or £10,000 and then they maybe get a lot of concerts but it doesn't always work out that way, they have to have feeling for the music whether it is Chopin or Brahms, Beethoven, interpretation is an art form , it's not a question of so much money and a lot of dates, it seems you are doing it the right way.
GH: For me competitions are just a platform, but I have been very, very lucky to have been be supported by people like Lang Lang, Denis Matsuev and Alexander Sladkovsky who have helped by offering me some big concerts. Without those people I would never have had such a good start.
Gregor Tassie