Sweden Jonas S. Bohlin, Tristessa: Soloists, Chorus and Orchestra of the Royal Stockholm Opera / Fredrik Burstedt (conductor), Royal Opera House, Stockholm, 6.10. 2018. (GF)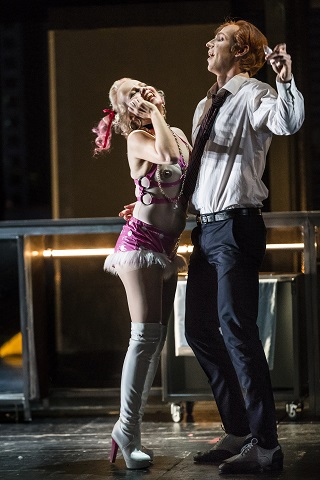 Production:
Music – Jonas S BohliLibretto – Jonas S Bohlin & Torbjörn Elensky
Libretto – Jonas S Bohlin & Torbjörn Elensky
Direction – Katharina Thoma
Visualisation – Ann-Sofi Sidén
Lighting – Olaf Winther
Choreography – Joakim Stepenson
Dramaturge – Katarina Aronsson
Cast:
Leilah/Lilith – Kerstin Avemo
Eve/Young Tristessa – Johanna Rudström
Nurse Sophia – Susann Végh
Evelyn/Old Tristessa – Joel Annmo
Zero/Mother – John Erik Eleby
Zero's seven women:
Monday – Anna Danielsson
Tuesday – Madeleine Barringer
Wednesday – Kristina Hansson Unander
Thursday – Jessica Forsell
Friday – Linda Bodin
Saturday – Katarina Böhm
Sunday – Johanna Sannefors
Guerilla girls/Go-Go dancers: Henrik Johansson, Agnes Thorell, Madeleine Wallgren Vivkery
Solo violin – Aleksander Sätterström
Speaker's voice – Henrik Hugo
A fascinating, bewildering, frightening, surrealistic, disgusting and humorous production, constantly thought-provoking and refreshing, sometimes unintelligible, never dull, always stretching limits. Visually it is kaleidoscopic, musically expressive, evocative and beautiful – and totally accessible also to conservative classical listeners. I was totally overwhelmed – and occasionally consternated.
Let's dissect the product. It is based on Angela Carter's conspicuous novel 'Passion of the New Eve' from 1977, in which Carter recalls her first visit to New York almost a decade earlier, when she encountered the Stonewall riot – gays and transvestites fighting the police – violent racial antagonism, the Black Panthers vs the police and the horrible Charles Manson family drama. There are traces of that in the opera in the shape of Zero and his seven wives. Gender roles are a central motif in the novel as well as in the opera, and one might be inclined to believe that the #MeToo movement of a year ago triggered the originators, but the project had been six years in the making before it eventually reached the stage of the Royal Opera – so that's just a coincidence.
Very briefly the story goes like this: Lilith, a young girl has been selected by Mother, the goddess, to find Evelyn, a man in spite of his name, and capture him and punish him since he is abusive towards women. Evelyn is taken to a laboratory for surgery that will transform him into a woman. The new Eve is born.
In Act II, Eve flees out into the desert, where she meets Zero and his seven wives. She becomes his eighth wife but is violently maltreated. She dreams of Tristessa, the legendary film star, and Zero becomes furious since he believes Tristessa is responsible for his infertility. They all break into Tristessa's palace and capture her, take off her clothes – and find that she is a man! Tristessa dies in Eve's arms, and Eve believes she is pregnant.
There is much more, but this is the gist of it. Go back and read the opening paragraph of the review again. My consternation has mostly to do with what happens on the stage, while the music that radiates from the pit is sheer delight. But all in all, I can't remember a production in recent times that has yielded so much energy. Musically this is not just a question of volume and power. Long stretches of the score are chamber music-like and rather brittle, but it can be hard and driven when it gathers momentum, reminding us that Bohlin has his roots in the punk movement back in the late seventies, at the very time when Angela Carter's book was issued. What impresses most of all is his writing for the chorus. They are much like the chorus in ancient Greek dramas, but also as an active human force, most strikingly in the finale after Tristessa's palace has imploded and the people, in a grand fortissimo, gradually sink into the sea. This is spectacular, both visually and vocally. In a central scene the chorus also appears in the auditorium, surrounding the audience in the stalls and thus creating a bridge between the stage and the onlookers.
In the pit there was a remarkably inspired conductor, Fredrik Burstedt, who has been an indefatigable champion of new operas over the past few years. For four years in a row, he has conducted world premieres at Vattnäs in Dalecarlia, a feat he now crowns with the sensational Tristessa. He has at his disposal a mostly youngish cast of singers, where rapidly rising tenor Joel Annmo doubles as Evelyn and Old Tristessa, while Eve and Young Tristessa is created by mezzo Johanna Rudström, last seen in the title role of Rossini's La Cenerentola. Both are excellent, as is Kerstin Avemo with her brilliant high soprano and her overwhelmingly intense acting. As Zero and Mother veteran, John Erik Eleby impresses greatly in the former role – Mother is only visible as a giant statue in the background – and his singing is as reliable as ever, in spite of the fact that he was reportedly indisposed. Susann Végh is a good Nurse Sophia, and Zero's seven wives and the other cameo roles are very convincingly sung and/or acted.
Last year's premiere of Dracula was a spectacular triumph, but Tristessa is a knockout that floored me from the start – and most of the other audience members as well. Tristessa is groundbreaking, and opera is most certainly alive!
Göran Forsling