Spain Bellini, I puritani: Liceu Chorus and Orchestra / Christopher Franklin (conductor), Gran Teatre del Liceu, Barcelona, 10 & 11.10.2018. (JMI)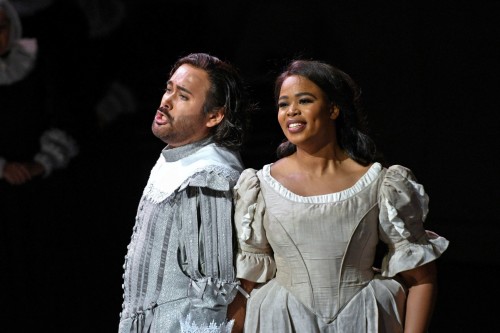 Cast:
Elvira – Pretty Yende/María José Moreno
Arturo – Javier Camarena/Celso Albelo
Riccardo – Mariusz Kwiecien/Andrey Kymach
Giorgio – Marco Mimica/Nicola Ulivieri
Enrichetta – Lidia Vinyes-Curtis
Lord Gualtiero – Gianfranco Montresor
Sir Bruno – Emmanuel Faraldo
Production:
Direction – Annilese Miskimmon (original), Deborah Cohen (revival)
Sets and Costumes – Leslie Travers
Lighting – Mark Jonathan
This staging by Irish director Annilese Miskimmon premiered in Cardiff three years ago, a co-production of the Welsh National Opera, the Danish National Opera and the Liceu. The opera begins in the 1970s in a Belfast torn by the confrontations between Protestants and Catholics; Elvira and her family belong to the Protestant Orange Order while Arturo is a Catholic. But in Act II the action moves back to the original setting of seventeenth-century England and the religious clashes between the followers of Cromwell and the Stuarts. It is all part of Elvira's madness, and so the story repeats itself, as if nothing has changed in the 300 years that have passed.
In this production, the ending of the opera has also been changed. I puritani traditionally has a happy ending: in the final moments a pardon for Arturo arrives and his life is spared. It is not like that here, where Arturo dies at the hands of the Protestants, and Elvira once again goes mad.
The stage direction is not brilliant with either the soloists or the crowd scenes. The ambience is dark throughout, and the stage is almost bare. In short, it is a production that is heavy with ideas, but it does not succeed in making the plot come to life.
Conductor Christopher Franklin's reading was not terribly exciting, and the result was a fairly flat performance, though it improved in Act III. I preferred his Otello two years ago. However, he provided solid accompaniment throughout for the singers, which is greatly appreciated when there are vocalists like the ones heard here.
Javier Camarena sang the role of Arturo, as he did a few years ago at Teatro Real, and with great success. During this time, if I am not mistaken, he has only sung the part at New York's Metropolitan, which shows that he does not abuse his voice. His performance was truly splendid. Not only he does have a beautiful voice, but he sings magnificently and is able to reach the impossible high Ds. He gave a real lesson in singing, and there's no doubt that he is the finest Arturo today as well as one of the greatest tenors.
In the second cast Arturo was played by Celso Albelo, undoubtedly one of the most competent interpreters of the character in recent years. His performance was good but somewhat superficial, although I found him more expressive in Act III than he has been in previous performances.
Soprano Pretty Yende triumphed in the part of Elvira with a marvelous voice, well-handled and with superb agilities, and a great facility in the high part of the tessitura. She has a rare ability to thrill the audience with her singing, and her Elvira was splendid – it is hard to imagine it could be any better. This young singer has a spectacular future ahead of her if she takes care of her voice.
María José Moreno as Elvira in the second cast was excellent and totally convincing, as she has been many times since she first sang the role nineteen years ago.
Riccardo in the first cast was played by baritone Mariusz Kwiecien who, in my opinion, is one of the best possible singers in this repertoire. He did very well, although one had the impression at the end of Act II that he was not in perfect condition. In the second cast baritone Andrey Kymach was less convincing.
It would appear that basses are rather scarce in the world, as it is increasingly common to cast baritones in roles that should be sung by basses. This is what happened here, which was less of a problem with Marco Mimica in the first cast than with Nicola Ulivieri in the second. In the secondary characters we had Lydia Vinyes-Curtis as Enrichetta of France, a correct Gianfranco Montresor as Lord Gualtiero and Emmanuel Faraldo, who played the part of Sir Bruno.
The performances were dedicated to the memory of Montserrat Caballé, whom the audience honored with a standing ovation, and a recording was played of her singing 'Casta diva' in the Liceu.
José M. Irurzun