United Kingdom Rossini, Respighi, Mendelssohn: Maximiliano Martín & William Stafford (clarinets), Scottish Chamber Orchestra / Daniele Rustioni (conductor), Queen's Hall, Edinburgh, 6.12.2018. (SRT)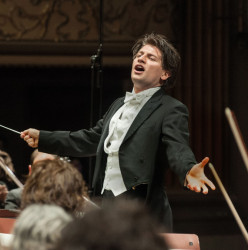 Rossini – Overture, L'Italiana in Algeri
Respighi – Ancient Airs and Dances: Suite 1
Mendelssohn – Two Concert Pieces, Opp. 113 & 114; Symphony No.1
Italian conductor Daniele Rustioni is – at a mere 35 years old – a young slip of a thing in conductorly terms, but in his gestures and demeanour he is really rather old school. Making his debut with the Scottish Chamber Orchestra, he resorted to lots of old tricks to get his chosen sound out of the orchestra, be it pulling faces or rolling his eyes, or crouching to the ground any time he wanted a pianissimo. The orchestra seemed to rather like it, though, and most of them wore broad smiles for much of this concert, always a good sign.
He was here to continue the SCO's mini Mendelssohn series with a high octane performance of the First Symphony, whose wiry first movement bristled with youthful drama, one foot firmly in the Sturm und Drang of Haydn and Mozart, before the second dissolved into the most gorgeous early Romantic string sound. The Menuetto had swagger to spare, but also a strangely peaceful Trio section, while the finale was full of serious, high-minded drama. Yes, it is the least exciting of Mendelssohn's numbered symphonies, but when you consider the age of its composer any criticisms tend to disappear before what is surely the most remarkable symphony ever written by a 15-year old.
Before that, we were treated to two juicy rarities, the composer's 1833 Concert Pieces for clarinet, basset horn and orchestra. They are odd, though rather lovely, and they gave an excuse to showcase the orchestra's brilliant clarinettists in solo concertante roles. Sometimes, Maximiliano Martín's clarinet would play the protagonist while William Stafford's basset horn acted as sidekick, and sometimes they would play in corresponding thirds like characters in a Mozart love duet. Both pieces began with dramatic declamations that still managed to sound mellifluous, and they ended with light-hearted flourishes that seemed to channel Rossini. I always think that it is rather special when soloists are drawn from the orchestra, and the warm reception for these unusual gems reinforced that.
Speaking of Rossini, it would have been a shame to have let Rustioni go without some Italian music, and he obliged with a sparkling overture to L'Italiana in Algeri which pointed up the dynamic contrasts in the interests of both drama and colour, featuring bouncy strings and gorgeous cantabile winds. Those also featured in Respighi's first suite of Ancient Airs and Dances, which the orchestra brought to life with delicacy and fine appreciation for the unusual colour palette. The paper-thin texture of this music, with its harpsichord and muted strings, is every bit as unusual as the Mendelssohn Konzertstücke, but I thought it worked very well with its Renaissance poise seen through a decidedly twentieth-century prism. Maybe it is the time of year, but it reminded me of the sort of snow scene you see on a Victorian-themed Christmas card: you know it never really existed, but the whimsical nostalgia is inviting enough for you to wallow in it for a few indulgent minutes.
Simon Thompson