United States R. Strauss, Elektra: Soloists, Orchestra, Lyric Opera of Chicago / Donald Runnicles (conductor). Civic Opera House, Chicago. 2.2.2019. (JLZ)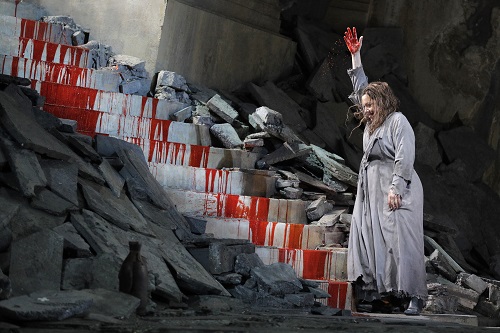 Production:
Conductor – Donald Runnicles
Original Director – Sir David McVicar
Revival Director – Nick Sandys
Set and Costume Designer – John Macfarlane
Lighting Designer – Jennifer Tipton
Chorus Master – Michael Black
Cast:
Elektra – Nina Stemme
Chrysothemis – Elza Van Den Heever
Klytämnestra – Michaela Martens
Orest – Iain Paterson
Aegisth Robert Brubaker
Five Maids – Lauren Decker, Mary Phillips, Krysty Swann, Alexandra Lobianco, and Ann Toomey
Overseer – Susan Foster
Confidante – Whitney Morrison
Trainbearer – Emily Pogorelc
Young Servant – Eric Ferring
Old Servant – Kenneth Nichols
Tutor – Philip Horst
Lyric Opera of Chicago's revival of Sir David McVicar's stunning production of Elektra brings this emblematic example of early twentieth-century modernism to the stage with an outstanding cast. While Chicago audiences experienced this production in 2012, this revival attests to the durability of McVicar's staging, with director Nick Sandys contributing his effective blocking and stagecraft sense honed from years of experience as Lyric's fight director. McVicar's original offers options for talented directors: on the left, a central courtyard, and on the right, stairs to Agamemnon's aging palace and the pillars of adjacent structures. The set fittingly evokes the ancient Greek world for this near-perfect collaboration between Richard Strauss and librettist Hugo von Hofmannsthal.
Conductor Donald Runnicles led nimbly, with crisp tempos that ensured clean entrances, from opening chords to the opera's tragic conclusion. Runnicles brought out the romantic harmonies associated with Chrysothemis's longing, but avoided the overindulgence that sometimes interrupts the flow of contrasting musical ideas. Similarly, the starkly orchestrated dissonances were powerfully rendered, but never at the expense of the richly voiced balances. Runnicles's incisive style brought out timbres in Strauss's dense score that sometimes escape other conductors.
Despite a knee injury that inhibited some of her movements, Nina Stemme gave a valiant and impassioned reading of the title role. Early on, her upper range sounded tenuous, with some pitches falling short of the soprano's fuller delivery in later scenes. Nevertheless, Elektra's opening monologue set the dramatic tone, and Stemme's masterful interpretation had a sense of urgency.
As Chrysothemis, Elza Van Den Heever gave an equally persuasive performance that brought out myriad details. It was a strong performance all around, and all the more effective for the dramatic sense she brought to the final scene, as she uttered the opera's closing words.
With her first phrases, Michaela Martens brought Klytämnestra to life, and her burnished voice was well-suited to the role. While the orchestra sometimes covered her, her interpretation was satisfying enough to warrant rehearing. As Orest, Iain Paterson gave a similarly strong reading, with his resonant bass-baritone immediately commanding the stage. In the climactic moment of recognition, his exchange with Elektra was effective, and propelled the action forward as he fulfilled his sister's plans for retribution.
At this point, the orchestra and soloists were seamlessly unified in bringing the opera to its conclusion with well-considered drive. As Stemme delivered her final lines, Van Den Heever climbed the stairs to the palace, drenched in the blood flowing from its rooms. The silence between the final note of the score and the enthusiastic applause attested to Runnicles's brilliant interpretation.
James L Zychowicz