France Verdi, La forza del destino:  Soloists, Orchestra and Chorus of L'Opéra National de Paris / Nicola Luisotti (conductor)/ Opéra Bastille, Paris, 25.6.2019. (RP)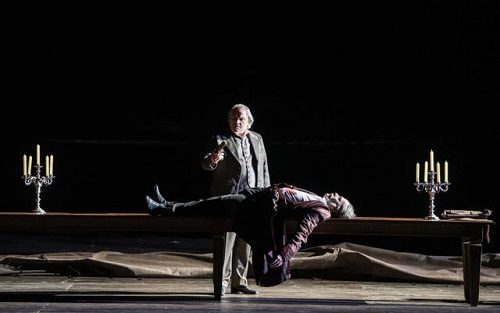 Production:
Director – Jean-Claude Auvray
Revival Stage Director – Stephen Taylor
Set Designer – Alain Chambon
Costume Design – Maria Chiara Donato
Lighting Designer – Laurent Castaingt
Choreographer – Terry John Bates
Chorus Master – José Luis Basso
Cast:
Marchese di Calatrava – Carlo Cigni
Donna Leonora – Elena Stikhina
Don Carlo di Vargas – Željko Lučić
Don Alvaro – Brian Jagde
Preziosilla – Varduhi Abrahamyan
Padre Guardiano – Rafal Siwek
Fra Melitone – Gabriele Viviani
Curra – Majdouline Zerari
Maestro Trabuco – Rodolphe Briand
Mayor – Lucio Prete
A Surgeon – Laurent Laberdesque
As fine as the cast assembled by the Opéra national de Paris was for this revival of Jean-Claude Auvray's 2011 production of La forza del destino, the sounds that emerged from the pit captivated me most. The fleet woodwind playing in Act I was stunning, equaled by the transparency of the orchestra and the delicate harp arpeggios during Leonora's 'Pace, pace, mio Dio', while the moments of high drama throughout the opera reached feverish heights. In short, Nicola Luisotti and the orchestra did everything possible to make this performance memorable, as did the singers on stage.
Elena Stikhina balanced passion, remorse and piety to create a complex Leonora. Stikhina moved with a natural grace and simplicity and, coupled with the focus and intensity of her singing, it pulled me immediately into her plight. Her voice is of ample size, but clarity and evenness are its most remarkable characteristics. Those attributes, coupled with the expressiveness of her singing, permitted Luisotti to craft the stunning, intimate sonorities that underpinned her touching portrayal of this tragic woman.
Brian Jagde was handsome and dashing as Don Alvaro. It took him a few minutes to hit his stride in both Acts I and II, but once his voice steadied, he soared. Željko Lučić, with his flowing white mane, strained credulity as Don Carlo in his student guise, but he never fails to thrill in full villain mode. The top notes didn't ring as free at this performance as I recall them, but his scintillating baritone was otherwise in fine form. The lightness and lyricism of his singing in the opening scenes was particularly impressive. In their Act III duet, 'Ne gustare m'e dato un'ora', Jagde and Lučić were white-hot vocally and dramatically.
Baritone Gabriele Viviani was a particularly winning Melitone, and provided a soupçon of comic relief with the lightest of touches. Padre Guardiano was given an equally nuanced portrayal by Rafal Siwek, aided by his resonant bass voice. Every time she stepped on stage as Preziosilla, mezzo-soprano Varduhi Abrahamyan was a bolt of electricity. Her top notes thinned a bit, but the middle and lower ranges of her voice are pure velvet. Majdouline Zerari also made an impression in her brief time on stage as Curra.
The production took me back in time to the years following the Great Recession when, whether driven by financial necessity or the zeitgeist of the era, bare stages with a large table (or in this case tables) as the main set were seen in opera houses across Europe. Updated to 1850, the colorful period costumes added immensely to the production's visual vibrancy. Intensity and immediacy were heightened by having soloists and chorus sing directly at the audience.
Auvray is, however, a master of style, capable of creating rich tableaux with a single, oversized stage element and the placement of the Opéra national de Paris' excellent chorus. A large curtain was transformed into various backdrops, ultimately becoming Leonora's cave in the final act, from which she emerged to sing 'Pace, pace mio Dio!' and beneath which Don Carlos found her hiding from an unwelcome intruder.
Another such unifying figure was the large, suspended corpus of the crucified Christ in the monastery where Leonora sought refuge. In the final scene, it was lying at the back of the sloped stage. Don Carlo breathed his last at the foot of the cross, while his sister expired downstage seconds later. The final curtain fell on a scene of utmost sorrow, with three sacrificial victims bathed in a pale, soft light.
Rick Perdian