United States Carnegie Hall Opening Night 130th Anniversary Season – A Virtual Gala Celebration: Carnegie Hall, NY. Live stream viewed on 7.10.2020. (RP)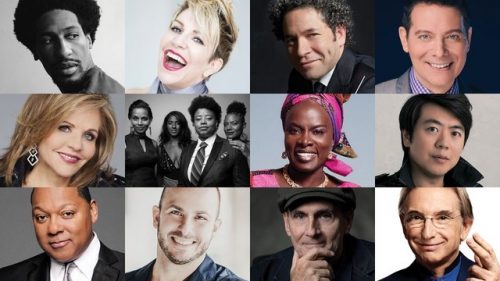 Performers:
Jon Batiste
Joyce DiDonato
Gustavo Dudamel
Michael Feinstein
Renée Fleming
Rhiannon Giddens and Our Native Daughters
Angélique Kidjo
Lang Lang
Wynton Marsalis
Yannick Nézet-Séguin
James Taylor
Michael Tilson Thomas
Habib Azar, Director
Carnegie Hall has a story to tell, and so it did in its first-ever Virtual Gala Celebration. Gustavo Dudamel and the Los Angeles Philharmonic were scheduled to open the Hall's 130th season with pianist Lang Lang and soprano Liv Redpath as soloists. It would have been the Los Angeles Philharmonic's first performance on the legendary stage in 30 years. Instead, the entire world was invited to a celebration of the Hall's legacy and the performers who have appeared there.
In a faded black-and-white video clip, Leonard Bernstein, who skyrocketed to fame in 1943 when he was a last-minute substitute for an ailing Bruno Walter, greeted the audience and then conducted the overture to Candide. While the music played, photos of performers, ticket stubs and concert posters were projected. Everyone who was anyone played Carnegie Hall, ranging from Mahler to the Rat Pack: Frank Sinatra, Dean Martin, Sammy Davis, Jr. and Joey Bishop performed a tribute to Martin Luther King, Jr. Arturo Toscanini, Vladimir Horowitz and Maria Callas were as much at home there as Judy Garland, Billie Holiday, The Beatles or Bob Dylan.
Robert F. Smith, Chairman of Carnegie Hall's Board of Trustees, spoke of the venue's resilience and strength. Although its doors are shut and the halls quiet, Smith assured everyone that music is still being made under Carnegie Hall's auspices: the education and social impact programs of Carnegie Hall's Weill Music Institute and the intimate on-line musical performances of Live with Carnegie Hall are reaching people around the globe.
'All good cause may here find a platform' were the words that Andrew Carnegie spoke when he laid the cornerstone of the Hall in 1890, and many have. Mark Twain shared the Carnegie Hall stage with African American crusader Booker T. Washington in a sold-out benefit in 1906 for the Tuskegee Institute, a private, historically Black university in Alabama. Theodore Roosevelt called upon America to stand with the world during World War I. Free midday concerts were presented during the Depression and, more recently, comfort, support and compassion were to be found here during times of crisis such as the HIV/AIDS epidemic and 9/11.
All music has found a home at Carnegie Hall. In 1892, Sissieretta Jones, the American soprano who was sometimes called 'The Black Patti' in reference to Italian opera singer Adelina Patti, sang on its stage. Enrico Caruso made his first recordings in a studio above the Hall. Jazz and blues concerts have been a feature since 1912, and Gershwin's Porgy and Bess and Concerto in F premiered here.
The loyalty of performers to the Hall in as legendary as that of audiences to those who make the music. With 11 sold-out shows over 11 days in 1979, Liza Minelli holds the record for the longest running series of consecutive appearances by any one artist. Her three-week run of performances in 1987 is the longest residency by a solo performer in the Hall. The Philadelphia Orchestra has performed at Carnegie Hall over 800 times. As for those who fill the Hall to hear the greatest performers in the world, Lena Horne summed it up: 'When Carnegie Hall loves you, you are truly loved'.
There are stellar musical moments from the past to savor during the gala, from Sarah Vaughan singing 'Send in the Clowns' with Count Basie and His Orchestra to Marilyn Horne's 'God Bless America', to say nothing of Frank Sinatra singing 'Mack the Knife' from the gala reopening of the Hall in 1986. James Taylor told of being a relative classical music illiterate when he heard Seiji Ozawa and the Boston Symphony Orchestra perform Mahler's Fifth, which he said knocked his socks off. He is then seen singing 'Here comes the sun' with Yo-Yo Ma on the cello. America's two favorite divas, Renée Fleming, and Joyce DiDonato are also heard.
Music of the moment was also presented. 'We're Still Here/He's Alright' was performed by Wycliffe Gordon with NYO Jazz Orchestra. Lang Lang gave an ebullient performance of Bach's Goldberg Variation 26 from Beijing. Jon Batiste played Eubie Blake's 'Charleston Rag', written by the composer/pianist in 1899 when he was only 12 years old. From Paris, Angélique Kidjo sang 'Once in a Lifetime', and 'Quasheba, Quasheba' was performed by Our Native Daughters.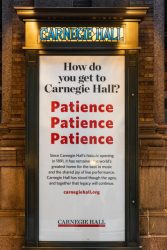 'How do you get to Carnegie Hall?' Everyone knows that line and the response: 'Practice, practice, practice'. When you walk past Carnegie Hall on 57th Street these days, the central marquee is empty, but a nearby one has a poster emblazoned with 'Patience, patience, patience'. Clive Gillison, Carnegie Hall's Executive and Artistic Director, acknowledged that this has been an incredibly difficult period, but that it was nonetheless important to take time to celebrate this milestone season. Indeed it was.
Rick Perdian
To view Carnegie Hall's 130th anniversary Virtual Gala Celebration, click here.