United Kingdom The Royal Ballet: Back on Stage: Dancers of The Royal Ballet, Orchestra of the Royal Opera House / Jonathan Lo (conductor). Live-streamed from the Royal Opera House, London, 9.10.2020. (JPr)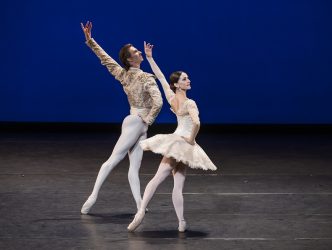 Seven months since The Royal Ballet last performed (Swan Lake) the entire company returned to the Covent Garden stage. Had we not (rightly) be continually reminded of the joy of all concerned at being back on stage and hearing applause from a live audience; heard of all the hurdles that had to be overcome, including 'bubbles' and social distancing (including seeing the orchestra spaced out throughout the stalls); been given several reminders to donate to the Royal Opera House Recovery Fund; it would have seemed just an ordinary ballet gala with the stars of The Royal Ballet performing their party pieces.
It was streamed live and is available On Demand (click here) until 8 November 2020 at £16. (Sadly, there were numerous comments on the ROH website from those having trouble accessing it at the time it was on.) It was introduced by Anita Rani with onstage interviews with dancers or a number of those helping to put the performance on, most of whom said much the same thing. The three hours running time was not helped either by additional pre-recorded films of the company's backstage activities. However, it was interesting to see The Royal Ballet's digital outreach project Doncaster Dances bringing dance to the local community. There was small (400 I believe) invited audience made up of students, nurses, and other health care providers: their cheering (despite all wearing masks?) and storm of applause sounded almost like a full house. Those watching at home (and in the opera house?) were treated as die-hard balletomanes because nothing we saw was ever fully introduced – either by Anita Rani or by means of titles for us online – in any great detail.
Anybody putting something together like this cannot win as there will be things that you see which make you wonder why they chose that, and others that you wanted to see but were not included. The laudable aim was to find something for everybody in the company who has been idle – ballet classes notwithstanding – for all these recent months. In the end there was an intriguing mix (listed below) of the old and new.
Hofesh Shechter's Untouchable is not a work I have seen before but to a pulsating track – and in costumes looking like rehearsal clothes – the excerpt we saw was all viscerally urgent movement with the contemporary tropes of angular arms and legs, and much floor work. Then something completely different, the Act II pas de deux from Swan Lake. This was stunning but it was only a bare dark stage and it would have been even better had some rear projection been used – here and elsewhere in the programme – to create more ambience. The veteran Federico Bonelli gets little to do other than present his ballerina well, which he did, and Akane Takada was a revelation with expressive hands and arms, and exquisite foot flutters. Cathy Marston's In Our Wishes was a new work and danced to some romantic Rachmaninoff. Fumi Kaneko and Reece Clarke explored the arc of a couple's intimate relationship – all human love life is here – in a few fleeting minutes. Balanchine's languorous 'Diamonds' pas de deux from Jewels saw Sarah Lamb at her most poised and elegant, with Ryoichi Hirano relegated to just making her look as good as possible.
I thoroughly enjoyed seeing Kenneth MacMillan's 'If I Loved You' Carousel duet for the first time. This is not a surprise since it is his last-ever work and is, apparently, rarely seen. There is macho posturing from Matthew Ball as Billy Bigelow and some tomboyish antics from Mayara Magri as Julie Jordan. There is more than a hint of MacMillan's Romeo and Juliet (that we would see later) in the duet. Despite Magri trying to slap Ball three times, it is all joyously romantic until he gets what is after and deserts her! Next was the Finale from Christopher Wheeldon's Within the Golden Hour which with its Jasper Conran costumes involves seven couples in leaping, spinning, perpetuum mobile (with the emphasis on mobile!) choreography. Excerpts from Sir Frederick Ashton's The Dream intriguingly brought us two different Oberons. William Bracewell channelled Anthony Dowell in the Scherzo by being fey and stylish alongside the always charismatic Valentino Zucchetti as the most puckish of Pucks. However, in the pas de deux perhaps Alexander Campbell (Oberon) and Laura Morera (Titania) were a last-minute pairing as they lacked any chemistry and anyway the talented, but rather muscular, Campbell is not physically suited to Oberon and probably fell foul of this gala's need to give everybody something to do.
Rising stars First Soloist Anna Rose O'Sullivan as Lise, and Principal Dancer Marcelino Sambé as Colas were clearly the audience favourites (had there been a 'clapometer') at their curtain call at the very end, and quite rightly so. Their pas de deux from Act I of La Fille mal gardée was sunny, carefree, and danced with bucolic charm and elan. After these high jinks it was time for a much-publicised real-life couple to dance the Act I pas de deux from MacMillan's Romeo and Juliet.  Francesca Hayward was an ideal Juliet, full of youthful burgeoning passion. Since his move from English National Ballet the up-and-coming Cesar Corrales has not been given many opportunities by The Royal Ballet. His solo dancing was as promising as ever, however, he was over-concentrating on his partnering, and this hampered the ease and flow of their love duet.
The supremely gifted Natalia Osipova was poorly served by Sidi Larbi Cherkaoui's solo from Medusa (to Ailish Tynan singing Henry Purcell's plaintive 'O Let Me Weep') and it would have been good to see her in something more significant. In the spotlight on a(nother) darkened stage it was all sinuous arms, turning and tumbling, but has little real substance. Having announced his retirement earlier this year, the much-admired Edward Watson bid – what I suspect was – a fond farewell to the Covent Garden stage in a scene from Wayne McGregor's Woolf Works to Hans Richter's haunting music. From the little I know about the novels of Virginia Woolf, Watson is Mrs Dalloway's Septimus Warren Smith a traumatised soldier reliving the war and the death of his close friend Evans (Calvin Richardson) on the battlefield, with Akane Takada as Septimus's wife Lucrezia. McGregor's homoerotic duet reveals the bromance (and more?) between the two men and that Lucrezia is the loser in this love triangle.
Undoubtedly, the pièce de resistance of this eclectic programme was the old ballet gala warhorse, the Don Quixote pas de deux. For Marianela Nuñez – who danced throughout with a wide beaming smile – praise cannot be higher. She has by now danced just about every role a ballerina can, yet is still as vivacious and secure as ever. Her technique remains rock-solid and she is the most musical of dancers. Nuñez made her fan part of the fun, her balances were close to perfection, and her quickfire fouettés never wandered. Vadim Muntagirov's spins were a blur and his scissor leaps created a genuine frisson. He is the most perfect partner for Nuñez and it is impossible not to be entranced him, although there is a lingering thought in the back of my mind that he really should make it all look just a little more difficult!
The finale – and very appropriate for Black History Month – was MacMillan's ragtime ballet Elite Syncopations to Scott Joplin's catchy, foot-tapping music. Rehearsal Director, Christopher Saunders, revealed how it would be a 'Special limited-edition performance. [Kevin O'Hare's] idea was to get the whole company on stage … with Lady MacMillan's blessing we've done that … The integrity of the ballet is still there, the choreography hasn't changed. We only have 10 couples that are physically allowed to make contact, the others have to social distance … There's almost 2½ casts … ready to perform … We can only rehearse between 16 and 18 dancers in the studio and the first time they saw each other as a whole was on our first stage call.'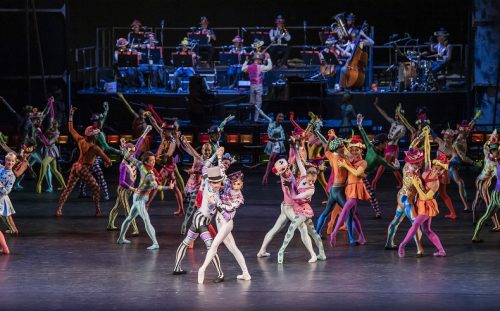 It was suitably celebratory, and Ian Spurling's costumes continue to amaze. When the whole ensemble flitted and whirled around during the concluding 'Cataract Rag' in their close-fitting unitards – in garish, candy colours – and jaunty off-kilter hats it was almost hallucinogenic. It is a little churlish to add that I have seen Elite Syncopations danced with more sparkle and more pizzazz, but just getting all concerned together was an astonishing achievement. Yasmine Naghdi slinked around very attractively even if her hip wiggling seemed rather chaste compared to some others I have seen dance 'Stop Time Rag'. Those at the fringes of the 'action' were jiggling away on their own mostly and it all added to the party atmosphere.
From their opening Overture from The Sleeping Beauty the orchestra – spiritedly conducted by Jonathan Lo – played some diverse music very well indeed and there were many notable solo contributions. Kudos also for the rhythmic brio of the small Elite Syncopations ragtime band under pianist Robert Clark.
Jim Pritchard
Programme:
Tchaikovsky's The Sleeping Beauty – Overture (performed by Orchestra of the Royal Opera House)
Excerpt from Untouchable
Choreography – Hofesh Shechter
Music – Hofesh Shechter and Nell Catchpole
Dancers – Luca Acri, Mica Bradbury, Annette Buvoli, Harry Churches, Ashley Dean, Leo Dixon, Téo Dubreuil, Benjamin Ella, Isabella Gasparini, Hannah Grennell, James Hay, Joshua Junker, Paul Kay, Isabel Lubach, Kristen McNally, Aiden O'Brien, Romany Pajdak, Calvin Richardson, Francisco Serrano, David Yudes
Swan Lake – Act II pas de deux
Music – Pyotr Il'yich Tchaikovsky
Choreography – Lev Ivanov
Costume designer – John Macfarlane
Dancers – Akane Takada (Odette) and Federico Bonelli (Prince Siegfried)
In Our Wishes
Choreography – Cathy Marston
Music – Sergey Rachmaninoff (Solo piano Kate Shipway)
Costume designer – Roksanda
Dancers – Fumi Kaneko and Reece Clarke
'Diamonds' pas de deux from Jewels
Choreography – George Balanchine
Music – Pyotr Il'yich Tchaikovsky
Costume designer – Karinska
Dancers – Sarah Lamb and Ryoichi Hirano
'If I Loved You' pas de deux from Carousel
Choreography – Kenneth MacMillan
Music – Richard Rodgers, arranged by Martin Yates
Costume designer – Bob Crowley
Dancers – Mayara Magri and Matthew Ball
Within the Golden Hour Finale
Choreography – Christopher Wheeldon
Music – Ezio Bosso
Costume designer – Jasper Conran
Dancers – Anna Rose O'Sullivan, Marcelino Sambé, Fumi Kaneko, Reece Clarke, Yasmine Naghdi, Nicol Edmonds, Ashley Dean, Isabella Gasparini, Hannah Grennell, Romany Pajdak, Luca Acri, David Donnelly, Téo Dubreuil, Benjamin Ella
The Dream
Choreography – Frederick Ashton
Music – Felix Mendelssohn
Costume designer – David Walker
Dancers – 'Scherzo': William Bracewell (Oberon), Valentino Zucchetti (Puck), Mica Bradbury (Peaseblossom), Leticia Dias (Cobweb), Ashley Dean (Moth), Isabella Gasparini (Mustardseed); Pas de deux: Laura Morera (Titania) and Alexander Campbell (Oberon)
La Fille mal gardée Act I pas de deux
Choreography – Frederick Ashton
Music – Ferdinand Hérold (arranged and orchestrated by John Lanchbery)
Costume designer – Osbert Lancaster
Dancers – Anna Rose O'Sullivan (Lise) and Marcelino Sambé (Colas)
Romeo and Juliet Act I pas de deux
Choreography – Kenneth MacMillan
Music – Sergey Prokofiev
Costume designer – Nicholas Georgiadis
Dancers – Francesca Hayward (Juliet) and Cesar Corrales (Romeo)
Medusa Solo
Choreography – Sidi Larbi Cherkaoui
Music – Henry Purcell (Solo violin Vasko Vassilev; Solo cello Christopher Vanderspar)
Costume designer – Olivia Pomp
Dancer – Natalia Osipova (Medusa)
Woolf Works 'I now, I then'
Choreography – Wayne McGregor
Music – Max Richter
Costume designer – Moritz Junge
Dancers – Edward Watson, Akane Takada, and Calvin Richardson
Don Quixote Act III pas de deux
Choreography – Marius Petipa
Music – Ludwig Minkus (arranged and orchestrated by Martin Yates)
Costume designer – Tim Hatley
Dancers – Marianela Nuñez (Kitri) and Vadim Muntagirov (Basilio)
Highlights from the Royal Opera House Learning and Participation dance film, Doncaster Dances. Made in collaboration with The Royal Ballet, Cast, and Doncaster Council. Featuring Charlotte Tonkinson, Joseph Aumeer, David Pickering, and residents of Doncaster.
Elite Syncopations
Choreography – Kenneth MacMillan
Music – Scott Joplin and other ragtime composers
Piano Conductor – Robert Clark
Costume designer – Ian Spurling
'Sunflower Slow Drag'/'Elite Syncopations' – The Company
'The Cascades' – Claire Calvert, Gina Storm-Jensen and Romany Pajdak
'Hot-House Rag' – Benjamin Ella, Téo Dubreuil, Fernando Montaño and David Yudes
'Calliope Rag' – Claire Calvert
'The Golden Hours' – Meaghan Grace Hinkis and Luca Acri
'Stop Time Rag' – Yasmine Naghdi
'The Alaskan Rag' – Melissa Hamilton and Paul Kay
'Bethena (Concert Waltz)' – Yasmine Naghdi and Nicol Edmonds
'Friday Night' – James Hay
'Cataract Rag' – The Company