United States Lawrence Brownlee & Friends in Philadelphia: Lawrence Brownlee (tenor), Lindsey Reynolds, Sarah Shafer & Karen Slack (sopranos), Myra Huang (piano). Performance from Opera Philadelphia, Wilma Theater, Philadelphia, live-streamed first on 23.10.2020. (RP)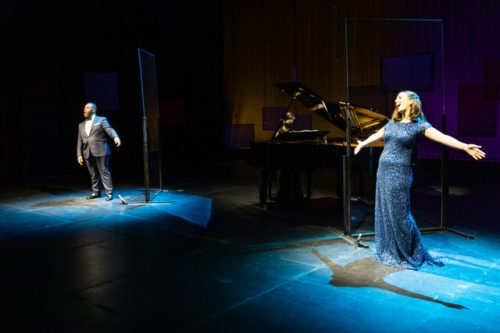 Mozart – 'Laudamus te' (from Great Mass in C minor K.427)
Massenet – 'Je suis encore tout étourdie' (from Manon), 'Il est doux, il est bon' (from Hérodiade)
Donizetti – 'Allegro io son' (from Rita)
Alma Mahler – Fünf Lieder No.1, 'Die stille Stadt'
Nadia Boulanger – 'La mer est plus belle'
Clara Schumann – 'Liebst du um Schönheit' Op.12 No,4
Amy Beach – Three Browning Songs Op.44 No.1, 'The Year's at the Spring'
Traditional spirituals – 'Deep River' (arr. H. T. Burleigh), 'Watch and Pray' (arr. Undine Smith Moore & Myra Huang), 'My Good Lord Done Been Here' (arr. Jacqueline Hairston)
John Carter – Cantata for Voice & Piano, 'Toccata' ('Ride on King Jesus')
Herbert – 'Art is Calling for Me' (from The Enchantress)
Isham Jones – 'It Had to Be You'
Gershwin – 'Fascinating Rhythm' (from Lady, Be Good)
Berlin – 'Anything You Can Do' (from Annie Get Your Gun)
Opera Philadelphia opened its 2020/21 season with 'Lawrence Brownlee & Friends in Philadelphia' but, as the star tenor quipped, for all of the focus on diversity and inclusion it turned out to be 'Larry and the Ladies'. His friends included sopranos Lindsey Reynolds, Sarah Shafer and Karen Slack, as well as one of the finest collaborative pianists around, Myra Huang. Brownlee can be cut some slack on the diversity issue: he has been an Artist Advisor with Opera Philadelphia for a few years now, and it is part of his remit. The results are plain for all to see.
Diversity comes in many forms and, to his credit, Brownlee managed to get three very different types of sopranos to join him. It was like talk shows used to be before everyone became so combative. The light-hearted banter often gave way to the musicians' personal reflections on how the pandemic had impacted them personally and professionally, but Brownlee's charm and sunny disposition never waned.
The most fascinating and musically rewarding performances came when the artists ventured into the song repertoire, sometimes against type and at other moments just thriving where they were meant to be planted. The arias were fine, but the singers delved deeper into the emotional depths of the songs.
Karen Slack is a native of the city. She exuded pride in talking about her hometown and the opportunities afforded there that permitted her to pursue her dream of being an opera singer. It's a powerhouse of a voice that, truth be told, all but overwhelmed the sound system when she went high and loud. There were no such problems, however, when she sang Alma Mahler's 'Die stille Stadt'. One was left spellbound by her emotional connection to the text and the sumptuousness of her voice.
Shafer is a lyric soprano whose voice is perfectly suited to the 'Laudamus te' from Mozart's Great Mass in C minor, but she came to life when she sang what some might call lighter fare. The richness of her middle and lower ranges, coupled with her fervor, made 'Deep River' a profound, singularly moving experience. Similarly, her sultry rendition of 'Fascinating Rhythm', fueled by Huang's jazzy, spiky riffs on the piano, turned it into a glowing torch song.
Slack and Shafer are graduates of Philadelphia's Curtis Institute of Music, while Reynolds is a student there. Even at this early stage of her career, Reynolds is a singer to watch due to her captivating combination of voice and charisma. She brought youthful zest and diva wattage to Herbert's 'Art is Calling for Me', but it was in 'Watch and Pray' that she showed the emotional breadth of a true artist.
This Spiritual captures the heart-breaking conversation between a mother and daughter on the night before they will be sold and sent to Georgia. Only in the final measures is it clear that they will most likely be sold separately and never see each other again. Usually performed as a solo, Reynolds was the daughter to Slack's mother. Their eloquence was matched only by the majesty of their voices.
Brownlee, of course, had his star turns. The first was his bravura rendition of 'Allegro io son' from Donizetti's little-known opera, Rita. It is the kind of singing that made him an international star and which Huang compared to champagne. As with the women, a Clara Schumann song, 'Liebst du um Schönheit', brought something more out of him. (For the first time, his performance of the Schumann dispelled from my mind any comparison of it to Gustav Mahler's setting.) A champion of the Spiritual song, he premiered Jacqueline Hairston's new arrangement of 'My Good Lord Done Been Here'.
Larry and the Ladies ended the program with a musical game of one-upmanship that he graciously conceded. The sopranos proved they could do anything better than any tenor in an updated take on 'Anything you can do' from Annie Get Your Gun.
Rick Perdian
To watch Lawrence Brownlee & Friends in Philadelphia, click here.