United Kingdom The Royal Opera's 4/4: Performed at the Royal Opera House, Covent Garden, London, on 17.10.2020 and reviewed as a live stream (directed for the screen by Ross MacGibbon). (JPr)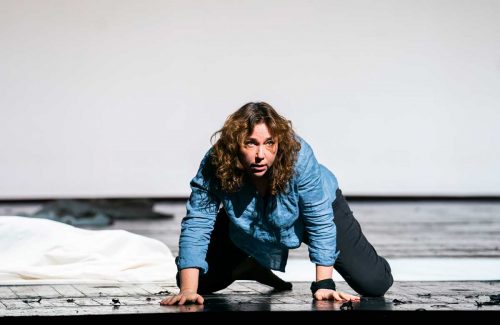 Production:
Designer – Antony McDonald
Lighting designer – Adam Silverman
Apollo and Daphne, HWV122
Libretto – Anonymous
Music – George Frideric Handel
Director – Adele Thomas
Movement director – Emma Woods
Conductor – Christian Curnyn
Baritone – Jonathan McGovern
Soprano – Alexandra Lowe
Knoxville Summer of 1915, Op.24
Libretto – James Agee
Music – Samuel Barber
Director – Antony McDonald
Movement director – Sarah Fahie
Conductor – Patrick Milne
Soprano – Masabane Cecilia Rangwanasha
Phaedra, Op.93
Libretto – Robert Lowell after Racine's Phèdre
Music – Benjamin Britten
Director – Deborah Warner
Movement director – Kim Brandstrup
Conductor – Richard Hetherington
Phaedra – Christine Rice
Minotaur – Andrés Presno
Hippolytus – Matthew Ball
Frankenstein!!
Libretto – Hans Carl Artmann
Music – Heinz Carl Gruber
Director – Richard Jones
Movement director – Sarah Fahie
Conductor – Edmund Whitehead
Tenor – Allan Clayton
Actor – Dawn Woolongong
The Orchestra of the Royal Opera House
Opera houses have been reopening, for instance, in Berlin the Deutsche Oper has seen the start of Stefan Herheim's new Ring cycle with Die Walküre; Vienna has seen a 5-hour long Don Carlos; there has been Wozzeck in Munich, and a concert version of Aida in Milan with a newly-discovered Act III. In London's Royal Opera House – for the first time in many months – there were tickets sold (for a small socially distanced audience) and the orchestra was back in the pit. Director of Opera Oliver Mears's 4/4 (subtitled 'A programme for our times') was introduced as follows: 'In 2020, making opera suddenly got harder but our need for music drama is stronger than ever. How could we stage works that summed up who we are … and where we are at? Minimal resources. Minimal casts. Minimal orchestra and COVID safe. We paired up four British directors with four outstanding pieces two of them written by our House composers – Handel and Britten – none that would normally be staged on the Royal Opera House stage and cast entirely with UK-based singers'. Designs throughout were by Anthony McDonald with lighting by Adam Silverman, individual singers kept their distance from each other, a chorale of eight (also responsible for 'whirly tubes' and 'kazoo', don't ask!) was involved, and the maximum number of musicians was 35.
Those unable or unwilling to be at Covent Garden could watch online for £16 though I understand some of the technical issues that blighted the recent The Royal Ballet: Back on Stage (review click here) reoccurred for those looking in live, although it remains available to view On Demand (until 15 November) click here.
Since I appreciate the constraints – particularly financial – the Royal Opera are under I wish they have offered something a little more mainstream. I am not sure they sold all the seats they could, and it was also not destined to attract a huge worldwide audience to look in thereby limiting any income generated. As we know with the fight against Covid-19 where there is the need to balance the health of the nation with the economic impact of any lockdown or 'circuit-breakers', then any opera house should temper its (understandable) artistic aims due to the realisation that it needs as much income as possible.
The 1710 Apollo and Daphne is described as a 'secular cantata'. Apollo sings 'The land is liberated, Greece is avenged' and that he 'has won after so much horror and death which has decimated kingdoms'. Oh, to be 'liberated' from the awful pandemic!
Apollo sets his sights on Daphne and attempts to charm her, but she rejects his advances and would rather die than lose her honour. In escaping his clutches Daphne transforms herself into a laurel tree. In his sorrow Apollo sings how he will water her leaves with his tears and how evermore her branches will adorn the greatest of heroes. It was a generally dark stage with much dry ice to begin with, later we (barely) see a stick thin tree as Daphne brandishes a couple of twigs. Apollo wears a gold bodysuit with an exaggerated six-pack to go with his rather 'in your face' scarlet codpiece. In Adele Thomas's staging there is something predatory about Apollo's pursuit of the virtuous Daphne who is prone to some odd semaphoring at times and acting as a puppet to her puppet master.
Christian Curnyn conducted a transparent performance of great style and dramatic energy with several notable solo contributions, often obbligati. Jonathan McGovern's Apollo did seem a potent, swaggering, threat to Daphne's virginity and he brought deep sadness to his closing aria, whilst elsewhere, seeming taxed by Handel's more florid writing. Alexander Lowe (a Jette Parker Young Artist) caught the eye and ear as a sweet-voiced Daphne, eliciting our sympathy for her plight.
Knoxville Summer of 1915 was called by its composer Samuel Barber a 'lyric rhapsody'. Finished in 1947 it is set to a 1938 prose poem by James Agee and Barber's music brings us an outwardly idyllic and nostalgic picture of Agee's native Knoxville, Tennessee. Apparently, it is a simple reverie of an evening in the American South. I am led to believe the narrator is a child who can at times, it seems, transform into an adult. I don't think the piece is as straightforward as some might suggest. Anthony McDonald – directing as well as designing – has Masabane Cecilia Rangwanasha (another Jette Parker Young Artist) dressed in yellow and wheeling on a pram which conceals four faceless rag dolls. For me it is a schizophrenic work with its moments of serenity and reminiscence interrupted occasionally by other moments of agitation and incipient fear. I believe Barber might be commenting on the life for people of colour in the American South.
The ending is melancholic with a gently rocking – almost Mahlerish – accompaniment as the narrator's thoughts turn to her uncle, aunt, mother and 'good father': almost as if in prayer she sings 'Oh, remember them kindly in their time of trouble'. You know when you are getting old when a conductor looks so young! Patrick Milne and his orchestra were as alert to Barber's restless undercurrents as to its surface splendours. Sometimes Barber's fast vocal lines were a little taxing – and too high – for Masabane Cecilia Rangwanasha's soprano voice though mostly she sang with vibrant rounded tone and good diction and phrasing.
Phaedra was Benjamin Britten's last vocal work, a 1975 cantata for mezzo-soprano and orchestra written for Dame Janet Baker. Britten created the libretto from parts of a translation of Racine's Phèdre by Robert Lowell. Aided by Deborah Warner's lucid direction, there was a tour de force from Christine Rice who gave the most intense portrayal imaginable – often staring directly into the camera – of Phaedra's decent towards madness and suicide. Phaedra is tying herself in Freudian (Gordion?) knots because of the fear of kissing her husband 'lest I love his son'. As often with Britten subtext is all and what are we supposed to make of lines such as 'I want your sword's spasmodic final inch'?
The work is only about 15 minutes and Andrés Presno comes and goes as the Minatour and Matthew Ball emerges bare-chested for a few seconds from under a sheet as Hippolytus and wanders off stage. Rice is left alone to drink 'Medea's poison' and that sheet becomes her shroud. There is a captivating bleakness to Britten's score and with percussion and strings to the fore there was another excellent performance from the orchestra, this time, under Richard Hetherington.
About Heinz Carl Gruber's Frankenstein!! I find myself unusually lost for words. It will have its adherents and I don't want to annoy them. Had I been in the audience I am not certain I would have stayed after a few of Hans Carl Artmann's children's verses which have been given an idiomatic English translation. It dates from 1976-77 and brought Gruber some international notoriety, sorry fame! It is called a 'pan-demonium for chansonnier and orchestra' and thanks to Richard Jones it is a subversively chaotic mess, reminding me of stream of consciousness performance art. Allan Clayton looked like a comb and paper-playing Goth lovechild of Roy Wood (of Wizzard fame) and Ozzy Osbourne. His T shirt read 'EARL OF BEDLAM' and 'THE NEW ABNORMAL'. He was ably assisted in all the shenanigans by a silent accomplice (Dawn Woolongong).
The music is often raucous and cacophonous with hints of several other modern composers, though oddly it reminded me most of Weimar cabaret music. It was all probably given a more committed performance than it deserved from Allan Clayton's energetic Sprechstimme, aided and abetted by conductor Edward Whitehead and his orchestra. Whilst I suppose some fun is to be gained from all the wordplay and encountering 'Little Mouse', 'Miss Dracula', 'Goldfinger', 'John Wayne', 'Mister Superman', 'Herr Frankenstein', 'Little Vampire' and all, its 35-minutes seemed endless. At one point Clayton goes behind the curtain he is performing in front of and we see his feet jutting out below it. This became a sad reminder to those who were watching TV one April night in 1984 when the great Tommy Cooper died on stage at London's Her Majesty's Theatre in exactly that position!
Jim Pritchard