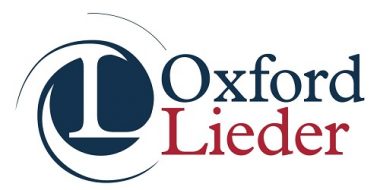 United Kingdom Oxford Lieder Festival [2]: Six Songs of Melmouth – Schubert, Cheryl Frances-Hoad, Satie, Poldowski, Walton: Carolyn Sampson (soprano), Joseph Middleton (piano). Holywell Music Room, Oxford (live stream), 13.10.2020. (CS)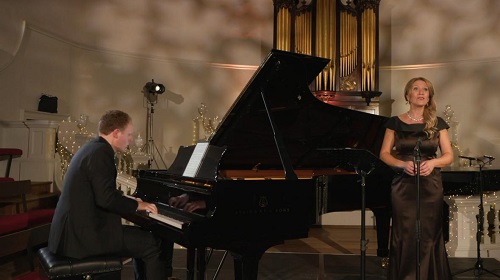 Schubert – 'Schwestergruss'; 'Die Sterne'; 'Gott im Frühlinge'; 'Litanei auf des Fest Allerseelen'; 'Elysium'
Cheryl Frances-Hoad (b. 1980) – Six Songs of Melmoth (2020)
Satie – Gymnopédie: 1, 'Les anges'; 'Le chapelier'; 'Je te veux'
Poldowski – 'Cythère'; 'En Sourdine'; 'Colombine'; 'L'heure exise'; 'Mandoline'
Walton – Three Façade Settings ('Daphne', 'Through Gilded Trellises', 'Old Sir Faulk')
When he was released from Reading Gaol in 1897, Oscar Wilde went into exile in France and took the name, Melmoth.  The name was borrowed from the late-Gothic novel, Melmoth the Wanderer, penned by his great-uncle Charles Maturin in 1820, and indicates not merely the state of exile but also of damnation.  Maturin described his despised outcast as 'the Cain of the modern world'.   Melmoth has made a Faustian pact with Satan, gaining 150 years of life.  The price paid is burning in hell for eternity thereafter – unless, that is, he can convince someone to take his place and so remove the curse.  Thus, Melmoth roams the earth seeking those in torment and terror, who face a terrible fate from which they might be 'rescued' by selling their souls for an extended life and falling for the trick that was Melmoth's own undoing.  The narrative's labyrinthine structure enfolds stories within stories and transverses lands and epochs.  Reimagined by novelist Sarah Perry, Melmoth was himself transformed, becoming a woman who, having denied Christ's resurrection, is forced to wander the world, alone.  Condemned to eternal loneliness, she visits those who dwell in despair and misery and tries to frighten them into joining her in exile.
Now Melmoth has shape-shifted once again, becoming the focus, and ultimately the protagonist, of a new song-cycle by Cheryl Frances-Hoad, who is currently Oxford Lieder's Associate Composer.  The text of Six Songs of Melmoth was written by Sophie Rashbrook who has taken inspiration from both Maturin and Perry but brought Melmoth into the present-day, as she explains: 'in addition to going back in time like Maturin does, I was interested in imagining, à la Sarah Perry, how a twenty-first century Melmoth might appear, live, in musical performance.'  Melmoth came to musical life when soprano Carolyn Sampson and pianist Joseph Middleton gave the world premiere of Six Songs of Melmoth during their Holywell Music Room recital at this year's Oxford Lieder Festival.
'The Painting [Narrator] 1816' opens with a clamorous Gothic shudder.  As the narrator reveals the portrait of a man, centuries old, dressed in silk shirt and ruff, the piano whispers, shivers and starts.  Rashbrook matches Frances-Hoad's sonic Gothicism with archetypal symbols – candlelit chambers, whispering servants, locked rooms and mysterious footsteps.  Sampson was an attentive story-teller and communicated the febrile tension with compelling focus, making the most of Frances-Hoad's musical imagery, her soprano erupting in sonorous radiance to convey the portrait's uncanny eyes, "how they blaze".  Old Biddy Brannington is the garrulous narrator of 'Shipwreck gossip 1816' who reveals the myth of Melmoth's downfall.  Her conspiratorial chattering was echoed by the piano's clanging oscillations, the sparseness of the texture allowing the tale to unfold easily.  Together the words and music drew vivid pictures: pianistic splashes evoked Old Biddy's characterful quirkiness while her relish of her tale-telling role was confirmed when she slowed to reproduce the haunting voice which spoke to Melmoth as he mourned the loss of his drowned bride, Elinora: "Will you come with me? I promise deliverance."
The third song, 'Elinora's letter [some salt-water damage to the text] 1516', reveals Elinora herself, through the letter she wrote to her beloved, which was washed up in a bottle and which the slyly opportunistic Old Biddy sells to her listener for "for three gold coins".  Middleton and Sampson recreated the fateful sea journey with real immediacy.  The piano's gentle rocking grew into troubling swells, then threatening surges, as the storm tossed the waters and prevented Elinora from conveying "such news" to Melmoth.  We sensed her essential gentleness and goodness, but also her passionate impetuous as Sampson's charged her silvery soprano with vivifying energy, "My love, the stranger came again/ She sang Will you come?"  At the close, her unaccompanied farewell starkly revealed Elinora's vulnerability.  Frances-Hoad has a terrific way of punctuating the stages of the narrative, as it moves across time and place, with Britten-esque piano flourishes – I was put in mind of The Turn of the Screw at times – and knows how to balance telling and showing.  In 'City of Song-Ghosts', the unaccompanied narrator describes Melmoth's exile; then, the piano recreates "the sorrow of ghosts … bottled in song", rippling and beguiling until Melmoth is intoxicated, drunk on others' songs of despair.  She hears a voice "that is liquid melancholy"; Sampson's pristine octave rise brilliantly evoked Melmoth's rapture, while the slow, sliding descent that followed captured the sadness through which the piano's quiet circling trickled.  The lyricism and consonance of the close, "Yes she will do", left one in no doubt of Melmoth's intentions and, following segue, the overlapping dialogue of deception and submission in 'Deliverance' sealed her release.
The final song, 'Melmoth's Serenade (2020)', revealed one last unexpected twist: "Melmoth the Wanderer became Melmoth, the Singer of Sorrows," Sampson explained, pain and weariness intensifying the restless, roving vocal line while the piano's repeating chords trod the tired steps of endless wandering.  As the melody rose higher, in quasi-hysteria, so the piano's Hadean pounding became more thunderous.  And then, the song of supplication and desperation-fuelled rhetoric was directed at us: "I promise deliverance," Sampson urged with plosive dynamism: "Will you take my hand?  Will you come with me?  Will you consent?" she coaxed – a discomforting 'close' to Frances-Hoad's dark, disorientating – and brilliantly dramatic – new song-cycle.
The recital began in similarly 'otherworldly' spirit – with a hefty dose of the Romantic sublime. Sampson and Middleton presented five lieder by Schubert, beginning with the substantial song, 'Schwestergruss' (Sister's Greeting), in which the ghost of the poet's sister appears before them before retreating to heavenly abodes.  This is a challenging song with which to start a recital, but the evolving sentiments were well-controlled, both propelled and supported by the piano's strong bass and ceaseless triplets.  Both the stillness of moonlt night and the palpitating tension of anticipation were evoked.  Sampson spun out the melodic line carefully, and gradually increased the colour and richness, pressing towards the shining climax: "In reiner Flamm' Schwebt sie empor, Ohne Schmerz und Harm, Zu der Engel Chor." (She floats up in pure flame, without pain or grief, to the choir of angels.)  The benevolent stars twinkled decorously in 'Die Sterne' and Sampson's tone was fresh and cheerful, though I feel a slightly brisker tempo is needed to conjure the rapture inspired by the glittering harbingers of love, that comfort and guide the departed 'beyond the azure with fingers of gold'.  The purity of Sampson's soprano in 'Gott im Frühlinge' captured the sense of wonder at the coming of spring, a marvel that was enhanced by the subtlety of Middleton's accompaniment – a simple bass line with delicate arpeggios above.  'Litanei auf des Fest Allerseelen' was a beautifully poised, reassuring prayer for the souls of all those departed, intensity being injected in the discerningly shaped inter-stanza piano interlude: the pianissimo of the final verse was magical.  'Elysium', another song of considerable scope and weight, concluded the Schubert sequence in appropriately joyful fashion, brimming with sparkle and majesty.
After the interval, Sampson and Middleton presented a characteristically thoughtful and interesting programme, in which spiritual intensity was replaced by the surreal.  Middleton's measured, delicately poetic rendition of Eric Satie's Gymnopédie 1 certainly cleansed the palette after Melmoth's Gothic melodrama.  Sampson's clean, silky soprano is perfectly suited to the unpretentiousness 'Les Anges', which seemed to let a shaft of heavenly light into Holywell Music Room.  'Le Chapelier' was over in an exuberant flash, quicker than the White Rabbit could jump through Alice's Looking Glass.  We were whisked back to fin-de-siècle Paris with an unaffected and open-hearted performance of 'Je te veux', which Satie wrote for Paulette Darty, that 'queen of the slow waltz'.  The hemiola rhythms swayed freely and with natural grace.  In her programme note, Caroline Potter suggests that 'Satie did not enjoy being obliged to earn a living as a café pianist, but ['Je te veux'] shows he had a genuine feel for the popular style.'  I would beg to differ.  Satie was a frequenter of the Chat Noir and belonged to the inner circle of Parisian cabaret for more than two decades, and he deeply believed that his music should stay close to its popular roots – something that Sampson and Middleton made charmingly clear.
Five songs by Poldowski – aka Irène Régine Wieniawska, the daughter of the Polish-born, Belgian-resident violinist Henryk Wieniawski – followed, all settings of Paul Verlaine.  The Greek island of Cythère has inspired painters, poets and musicians – from Couperin to Watteau, from Hugo to Ravel.  Here it was a richly scented landscape of high spirits and happiness.  The placid calm of 'En Sourdine' was broken by surprisingly fervent episodes, anything but 'muted', in which Sampson gave full rein to the music's pulsing passions.  'Colombine' brimmed with commedia playfulness; Middleton's accompaniment ran hither and thither with exuberant agility and 'signed off' with a flirtatious flick of the head and stamp of the foot.  After the heady temptations of 'L'heure exquise', in which Sampson's soprano assumed a sultry duskiness at times, as it sank low, 'Mandoline' breezed easily by, coloured with a rich Iberian palette and lifted by buoyant rhythms.
Sampson and Middleton concluded their recital with three songs from William Walton's Façade.  They emphasised the lyrical sweetness and textural transparency of 'Daphne', while making much of the poetic imagery.  'Through Gilded Trellises' was both more flouncy and more floaty, with just the right amount of 'tongue-in-cheek', as Middleton flourished his castanets, mandolin and tambourine with rhythmic fastidiousness and a beguiling sense of fun.  'Old Sir Faulk' fox-trotted flamboyantly to the finish line.
Claire Seymour