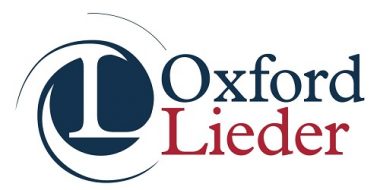 United Kingdom Oxford Lieder Festival [3] – J.S. Bach, Britten: Ian Bostridge (tenor), Saskia Giorgini (piano), Oxford Bach Soloists / Thomas Hammond-Davies (conductor). Merton College Chapel (live stream), 14.10.2020. (CS)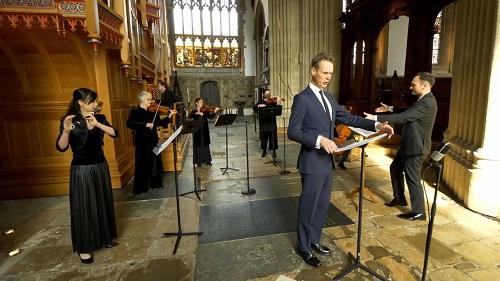 J.S. Bach – Ich habe genug BWV 82a
Britten – Canticle I, My beloved is mine and I am his; Geistliche Lieder (Five Spiritual Songs)
J.S. Bach – 'Der Ewigkeit saphirnes Haus' from Laß, Fürstin, laß noch einen Strahl
Ian Bostridge's involvement with the 2020 Oxford Lieder Festival, as Artist-in-Residence, came to an end in Merton College Chapel on Wednesday lunchtime, with this lunchtime recital of music by Bach and Britten, and Bach as arranged by Britten.
Despite being a digital-phobe who hates watching live, or recorded, performances on small screens (or large ones for that matter – I went television-less fifteen years ago …), I've become accustomed to hearing and writing about streamed performances during the last six months, and have been immensely grateful to the performers, curators and venues who have worked so hard to ensure that the nation's frustrated audiences have had at least some sort of musical fix.  During this time, production values have increased noticeably too, and there has been some terrifically imaginative, engaging and fulfilling fare on offer – such as VOCES8's recent Live from London vocal festival and Wexford Festival Opera's 69th Festival, currently running, Waiting for Shakespeare – the Festival in the Air …
Oxford Lieder's 2020 Festival has been offering a similarly rich, and expertly curated and presented, diet of recitals, interviews, masterclasses and study days during the past week.  The Digital Concert Hall is the venue not just for live streams, programme notes and song texts, but also for pre-recorded commentaries and conversations between artists and composers, and recitals have been followed by Q&A sessions with the performers.  There are some things that can't quite be recreated over the 'air-waves', though: venues have particular acoustics, and often very special ambiences.  Donning my headphones and settling into my armchair to watch the musicians of Oxford Bach Soloists assemble beside the Chapel's Dobson Organ, to perform Bach's cantata, Ich habe genug, I could not help but feel that some of the particular resonance that would have surely been felt by a live audience in the Chapel was inevitably lacking.
Still, Bach is always consoling and restorative, especially so in this cantata which relates the comfort that spiritual certainty bestows upon the elderly Simeon, who is assured that he will soon depart earthly trials and be united with Jesus.  The performers presented the 1731 version for organ, strings, high voice and flute which Bach prepared four years after the original version for bass voice.  The instrumental opening was gentle and gracious, but the somewhat steady tempo didn't really conjure the energy which Simeon's faith inspires within him.  It's hard to judge when so removed from the actual place, and the sound, of a performance, but I didn't feel that Bostridge was entirely settled in the opening aria: the voice and flute did not really feel 'in dialogue', though the former was characteristically expressive and responsive to the text, and the latter lyrical and sweet-toned.  I wondered whether it was necessary to have a conductor, given the small forces involved?  The ensemble's founder Thomas Hammond-Davies didn't intrude with any overly fussy interpretative gestures, but neither did the players seem to require his balletic beat.  Perhaps if they had been required to play as chamber musicians there would have been a greater sense of connection and intensity?
Bostridge seemed re-energised in the first recitative, and the vocal tone more immediate and urgent, though there were a few uncharacteristic inaccuracies here – or perhaps deliberate 'deviations'? – and in the following aria, 'Schlummert ein, ihr matten Augen'.  In this aria, the first violin melody, though refined, didn't truly sing.  Again, perhaps I'd have judged differently if not relying on technology at both ends – projection and reception – but I'd have liked more soloistic phrasing and colour.  Bostridge injected fluency, the melody propelling itself easily and reaching its destination, perfect rest and peace: "Schlummert ein, ihr matten Augen, /Fallet sanft und selig zu!" (Close in sleep, you weary eyes, Fall soft and blissfully to!)  There were some affecting vocal gestures in the recitative, 'Mein Gott! wenn kömmt das schöne: Nun!', such as a poignant emphasis on the rising appoggiatura, "Und dort bei dir im Schoße ruhn?", emphasising the longed for union with the divine.  The final aria, 'Ich freue mich auf meinen Tod', was politely played, but again I found that the instrumental playing did not fully draw out the freedom and impetus that resides within the music.
Another Bach aria 'Der Ewigkeit saphirnes Haus' from cantata BWV, Laß, Fürstin, laß noch einen Strahl, closed the concert.  This funereal ode was composed for the memorial service of Christiane Eberhaudine, wife of Frederick August I, Elector of Saxony and King of Poland, and first performed on 17th October 1727 at St Paul's Church in Leipzig.  The presence of the oboe d'amore seemed to vivify the texture and colour, and Bostridge's tenor correspondingly projected with greater directness.
Between the Bach bookends came Britten, and here Bostridge got straight into his stride, commencing the first of Britten's Canticles, with freedom and naturalness, accompanied by Saskia Giorgini's transparent, flowing, orient-scented, accompaniment.  The lazy lyricism of the vocal line perfectly captured the sensuousness of Francis Quarles' Song of Solomon-based text, blossoming at times into impassioned, ecstatic melisma.  The declamatory rhetoric of the third stanza burst forth with agility and strength, the muscular rhythms lithe and command, and this was a springboard for the fevered over-excitedness of the subsequent repetitions, "He's firmly mine by oath; I his by vow; He's mine by faith; and I am his by love", the single syllables spinning by on tip-toe.  Bostridge sank into the exultation, "He is my Altar; I, his Holy Place", pushing forward towards the declaration, "I'm his by purchase; he is mine, by blood", the final word heart-piercingly coloured and intense.  The repeated avowal, "Thus I my best-beloved's am; thus he is mine", journeyed through a gamut of emotional centres.  In the final stanza, Bostridge's coaxing head-voice drew the listener into the protagonist's intimate soul: "that he is mine."
Britten's Five Spiritual Songs are realisations of songs by Bach, with English translations by Peter Pears, that the duo premiered at the 1969 Aldeburgh Festival, in Blythburgh Church.  I have only heard them performed live once previously, by Iestyn Davies at Wigmore Hall in 2012; their relatively rare appearance on the concert platform is a pity, as they are beautifully fresh and engaging.  The buoyancy of 'Kommt, Seelen, dieser Tag' (Come, O souls, with grace) was delightfully comforting while Bostridge sang 'Liebster Herr Jesu, wo bleibst du so lange?' (Dearest Lord Jesus, where do you tarry so long?) with the attentive expressiveness of a Schubert lied, leaning into the text, withdrawing the voice for phrase-repetitions to convey all the pained yearning of the protagonist who longs for the Lord to fetch them from the world's oppressive burdens.  There was a lovely unity of voice and piano here, and in 'Komm, süßer Tod' (Come sweet death), which had the conspiratorial intimacy of a Dowland lute song, "Komm, sel'ge Ruh!" (Come, blessed peace!) – and, as if to emphasise this, what tender end-of-phrase ripples from Giorgini brushed from the keyboard in the second stanza.  'Bist du bei mir, geh ich mit Freuden' evinced chorale-like conviction, flowing but steady, built on firm bass foundations, sincere and reassuring.
Claire Seymour