Austria Verdi, Don Carlos: Soloists, Chorus and Orchestra of Vienna State Opera / Bertrand de Billy (conductor). 4.10.2020 performance (directed for TV by Dominik Kepczynski) and reviewed when streamed on 22.11.2020. (JPr)
Production:
Staging – Peter Konwitschny
Revival director – Alexander Edtbauer
Collaboration, Auto-da-fé and video direction – Vera Nemirova
Set and Costume designer – Johannes Leiacker
Lighting designer – Hans Toelstede
Dramaturgy – Werner Hintze
Chorus master – Thomas Lang
Cast:
Philippe II – Michele Pertusi
Don Carlos – Jonas Kaufmann
Rodrigue – Igor Golovantenko
The Grand Inquisitor – Roberto Scandiuzzi
A Monk – Dan Paul Dumitrescu
Elisabeth de Valois – Malin Byström
Eboli – Eve-Maud Hubeaux
Thibault – Virginie Verrez
The Count de Lerme – Robert Bartneck
A Royal Herald – Robert Bartneck
A Voice from Above – Johanna Wallroth
Coryphée – Michael Wilder
Presenter – Katie La Folle
It seems inconceivable how in the midst of a global coronavirus pandemic with live performance blighted by all the strict health guidelines – involving social distancing and masks – that the Vienna State Opera could put on the four hours of Verdi's Don Carlos (in its original French version) with full staging, chorus and orchestra beginning in late September. This performance was broadcast on 4 October and after the next night's performance of Cav & Pag (review click here) the opera house shut and has yet to reopen its doors. Although the video (see below) for the auto-da-fé was modified it seems the biggest burden on keeping safe was on the reduced – and mask-wearing! – audience present and at times there seemed more people onstage than in the stalls.
Given the ultra-conservatism of the Viennese opera audience it is intriguing how this 2004 Peter Konwitschny Don Carlos has survived more than thirty performances. In a classic example of Regietheater our expectations for a Don Carlos are confounded by Konwitschny's radical re-imagining in a spare, mostly unchanging, setting. Much of the action takes place framed inside the three sides of an often quirky lit cube, with walls that are basically white and plain apart from a number of doors that open into the wings. Oddly, these are not tall enough for the singers to pass through without stooping! The cube is only absent for three important moments: the 'Fontainebleau' first act (this being Verdi's 1867 first thoughts on the opera) when Don Carlos and Elisabeth believe there is a chance for a happy life together; the Act III ballet now called 'Eboli's Dream' (again more below); and for the auto-da-fé.
You are lured into a false sense of expectation by the Act I starry sky and Elisabeth spreading her beneficence amongst the suffering – yet happily dancing! – peasants huddling round a brazier. At this point the French princess is betrothed to Carlos, but soon discovers she is to be married off to his father, Philippe II, King of Spain. (Actually, she looks and acts like another Elisabeth, Sissi Empress of Austria.) Carlos enters and the translation has him singing 'What garden, with its flowers bathing in the light of the sun' but it is a virtually bare stage. From then on Konwitschny and his designer Johannes Leiacker frequently diverge from the libretto, though the opera's spirit remains intact. I suspect I probably enjoyed this Don Carlos more than I would have done had it been a 'conventional' production (even though the costumes are mostly appropriate to the original time period).
We are introduced to a monk at the start of Act II and he makes no effort to hide the fact that he is (spoiler alert) Emperor Charles V, possibly a ghost, possibly not. He has a crown hidden in his robes, and when Carlos refers to his 'grandfather' the monk points to himself and – breaking the fourth wall – looks out into the audience with his finger to his mouth. He plants and tends a small tree at the front of the stage which remains part of the stage pictures for the remainder of the opera.
We are introduced to Carlos's friend Rodrigue, Marquis de Posa, who is seeking help for the oppressed people of Flanders. He wears glasses which he is often fiddling with and for their duet 'Dieu, tu semas dans nos âmes' they crawl on the floor and there is more than a hint from then on that Carlos and Rodrigue are the closest of friends. This goes a long way to explain why Rodrigue stands up to Philippe in their confrontation and how he is willing to save Carlos's life by incriminating himself in the conspiracy against the king.
Philippe's true nature is first revealed in his angry reaction to finding Elisabeth alone and he immediately banishes her lady-in-waiting to France. Princess Eboli  – who will have an affair with the king – is infatuated with Carlos and so the ballet now becomes an impressively stage version of an episode of the 1950s' sitcom I Love Lucy which shouldn't have worked but it did!. It took place in what looked very much like my Great Aunt Mitzi's Vienna apartment. Domestic goddess Eboli is now married to Carlos who is a businessman with a briefcase. Philippe and Elisabeth arrive for dinner, bringing a large teddy bear for the baby. Eboli burns a large chicken so Carlos orders takeaway from 'Posa's Pizza'. Everybody drinks much too much; a metal cot is constructed, and a lot of fun is had by all with some of it involving Carlos and a pepper pot.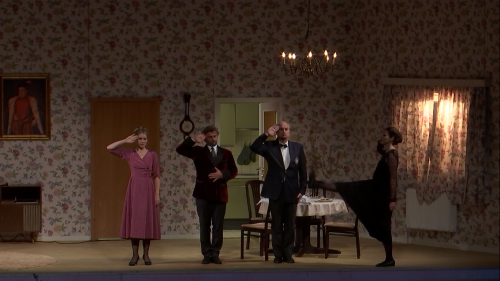 Later during a masquerade Carlos mistakes Eboli for Elisabeth and as the plot thickens, she exclaims 'It is the Queen you love' whilst an agonised Carlos exclaims 'What have I done? I have stained the name of my mother'. We experience the auto-da-fé as a news report on Spanish TV and we see a video of religious dissents being dragged through the foyer of the opera house and beaten on its steps, as we also see Philippe and the blind Grand Inquisitor make their grand entrances to the black-tie event surrounded by their assorted henchman. No one really seems to care about some heretics being burnt until Carlos enters with envoys from Flanders and keen to plead for their country's freedom. Carlos challenges the king and is arrested as the gathering is 'entertained' by a Marilyn Monroe-like Voice from Heaven (Johanna Wallroth) – normally sung offstage – who acknowledges her 'applause' juxtaposed against projected images of mass-executions.
Konwitschny does justice to Verdi's contrasting public and private events and never more so than in the brilliantly staged opening to Act IV. Philippe is usually shown alone in his study, yet he sings his 'She does not love me!' monologue with Eboli amongst all the bedding on the floor. Eboli tries to leave but is still there – as a silent presence of course – held back by Philippe and the fact that the Grand Inquisitor, unbeknownst to him, is stubbornly standing on her discarded underskirt.
There is still lots more to come; Eboli confesses to having betrayed Elisabeth and maims herself with some smashed glass from a photo of Carlos, and sporting an eyepatch she will eventually save Carlos from the wrath of the king after Rodrigue is killed. Only the ending of Act V is rather botched and as the Grand Inquisitor demands from the king the double sacrifice of Elisabeth and Carlos the monk/Charles V emerges – as the most literal deus ex machina – to spirit them away, though to where I was not sure.
The direction, acting and singing brought synergy and dramatic conviction to all we saw regardless how odd it all might seem from what you read above. One of the attractions of this Don Carlos was Jonas Kaufmann in the leading role. He seemed to be striving for a heroic, rugged sound that came over as part-Plácido Domingo and part-Jon Vickers. Kaufmann's voice was resolutely baritonal throughout when a more youthful lyricism might have been more appropriate. For his opening aria in the Fontainebleau act, 'Je l'ai vue' the tenor's voice seemed to be coming from the back of his throat and there was too much crooning. It is a fiendishly difficult role and Kaufmann sounded a little better as the opera went on. Occasionally seen clearing his throat, perhaps he was not 100% and indeed towards the end when he was singing at his most impassioned there was no denying he was not totally at his vocal ease.
Malin Byström announced herself as a Verdi soprano of distinction with her timbrally rich and passionate singing, notable for its exquisite phrasing and smooth long lines. Along with some subtle acting this enable her to show all Elisabeth's compassion, resilience in the face of adversity, suffering, and devotion. The longer the opera went on – for Konwitschny – it is Rodrigue's revolutionary ambitions that makes him the pivotal character. Igor Golovantenko sang warmly throughout and came into his own for an extremely poignant death scene ('Ah, je meurs, l'âme joyeuse') that was something of a masterclass. As often is the case, it is the bad girls that have the most fun and the Eve-Maud Hubeaux – an Agnes Baltsa lookalike – almost stole the show as the seductive, ambitious, jealous, and ultimately remorseful Eboli. Her character lives her life by her own rules and is not constrained by the conventions of religion nor Philippe's court. From an alluring Veil Song through to her sorrowful final aria, 'Ô don fatal et détesté' (as she curses the beauty that has brought her downfall), Hubeaux's dusky mezzo voice with its hints of steel made Eboli rather more attractive and less disreputable than maybe she should be.
Michele Pertusi was a conflicted and tortured Philippe II veering widely between righteous anger and a more conciliatory mien. Alone with his own thoughts – apart from Eboli in this production – his Act IV 'Elle ne m'aime pas' was full of self-pity and this Philippe was powerless to resist the demands of the terrifying Grand Inquisitor who was sung with deeply sonorous bass notes by Roberto Scandiuzzi. Standing out among the rest of this strong cast – no weaknesses there – was another cavernous bass, Dan Paul Dumitrescu, bustling around as the monk whom Konwitschny gives a greater presence than Verdi ever imagined.
Bertrand de Billy conducted this revival of Konwitschny's Don Carlos and was on the podium when it premiered in 2004. Together with the exemplary Vienna State Opera Orchestra and a resilient chorus this was a transparent and supple account. It very effectively highlighted the musical contrast between the grand ensembles and more bombastic moments (such as the auto-da-fé) with the intimate ones when only one or two singers were involved. As heard through loudspeakers the conductor maintained near-perfect balance throughout and this was important because overall the voices were somewhat lighter than we maybe are accustomed to in Don Carlo, Verdi's Italian second thoughts.
Jim Pritchard
This Don Carlos is next streamed on 28 October and for more about Vienna State Opera click here.