United Kingdom JM Barrie's Peter Pan: Alban Arena, St Albans, Hertfordshire, 12.12.2020. (JPr)
Production:
Director and Producer – Adam Nichols
Assistant Producer – Emma Wright
Musical Director – Tom Cagnoni
Assistant Musical Directors – Hannah Francis-Baker, Rosa Lennox
Movement directors – Amy Connery, Stephanie Jones
Set designer – Simon Nicholas
Costume designer – Kate Unwin
Lighting designer – Adam Bottomley
Sound designer – Nat Casey
Flying – Blue Chilli
Cast:
Felipe Pacheco – Peter Pan
Marcus Churchill – George Darling / Captain Hook
Flora Squires – Wendy Darling
Paula Gilmour – Liza / Tinker Bell / Cecco / Jane
Emma Wright – Mary Darling / Tiger Lily
Will Pattle – Michael Darling
Zak Robinson – John Darling
Matthew Parker – Nana / Smee
Jo Servi – Gentleman Starkey
Luke Adamson – Tootles
Hannah Francis-Baker – Nibs
Jack Reitman – Slightly
James Keningale – Twin 1
Rosa Lennox – Twin 2
Anna Franklin – Narrator
Tom Cagnoni – Ensemble
I must admit that I am an easy audience for JM Barrie's timeless – in many ways – story. As a child I went several times to the famous pantomime version put on annually at the Scala Theatre, in London's Charlotte Street (off Tottenham Court Road) before the venue's demise in 1969. Barrie was a Scottish author and dramatist and his Peter Pan first appeared in 1902 in the book Little White Bird. Soon after he wrote the play Peter Pan, which was a great success and on the back of its popularity, Barrie produced a children's book, Peter Pan in Kensington Gardens (adapted from Little White Bird), then a full novel based on the play, entitled Peter and Wendy (1911). It is generally well-known that the adventures of Peter Pan were inspired by Barrie's friendship with 'the Davies boys', the children of Arthur and Sylvia Llewelyn Davies, whom he met while walking in Kensington Gardens and he subsequently named several of the characters after them. Barrie would entertain them by wiggling his ears and eyebrows and thrilling them with wildly imaginative stories that would later form the basis for Peter Pan's adventures in Neverland.
Most of the familiar elements of the story are in place in this version: as the Darling children lie in bed, Peter Pan has been caught watching them sleep and his presence disturbs Nana, their Newfoundland nurse. This alerts Mrs Darling and Peter flees but his shadow is trapped in the commotion. After returning to the Darling house to retrieve it, Peter wakes Wendy, Michael, and John and persuades them to join him on a magical flight to Neverland where they encounter the Lost Boys, a Native American Tiger Lily, mermaids, and pirates in a series of adventures.
Not everyone is thrilled by the arrival of Peter and his new friends and the villainous Captain James Hook hatches a scheme to catch and kill them with the help of his crew. (Peter had a hand [sorry!] in how Hook supposedly lost his, and had it was fed to a crocodile who also swallowed a clock [don't ask]). The pirates launch an audacious attack and capture Wendy, Michael, and John, and the Lost Boys; Hook lays a trap that seems certain to lead to Peter Pan's agonising death. As Peter sleeps, Hook mixes a deadly poison which he pours into his medicine bottle that he is sure Peter will drink when he wakes … or so Hook thinks. Before he stirs Tinker Bell appears, she has been riddled throughout with jealousy over Peter and Wendy but now – by drinking the poison – she puts her own life in danger to save her beloved friend. Will she survive? In the show's climax Peter boards the pirates' ship, The Jolly Roger, to help free everyone and he challenges Hook to a final, dramatic duel that only one can survive. Who will that be? I am sure you know.
St Albans in Hertfordshire has at least saved an element of a 'normal' Christmas by the collaboration between their Alban Arena and the resident company, OVO, from the city's Maltings Theatre. At the Arena, the capacity has been reduced to 40% which dilutes the shared joy of such an experience because a masked audience is spread so thinly. Anyway, it is important to realise this is not the traditional pantomime version of the story, but 'a musical version'. As it played out – forgive the pun – it really isn't for the very young but for those young at heart – and in need of some escape from these dispiriting times.
There are some darker themes inherent to the story – perhaps best left to another time – that this Peter Pan alludes to, such as the selfishness of childhood through his constant forgetfulness, boasting, and self-centred behaviour. Though I respond to Peter Pan more as being about the loss of innocence and striving to retain it during life's trials and tribulations. When Peter says 'I always want to be a little boy and to have fun' this is something that – I must admit – has always resonated strongly with me.
The play has been adapted with a narrator (Anna Franklin) moving the story on with extracts from Barrie's source material. You realise this as soon as she reveals how Mrs Darling's dress for her night out was 'Made out of nothing and other people's mistakes'. It is indeed nice to hear some of the original dialogue and it has been a while since I heard Tinker Bell's favourite insult for Peter of 'You silly ass!'. We also hear how the fairy is 'so small she has only room for one feeling at a time.' There has to be flying – and there is – but no crocodile as the ticking is just a trick Peter plays on Hook.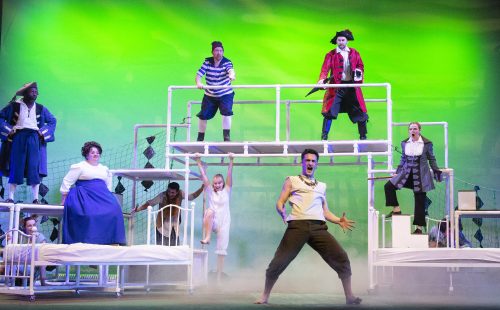 There is a subtle use of some original (I guess?) music and at least a few songs I recognised, including 'I Can See Clearly Now', 'Wonderful Life', and a rousing curtain call 'Suddenly I See'. OVO are an extraordinary company and everyone is so multi-talented as actors, singers, dancers, and frequently musicians; with a variety of instruments being played during the show. While the dreaded social distancing does seem to have affected Adam Nichols's production and no one seems to touch – obviously Peter will be happy with that! – it is a high energy and very sophisticated performance. You just have to imagine some of the locations as there are only a few beds and a bath – both imaginatively used as boats at one point – with some rehearsal staging, a little bedroom furniture (from Ikea?), drapery, and dry ice. Nevertheless, it all works creatively to give atmosphere to the unfolding story, especially the high jinks of the Lost Boys and machinations of Hook and his pirates. There is also much inventive modern choreography throughout the show, especially for the non-combative fight scenes; influences include Stomp, Diversity, and one hilarious moment of Riverdance from Smee, Hook's loyal first mate.
Much fun is had by all but (spoiler alert) there is no real fairy-tale 'happy ending' as we get the tear-jerking epilogue. Wendy has taken her brothers home to the delight of their parents who have been distraught. All the Lost Boys – though not Peter – are adopted by the Darlings and Wendy is allowed to be taken back to Neverland for a week once a year to do the spring cleaning. It happens once, then Peter forgets and never comes back for her. Time moves on and Wendy marries (one of the Lost Boys?) and they have a daughter, Jane. Anyway, enough of that and only the hardest of hearts will not be moved by the poignancy of the ending.
It seems an insult to such a versatile and multidisciplinary troupe to single out individuals, but Felipe Pacheco is an acrobatic and whirling dervish Peter Pan, with Flora Squires as an engaging and caring Wendy. There was a particularly good dynamic between the two of them. Paula Gilmour is a suitably mischievous and irreverent Tinker Bell, whilst Marcus Churchill is the (initially) unyielding Mr Darling and an only mildly threatening – and rather oddly charismatic – Captain Hook.
Do go and see this Peter Pan as it deserves your support because the enthusiasm of all concerned – who are lucky to be back doing what they love – is infectious. I cannot recommend it highly enough.
Jim Pritchard
For details of The Maltings Theatre's Peter Pan at the Alban Arena (click here).