United Kingdom Live from London Christmas – The Tallis Scholars: The Tallis Scholars / Peter Phillips (conductor). VOCES8 Centre, London, 12.12.2020. (CC)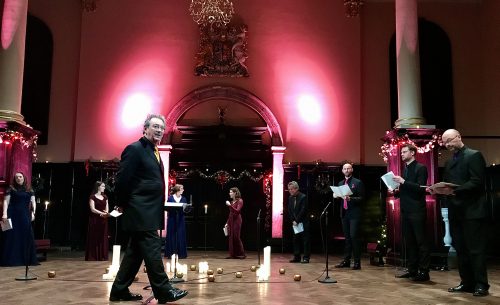 Tallis – Missa Puer natus (Gloria, Sanctus & Benedictus, Agnus Dei)
Sheppard – Gaude, Gaude, Gaude
Britten – Hymn to the Virgin
Pärt – Bogorodiste devo
Victoria – Magnificat Primi Toni
Also, Young Performers Spotlight – NYCGB led by Ben Parry (National Youth Choir of Great Britain)
This latest concert in VOCES8's series was prefaced by a performance at Snape Maltings by the National Youth Choir of Great Britain of Blessed is the Child (augmented by some highly atmospheric film of the surrounding countryside). Clear, radiant, the performance of Ben Parry's Aldeburgh Carol was a thing of great beauty.
For The Tallis Scholars' Christmas programme, Peter Phillips chose the Madonna and Child as a central theme. The third Sunday in Advent is sometimes referred to as Gaudete Sunday, and its theme of rejoicing, brings us to John Sheppard's Gaude, gaude, gaude (Rejoice, Rejoice, Rejoice), a piece which will appear on a forthcoming recording by The Tallis Scholars that Phillips has been preparing during lockdown. The themes were prolonged via Britten's Hymn to the Virgin and Pärt's work. which translated means 'rejoice, mother of God' before we reach Victoria's glorious celebration of polyphony in his double-choir Magnificat Primi Toni.
I love Peter Phillips's comment that Tallis's Missa Puer natus, 'like so much Tallis, doesn't sound like anyone else, but it also doesn't sound like anything else he wrote'. Probably written for Christmas 1554, at the time of Queen Mary, there is no Kyrie. Tallis uses a Mass Proper as his melody, 'Puer natus est nobis' (Unto us a boy is born); it might even have been written to celebrate Queen Mary's pregnancy. Prefaced by its chant, the Gloria erupts into the most perfectly judged polyphony. Although through-composed in the most glorious fashion, it was lovely to hear the freshness of the ''Filius patris' before the fresh beginning at 'Qui tollis'; or indeed the deliciously drooping lines at 'Miserere nobis'. A real solidifying of energy at the 'Quoniam' seemed perfectly judged.
After the Gloria, the responsory Gaude Gaude Gaude Maria by John Sheppard, in which the upper voices shone; there is some delicious scrunchiness (not a technical term but apt nonetheless) thanks to the polyphony. Sheppard's piece requires perfect pitching to be successful (as it was here), all topped by those silvery sopranos. This is a blissfully inventive piece texturally, too, one passage featuring high voices and bass with registral hole in the middle, eventually filled by the unison male lines. This piece is 'peppered with gimmels' (as the Tallis Scholas' own notes put it: gimmels being a splitting of parts to intensify the texture).
Returning to the Sanctus of the Tallis Mass was clearly entering into a new world, with its clear shift at 'Pleni sunt coeli,' and the 'Osanna's arising naturally from the texture, creating a gently but ever-intensifying sunrise.
The harmonies of Britten's Hymn to the Virgin seem particularly holy in this context, the exchanges of English and Latin between the two groups, presented in two lines spatially separated and massively effective. This held a simply perfectly judged end, an 'echo' on the word 'effecta'. How light was Pärt's Bogorodiste devo in comparison!. A true sense of ensemble, of being able to deliver words precisely together at speed, is at the heart of this piece, and it is impossible to imagine it bettered.
A radiant upwards perfect fourth took us back to the final completed movement of Tallis's mass, 'Agnus Dei', perfectly paced, unhurried, lit from within.
Tomás Luis de Victoria's eight-part Magnificat primi toni first published in 1600, is one of 18 Magnificat settings by this most mystical of Spanish composers. This is a supreme setting of the Magnificat, deeply considered, deeply spiritual – and The Tallis Scholars honoured every aspect, the polychoralism of the piece a vital element, the exchanges vitally alive, the feeling of rest at 'Sicut et in principio' positively aglow.
While one might justifiably argue that Peter Phillips's yellow tie was worth the price of entry alone, the fact is that this concert offered some of the most radiant and intelligent singing of the Live from London series (for details click here); performers at the top of their game gifting us some of the true glories of the polyphonic age.
Colin Clarke