Austria Verdi, Nabucco: Chorus and Orchestra of Vienna State Opera / Marco Armiliato (conductor). Livestreamed (directed by Jakob Pitzer) from Vienna State Opera, 22.1.2021. (JPr)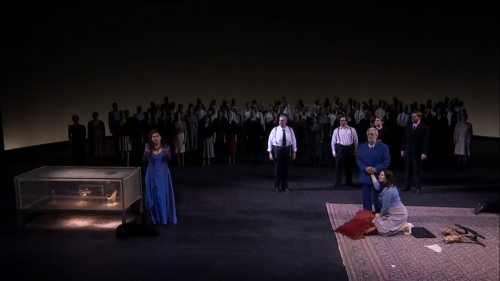 Production:
Director – Günter Krämer
Set design – Manfred Voss, Petra Buchholz
Costume design – Falk Bauer
Lighting design – Manfred Voss
Chorus master – Thomas Lang
Cast:
Nabucco – Plácido Domingo
Abigaille – Anna Pirozzi
Zaccaria – Riccardo Zanellato
Fenena – Szilvia Vörös
Ismaele – Freddie De Tommaso
Anna – Aurora Marthens
The High Priest of Baal – Dan Paul Dumitrescu
Abdallo – Daniel Jenz
Bogdan Roščić (director of Vienna State Opera) explains the current situation in Vienna under the current lockdown as follows: 'The fact that the Vienna State Opera can rehearse new productions up to the premiere during the lockdown in order to then incorporate them into the repertoire is crucial for our future seasons. The fact that we can offer these premieres and also important revivals to the public via television and stream is at least as important in times of months of lockdown. We reach such a huge audience, and the reactions of the opera-loving audience are enthusiastic. Nevertheless, none of this is a sustainable model, neither economically nor artistically'. Roščić is looking forward – as most opera managements throughout the world are – to resuming performances for audiences in the opera house as soon as they are allowed to. Meanwhile, despite apparent restrictions they have managed to broadcast live Verdi's Nabucco to mark Plácido Domingo's 80th birthday (on 21 January) and what was previously announced as his farewell to Vienna State Opera. Domingo first sang there on 19 May 1967 in the title role of Verdi's Don Carlo.
Not for the first time I write how a famous Hollywood star apparently once received a telegram: 'How old Cary Grant?', to which he replied 'Old Cary Grant fine. How you?'. This one-liner probably originated before Grant but who now cares? I have pondered this over several years about Plácido Domingo and watching him at officially 80 he has definitely not aged well. Recent years have not treated him kindly, what with the accusations of abuse of power he is still embroiled in and much ill-health including being hospitalised last March with a bout of coronavirus. However there are a number of high-profile octogenarians across many fields of the arts who look less aged than Domingo now does. (I do remember another wonderful tenor, the late Alberto Remedios, who knew both Domingo and the much-missed Luciano Pavarotti, telling me they were 'the same age' and the two no longer with us would be 85 now.) Domingo's obvious physical fragility undermined his performance as the ruthless Babylonian king Nabucco (Nebuchadnezzar II) who oppressed the Hebrew people. As a result, Domingo was best at showing Nabucco's dishevelled enfeeblement rather than his supreme power. 'If I rest, I rust' is emblazoned at the top of Domingo's website that still shows he has several high-profile singing and conducting engagements in coming months.
Verdi suffered professional and personal setbacks in the winter of 1840-41: there was the failure at Milan's La Scala of Un giorno di regno, which was withdrawn after just one performance, and to increase his despair there were the deaths of his two children and his young wife; resulting in Verdi vowing never to compose again. However, the impresario Bartolomeo Merelli gave Verdi a copy of Temistocle Solera's libretto about the historical Nebuchadnezzar II which had been rejected by the composer Otto Nicolai. Verdi describes how he took it home and threw 'it on the table with an almost violent gesture. […] In falling, it had opened of itself; without my realising it, my eyes clung to the open page and to one special line: "Va, pensiero, sull' ali dorate"'.
These are now the opening words ('Go, thought, on golden wings') of the famous chorus – which is sung by the Hebrews in captivity – which would seal the success in 1842 of what became Verdi's third opera, Nabucco. 'Va, pensiero' soon became something of an anthem for the Italians who themselves were a divided nation under foreign rule and seeking unification and independence.
I was intrigued to see that this live performance in an empty opera house was only the 79th Nabucco at Vienna State Opera and all these have been in Günter Krämer's production which premiered on 31 May 2001; though his updating doesn't look almost twenty years old. It is amazing how the ultra-conservative Viennese are (apparently?) so accepting of Krämer's staging which confronts them with their own past, and as well as being so minimalistic – despite two set designers, Manfred Voss and Petra Buchholz – for long stretches this Nabucco is little more than a semi-staged concert performance.
During Verdi's amazingly jaunty overture – given the opera's themes – on an oriental rug at the front of the stage some children are playing as a young ballerina pirouettes. One boy has a small rocking horse, another boy has a toy theatre and plays with a puppet of Mr Punch. An older girl is lounging and regarding herself in a mirror. They barely interact until some disputes arise between the four. Before Act I begins the children leave but this play area remains and there is nothing else downstage apart from a glass cabinet later shown to reveal a long sword and a crown. There is Hebraic script on a scrim which will be seen again at various points in the story – often on a cyclorama at the rear – until it is shown disassembling in Act III as Abigaille tricks the mad king into signing the death warrant for the Jews. They are shown throughout dressed in mid-twentieth century coats and hats (costumes are by Falk Bauer) with a single pram and some pieces of luggage, as a haunting image of deportation and the large number of displaced persons in Austria in 1945.
Zaccaria, high priest of the Jews, is their rabbi who wear a yarmulke and in Act II will put on a tallit (prayer shawl) and clutch the Torah. Nabucco makes a sudden dramatic appearance in the midst of the captive Jews in his blue suit and tie and wearing an astrakhan coat. Nabucco's younger daughter Fenena is the hostage of the Hebrews and is dressed in white; her rival is the power-hungry villainess Abigaille who is in a royal blue gown. She is not – as she has come to believe – Nabucco's eldest child but a daughter of slaves; and their love interest Ismaele looks like a rabbinical student.
The power of Verdi's Nabucco lies mainly in its choruses and 'Va, pensiero' – suffused with the longing of the disposed for their homeland – is memorably staged and superbly sung by the splendidly committed Vienna State Opera Chorus. At first all we see a mass of dimly lit people lying down flat on their backs but as the chorus builds to its climax everyone starts to first sit and then stand. They are clutching photos of relatives and loved ones they have been separated from and whose fate is probably unknown.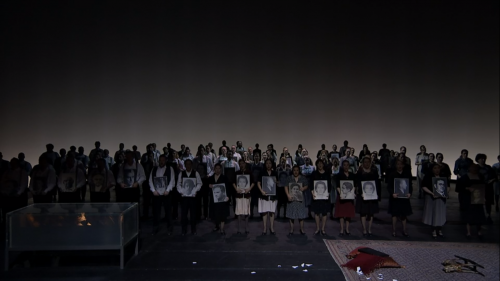 The strengths of Günter Krämer's Nabucco – here revived by Niv Hoffman – outweighs it weaknesses. However, I was left wondering by moments such as the Babylonians reflecting Abigaille's image back at her with some mirrors in Act II (surely this doesn't mean she is the girl we saw at the start?); later the toy theatre is set alight which could be symbolic of any number of events; and why does Fenena fan herself during her prayerful Act IV aria? The dramatic intention – however inconsistent or provocative – has undoubted visceral power.
How was Domingo as the elderly despot Nabucco – driven insane by God for attempting to destroy the Jews – you may well be asking by now? I think it is indeed time he retired – at long last – from singing and leave us with our memories. Many baritones are 'lazy tenors' who are unwilling to take their voices higher than they feel they should go. Domingo was never 'King of the High Cs' even in his prime and by managing his career magnificently has made the very best – rather like Jonas Kaufmann – of a restricted upper range by focussing on his burnished timbre, secure tone, fluid phrasing, physical presence, and sheer charisma. Sadly, most of these were in short supply from his Nabucco that was noticeably short-breathed and occasionally hesitant with too many anxious looks at the prompter. When in Act III Abigaille sings 'You are no more than the shadow of the king you were!' I could only agree having followed Domingo's career since I first saw him in Aida almost exactly 43 years ago! Nevertheless, there were several hints of former glories as Domingo's Nabucco confronts Abigaille in the opening scene of the third act and pleads for Fenena's life with the rather appropriate 'Oh di qual onta aggravasi questo mio crin canuto' ('Oh, what shame must my old head suffer).
Anna Pirozzi is clearly a very experience Abigaille, and although hers is not a very beautiful voice it is a mightily impressive instrument. It is a totally secure, very loud, spinto soprano with a great range of dynamics and colour but Pirozzi also retains the ability to sing phrases sublimely softly if required. It was almost a singing masterclass; however, her acting was rather rudimentary at times, though she made Abigaille's final moments – as she dies having poisoned herself – less Verdi's afterthought, than the equivalent of a Donizetti 'mad scene'.
I warmed more to Riccardo Zanellato's Zaccaria as the opera went on, since I initially considered him to be less commanding and somewhat more reflective than he might otherwise have approached the role. Though perhaps this is was exactly right for someone who is in the guise of a rabbi rather than 'High Priest'? It was Zanellato's warm and resonant bass who got the final words in the opera as he proclaims Nabucco the servant of Jehovah and king of kings.
Nobody else – chorus notwithstanding – gets much to sing though Dan Paul Dumitrescu was an authoritative High Priest of Baal, and Daniel Jenz as the   Babylonian soldier Abdallo, and Aurora Marthens as Anna, Zaccharia's sister, made the best of their limited opportunities. Szilvia Vörös was an expressive Fenena who sang with a delightful clarity of tone; whilst Freddie De Tommaso as Ismaele seemed to be trying just a little too hard with his sturdy, ardent tenor to sound like a Domingo 'tribute act'.
I cannot remember ever being less than impressed by Marco Armiliato who conducted the Vienna State Opera Orchestra in a well-paced, idiomatic account of a score that is far from a masterpiece. There was illuminating detail, verve, and inner tension, and it was much less rum-ti-tum than early Verdi can sometimes sound.
Plácido Domingo probably deserved a better send-off for his 53 years of appearances for Vienna State Opera than the opera house without an audience. At the end the orchestra applauded the soloists and chorus, and they all repaid the compliment during a self-conscious curtain call when nobody really knew what they should be doing.
Jim Pritchard
For more about Vienna State Opera click here.