David T. Little's Soldier Songs: Johnathan McCullough (baritone), Opera Philadelphia Orchestra / Corrado Rovaris (conductor). Available on Opera Philadelphia Channel from 22.1. to 31.5.2021. (RP)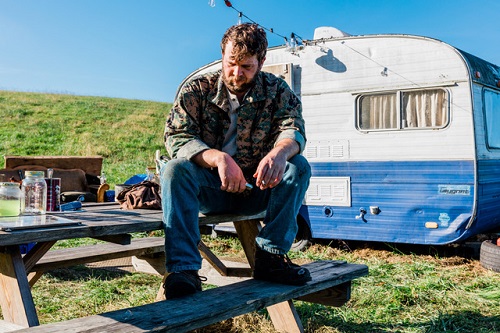 Production:
Director – Johnathan McCullough
Screenwriter – James Darrah
Director of photography – Phil Bradshaw
Costumes – Millie Hiibel
Hair & makeup – 'Fre' Alfreda R. Howard
Opera Philadelphia is making waves. Earlier this year, it launched the Opera Philadelphia Channel, a digital space in which it streams videos of prior productions but, more importantly, presents commissions of new works for the screen. The latter empowers artists of all stripes to manage their own destinies in ways that have never before been possible by taking the lead in creating content and producing it. It is an exciting development that took a pandemic to jump-start.
The concept for a film adaptation of David T. Little's Soldier Songs originated with baritone Johnathan McCullough, who both directed and stars in it. McCullough, a former Opera Philadelphia Emerging Artist, has appeared with the company in Carmen, A Midsummer Night's Dream and Elizabeth Cree. He approached Little with the idea of a film version of his one-act opera prior to the onset of the pandemic. When the need to rework its entire 2020/21 season became clear, Opera Philadelphia jumped on board.
Soldier Songs explores popular perceptions versus the reality of war, and is based on interviews that Little conducted with veterans of World War II, the Vietnam War, the Gulf Wars and Afghanistan. Throughout the opera, their voices are heard expressing the men's and women's unpreparedness for war, as well as the disillusionment and alienation that they experienced afterwards. Their searing emotions are underpinned and amplified by Little's score, a fusion of classical and popular musical styles that is as riveting, and at times disturbing, as the story itself.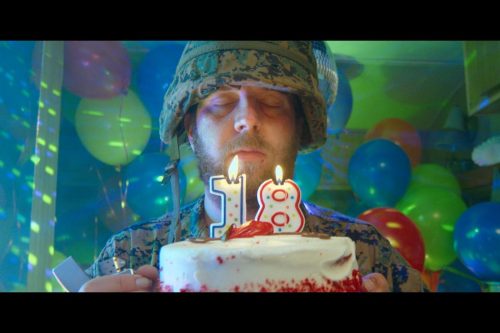 Director and designer James Darrah, whose prior directing credits at Opera Philadelphia include Semele and Breaking the Waves, collaborated on the screenplay for the film. The result is an intense, realistic study of the psychological effects of war on a soldier suffering from post-traumatic stress disorder. Hunkered down in a dilapidated trailer that morphs from home to fortress to tank, the Soldier regresses to his youth: he plays with toy soldiers and binges on buttered toast and Doritos as he mechanically mows down imaginary enemies in video games.
The Soldier's eighteenth birthday, when he came of age and was subject to the draft, is a traumatic memory. He smashes the cake with his hands. His reaction to the intense flashbacks of being in a war zone fuel delusional and erratic behavior. A handgun in a drawer means that the threat of violence, perhaps suicide, is ever present. A 'Keep Out' sign hangs across the seldom-used car path to his home, over which an American flag flies.
McCullough impresses and succeeds on multiple fronts. He not only had a vision, he got others to believe in it and, above all, he executed it. As an actor, McCullough captures the anguish and alienation of the Soldier with every fibre of his being. He is just as impressive vocally, and his rock-solid baritone conveys the same emotions with even greater depth. McCullough, as did Little, treats this material seriously and unapologetically. Neither one sugarcoats reality.
Soldier Songs was filmed at the Brandywine Conservancy in Chester County, Pennsylvania, the site of a 1777 Revolutionary War battle. The Soldier sings of blood-soaked earth in distant lands while he is standing on the real thing back home in America. The camera explores the terror in his eyes and face, as well as the minutia of his chaotic existence. Images of brilliant blue skies with a shining sun and billowing clouds are pierced by scenes of the Soldier, dressed in camouflage and helmet, running through fields of tall grass, terrified of incoming fire.
I didn't own a decent set of earphones until a few years ago, but they are essential for appreciating the intricacies, scintillating colors and emotional depths of Little's score. Corrado Rovaris leads members of the Opera Philadelphia Orchestra in an evocative performance that summons in sound the myriad emotions generated by the Soldier as he battles his demons.
If you are my age, your mind instantly turns to the Vietnam War and hearing many of the former soldiers speak of it. For older people, it may be World War II or the Korean War. As for younger Millennials and all of Generation Z, they have lived in a time of war for their entire lives. The War in Afghanistan will soon have been raging for twenty years.
It's a remarkable opera that resonates with such a broad swath of the American people and is about as elitist a film as American Sniper.
Rick Perdian
To view Soldier Songs on the Opera Philadelphia Channel, click here.