Austria Johann Strauss II, Die Fledermaus: Soloists, Chorus and Orchestra of Vienna State Opera / Cornelius Meister (conductor). Livestream (directed by Volker Grohskopf) from the Vienna State Opera, 31.12.2020. (JPr)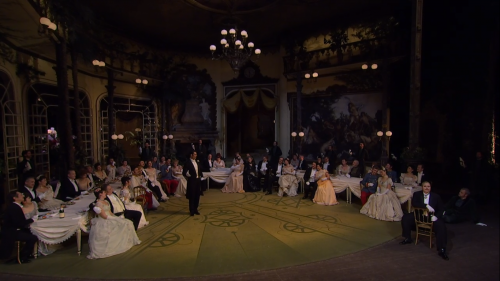 Production:
Production – Otto Schenk
Sets – Günther Schneider-Siemssen
Costume – Milena Canonero
Choreography – Gerlinde Dill
Chorus master – Martin Schebesta
Cast:
Gabriel von Eisenstein – Georg Nigl
Rosalinde – Camilla Nylund
Frank – Jochen Schmeckenbecher
Prinz Orlofsky – Okka von der Damerau
Alfred – Michael Laurenz
Dr Falke – Martin Hässler
Adele – Regula Mühlemann
Frosch – Peter Simonischek
Dr Blind – Robert Bartneck
Ida – Ileana Tonca
Ivan – Jaroslav Pehal
As borrowed from Schopenhauer the motto of Johann Strauss's 1874 Die Fledermaus is 'Glücklich ist, wer vergisst, was doch nicht zu ändern ist'. This can be translated as 'Happy is the one who forgets what cannot be changed' and I have reinterpreted that as trying to forget what has gone before. With this Fledermaus it was well-nigh impossible given my memories of this entertaining work over many decades and having seen memorable performers in it such as – and amongst many others – Adele Leigh, Hermann Prey, Marilyn Hill Smith, Eric Shilling, Alan Opie … and even Frankie Howerd in the 1980s as the non-singing jailer, Frosch. My first Fledermaus was at Vienna Volksoper over 50 years ago, and although I do not have any memories of that, I have seen it there since and in London, so how did this special performance compare? Perhaps, not that highly but it was wonderful that Vienna State Opera could continue their New Year's Eve tradition at the end of this Covid-afflicted year.
The story has its roots in French farce, especially with almost all the characters being someone else for most of it. The wealthy philanderer Gabriel von Eisenstein must go to jail for eight days for nothing in particular, however his friend, Dr Falke, convinces him to spend his last night of freedom cavorting at a ball thrown by the eccentric Russian Prince Orlofsky. Falke's hidden agenda is that he is seeking to retaliate for a humiliating prank Eisenstein played on him years before. He introduces Eisenstein at the ball as a French Marquis, and also invites the prison governor Frank (also posing as a Frenchman), Eisenstein's chambermaid Adele (supposedly an actress), and his wife Rosalinde (pretending to be Hungarian) who thinks her husband is in jail. Rosalinde had been 'entertaining' Alfred, an Italian tenor, in Eisenstein's absence and he has been mistakenly carted off to jail. In the end, husband and wife – who have been somewhat estranged – are happily reconciled and Eisenstein accepts the joke was on him. What we should actually luxuriate in is the 3/4-time music from the 'Waltz King', and the implausibility of the plot can be happily overlooked.
Otto Schenk's production dates from 1979 and the lavish sets and costumes are redolent of fin-de-siècle Vienna. It is a little cluttered at times but there is a stunning use of a turntable in Act II to reveal the sumptuous ballroom with its large crescent-shaped table elaborately set for dinner. What can often be a rather stiffly staged ball, becomes a riot of swaying, swirling – drunken or otherwise – figures, which ends with the collapse of a massive conga line. All this is underscored by Strauss's Unter Donner und Blitz (Thunder and Lightning) polka!
It is deeply traditional, but it reminded me of the words of Princess Caroline of Monaco I heard recently about how tradition should be 'the transmitting of fire, not the worshipping of ashes'. I am not always in favour of Wagner's 'Kinder, macht Neues!' and am happy for some productions to survive long after their 'sell by date'; however, even accounting for the circumstances under which this Fledermaus was performed – despite some very entertaining moments – it will not live long in my memory. (Also, whether we should really be enjoying in 2021– and without some radical rethinking – the antics of leering, rather mature, skirt-chasing men is a matter of debate for another time perhaps?) Apparently, Otto Schenk's views have always been 'Die Fledermaus demands the very best singers and comedians, it is not enough if you can only sing and master the coloratura or can only play. Die Fledermaus demands everything!'. The cast probably deserves a lot of praise for simply being there, but you just have to compare their names with those who took various roles in 1979 which included several legendary names – such as, Bernd Weikl, Lucia Popp, Brigitte Fassbaender, Walter Berry, and Edita Gruberová – to understand why this champagne-fuelled occasion may not have fizzed as once it might have.
This Fledermaus seemed to be well rehearsed by Katharina Strommer, though this kind of thing requires exceptionally good timing from almost everyone to pull it off successfully. It also requires singing actors who are consummate light comedians and capable of creating some onstage chemistry between the various couplings. I am sure this cast might have an outstanding Fledermaus in them – even in a dated production such as this – but this wasn't it; although as it went on, they loosened up a little and things got better and better. I will admit that comedy without any audience there to laugh – at what they see and hear – is virtually impossible and this might go a long way to explain why everyone seemed to be trying just a little too hard to be funny.
I thought Georg Nigl's Eisenstein needed to be rather more raffish than exasperated, although he was vocally authoritative. Martin Hässler's Falke was pleasant enough and suitably conspiratorial and he started 'Brüderlein, Brüderlein und Schwesterlein' eloquently. Regula Mühlemann as Adele was the singer who encompassed best what a successful Fledermaus needs and her singing was a delight with precise coloratura during her Act II 'Laughing Song', and Mühlemann's acting was instinctively full of humour. Michael Laurenz was an energetic Alfred and portrayed a willing dupe. There was some spirited parodic singing from him with all its tenorial 'in-jokes', but I would have liked someone with a more lyrical sound than Laurenz could muster. I was surprised Rosalinde didn't seem at all keen on Alfred – despite him greeting her with Florestan's 'O namenlose Freude!' in the third act – perhaps that was Schenk's idea I cannot be sure?
There were two Wagnerian singers as Rosalinde and in the trouser role of Prince Orlofsky, and it showed in their heavyish, slightly unwieldy voices, and an apparent lack of any real comedic flair. Camilla Nylund made hard work of Rosalinde's famous 'Czardas' and Okka von der Damerau – as a rather humourless and uncomfortable-looking Orlofsky – was similarly challenged by 'The Champagne Song'. (Nylund's Rosalinde was rather like Margaret Dumond in the Marx Brothers' films who never seemed to get the joke!) Jochen Schmeckenbecher is another Wagnerian and a well-known Alberich, though he was amiable enough as a rather rough-hewn Frank, who – as often seen – falls asleep in Act III under the newspaper (Wiener Zeitung) he is reading with his cigar burning through it.
Even for Vienna, Act III is a drawn-out affair, particularly if you cannot catch all the German and the English subtitles are not translating all the jailer Frosch's schtick. I could understand some – though not all – of what Peter Simonischek was saying and I did laugh a few times at his Slivovitz-fuelled antics, especially concerning a puddle of water and a bucket, and some old business with a top hat on the floor. I enjoyed him trying to quieten Alfred's singing with 'Quiet! He's singing in German. He's got a nerve! You can't even do that at the Volksoper these days.'
Ileana Tonca was a charming Ida, and the rest of the ensemble did well with the little they had to do. Deserving of special praise were a wonderfully committed and energetic chorus and the ebullient dancers of the Vienna State Ballet during their Act II shenanigans when much fun was had by all. Cornelius Meister's conducting cannot be faulted as there was the sparkle and headlong rush this operetta needs, as well as the vitality somewhat lacking from some of his singers. There was a genuine sense of echt Viennese Schwung from Meister and his musicians and this was only to be expected with members of the Vienna Philharmonic in the State Opera's orchestra – and on the eve of their annual New Year's Day concert – playing Strauss's bubbly overture and rumbustious Act II polka as only they can.
Not a Die Fledermaus for the ages and I hope I am not being too uncharitable about what I experienced given the circumstances of the performance, but I really wanted to enjoy my first New Year's Eve one even more than I did.
Jim Pritchard
For more about Vienna State Opera click here.