United States Brooklyn Art Song Society, Schubert V – Schwanengesang: Kristina Bachrach (soprano), Dominic Armstrong (tenor), Michael Kelly (baritone), Narek Arutyunian (clarinet), Michael Brofman & Joel Harder (piano). Brooklyn Art Song Society, Soapbox Gallery, Brooklyn. Livestream available from 13.3.2021. (RP)
Schubert – 'Widerschein' D.949; 'Des Fischers Liebesglück' D.933; 'Der Winterabend' D.938; Der Hirt auf dem Felsen D.965; Schwanengesang D.957
The final concert of the Brooklyn Art Song Society's digital Schubert series offers songs composed in the last year of his life. Even though Schubert was coping with a terminal illness and an uncertain future, he remained remarkably productive until the end. In the final weeks, he completed the C-major String Quartet, Der Hirt auf dem Felsen and the 14 songs that were posthumously published with the title Schwanengesang. Composing for him was as breathing is to most of us.
The recital opened with 'Widerschein', 'Des Fischers Liebesglück' and 'Der Winterabend', performed by baritone Michael Kelly and pianist Michael Brofman, BASS' irrepressible and resilient artistic director. In the three songs, love and the mysteries of nature are intertwined. They are themes that Schubert returned to repeatedly and which he captured so perfectly in these rarely performed songs.
'Des Fischers Liebesglück', a love song full of mystery and wonder, is one of Schubert's most masterful settings of a strophic text. Kelly and Brofman communicated the song's delicate pleasures as one: the singer's clear baritone, elegant phrasing and ability to convey textural nuances were replicated in the sounds of the piano. The subtle flames of passion that singer and pianist kindled when the two lovers kissed was magical. 'Des Fischers Liebesglück' may just have nudged 'Ganymed' to second on my list of favorite Schubert songs.
Der Hirt auf dem Felsen, Schubert's last work, was composed for Anna Milder, a soprano whom he had long admired. He was not alone, as Milder created the role of Leonora in Beethoven's Fidelio and sang in the famous performance of Bach's St. Matthew Passion conducted by Mendelssohn. The clarinet obbligato of this mini-cantata was inspired by Mozart's writing for the instrument, which Schubert had loved since his childhood. Unlike every other song heard in this series, Der Hirt auf dem Felsen finds Schubert in Italian mode, at least musically.
At present, we view everything through the experiences of the past year, and perhaps that is why the opening stanzas of Der Hirt auf dem Felsen were more poignant than I recall from past encounters with the work. If the tempo wasn't a bit slower, it seemed so. Soprano Kristina Bachrach and clarinetist Narek Arutyunian's expressions of longing, loneliness and uncertainty built gradually to the glorious assertion that spring will come. It is a burst of joy almost without equal in music that resounded from Bacharach, Arutyunian and Brofman in their fine performance of this beloved work.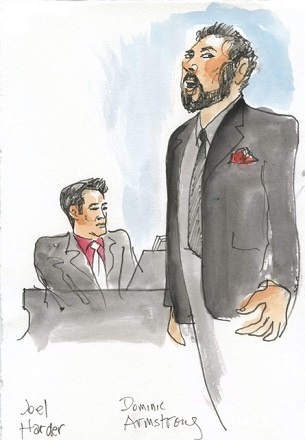 Unlike Die schöne Müllerin and Winterreise, Schwanengesang is not a song cycle. There is no forlorn wanderer desperately seeking relief from the heartache of unrequited love in this random collection of songs, but many of the themes are the same. There are echoes of those earlier expressions of longing and heartbreak to be heard in some of the songs, however, as if Schubert felt no need to reinvent that which was perfect.
Schubert had an innate ability to submerge himself in the context of a poem and express it through music. It was the same approach tenor Dominic Armstrong took in interpreting them. In 'Der Atlas', he used broad, brazen brush strokes to express the defiance of a god condemned to hold up the heavens for eternity, while the quiet despair of 'Ihr Bild', in which a person reflects on the portrait of a deceased beloved, was etched with restraint and precision. Some of the most famous songs of the collection depict metaphorical messengers of love – a murmuring brook, soft breezes, the song of the nightingale, the flight of a carrier pigeon – which Armstrong expressed in slender, silvery streams of sound. In these songs, his voice was at its loveliest.
Joel Harder was the splendid pianist in Schwanengesang. Humor is seldom to be found in Schubert's songs, but Harder injected it into the jaunty interludes of 'Abschied'. It's one of the few songs in which a Schubert wanderer leaves town in high spirits with the wind at his back.
When Brofman announced that the BASS Schubert series would go digital last summer, he was far ahead of the pack. It seemed at the time equal parts courage, foolhardiness and an over-abundance of caution. The intervening months proved only the first to be true.
In making the announcement, Brofman said the move was a necessity for the organization, the artists and its audience. He was right about that also. When every recital hall in New York was dark, BASS kept the flame of song alive in the city.
Rick Perdian
To watch the fifth and final recital in BASS' Schubert series, click here.