United Kingdom Aljaž Škorjanec and Janette Manrara in Remembering the Oscars: Aljaž Škorjanec and Janette Manrara and company with Janine Johnson and Giovanni Spanó (singers). Available to stream until 17.4.2021. (JPr)
Director and Choreographer – Gareth Walker
Musical supervisor – Rob Eckland
Lighting designer – Leigh Mulpeter
Costume designer – Francis Campbell
After Remembering Fred (review click here) and Remembering the Movies, married Strictly Come Dancing favourites Aljaž Škorjanec and Janette Manrara had lined up a nationwide Remembering the Oscars tour during the early part of 2021. We all know why it never happened and the show has now been rescheduled for next year. What amounts to a preview of what you will see in 2022 is available online for a limited time, along with a 32-page digital programme with biographies and Oscar trivia, a 'Behind the Scenes with Aljaž & Janette' and an 'In Conversation' hosted by Richard Arnold.
There is no doubting all the good intentions behind this project. However, it is a compromise between showing the highlights of what audiences can expect on their return to watching Aljaž and Janette in theatres and exploring all the possibilities that filming something like this gives (though obviously the budget they had might also have been a consideration). When you see the beginning of 'Singin' in the Rain' with Aljaž as Gene Kelly round his lamppost on a digitally created rainy street or 'Beauty and the Beast' with Aljaž and Janette gliding round a gilded ballroom, these are examples of what might have been.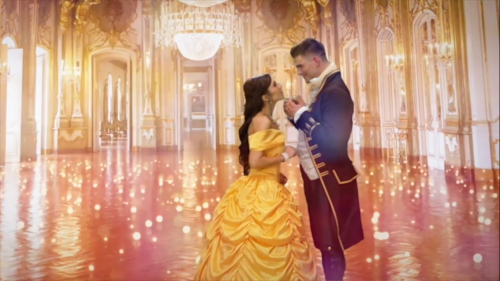 Otherwise, it is all wonderfully critic-proof and the time we spend with the talented singers and dancers during the show reminds me of a Judy Garland song – which we did not hear! – 'Get Happy' with the lines 'Forget your troubles, c'mon get happy, you better chase your cares away'. And if only for an hour (more if you add in the additional footage) you will be happy and forget for a short while what the recent year has been like. As Aljaž says (when talking to Richard Arnold) they saw when they all came together 'a release of joy […] on every single member of our cast. Some of them haven't danced in a year. Some of them picked up jobs in supermarkets, in delivery services, and those are all incredibly talented people and when we started rehearsals even to see the joy and sheer love of what they do, that was possibly my most special moment out of this whole experience. Seeing people doing what they love is the most rewarding thing.' And so it is for all of us who love almost anything that happens in a theatre and as we hear Jeanette sum-up at the end 'Thank you for supporting the arts and creative industries that needs you now more than ever.' What the future holds, only time will tell.
Remembering the Oscars was filmed in the barn-like Bournemouth International Centre by working in a bubble and adhering to COVID protocols which meant some masks (though not when dancing) and regular testing. It is the result of everyone being together to rehearse for only five days and filming for two and working 12-to-13-hour days. There was no one else present apart from cast and crew, so performers used to adrenaline-boosting applause had to make do with 'Well done' and 'Keep the energy up' from director and choreographer Gareth Walker, a veteran of these type of dance spectaculars.
After MGM's iconic lion and memories of classic films into which the silhouettes or faces of Aljaž and Janette have been added, there's a red-carpet entrance before they both talk direct to the camera and introduce the various sections of this (loosely) Oscar-themed presentation which begins with 'Hooray of Hollywood a montage of Oscar winning songs'. Firstly, 'The Continental' from the 1934 The Gay Divorcee (a vehicle for Fred Astaire and Ginger Rogers) gets a quicksilver rumba from Aljaž and Janette. Then between Rocky, Shaft, and before Flashdance and the famous Dirty Dancing lift there is an exquisitely dreamy Viennese Waltz through some dry ice for 'The Way We Were' beautifully rendered by Janine Johnson, one of two singers. And so it goes on, and – credit where credit is due – it is never boring. As in the theatre, eclectic images on LED screens set the scene for the frequently glitzy and glamorous dance numbers which essentially are basically just sampled with only a few extended sequences.
We see a fusion of styles of dancing though it is predominantly ballroom and Latin, frequently blended with some contemporary and music theatre. The last was best represented by 'All That Jazz' from the 1979 film of the same name which recalled the work of Bob Fosse. Apart from moving silkily Janette sings this wonderfully well and she reminds us in the interview how she had been singing it 'since I was a kid in musical theatre doing shows.' We hear more of her near the end as Mary Poppins in the long tribute to Disney, mainly included because Jeanette is a huge fan of the films! During 'Chim Chim Cher-ee', 'Trip a Little Light Fantastic' and 'Step in Time', the other vocalist Giovanni Spanó comes into his own – amongst the lampposts – as a song and dance man in his own right as Bert. Though he reminded me less of Dick van Dyke and more of a young James Cagney!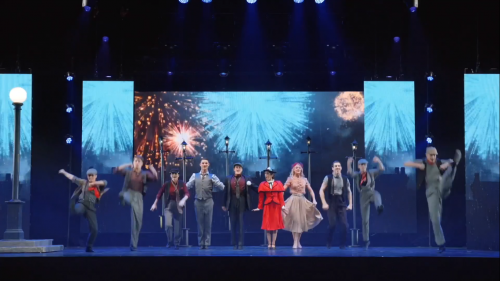 There is so much to enjoy in between from the Best Actress category (though this featured Madonna who only won a Golden Globe for Evita), Best Dance Direction (only presented from 1935 to 1937) and Best Picture. A particular standout moment was the sultry Argentine Tango for the 1992 Scent of a Woman to a London skyline, and more lampposts and dry ice.
Last but not least I must praise the enthusiastic and very talented ensemble of eight dancers involved in several of these energetic routines which was headed by associate choreographer Scott Coldwell and Ash-Leigh Hunter who danced some of the ballroom with Aljaž – such as a whirling waltz for Carousel – because she was a better fit, height-wise, for him!
Highly recommended, though Remembering the Oscars will be even more enjoyable in a venue near you in 2022!
Jim Pritchard
For more about streaming Remembering the Oscars click here.