United Kingdom Berthold Brecht and Kurt Weill's The Seven Deadly Sins and Mahagonny Songspiel: Soloists, Orchestra of the Royal Opera House / Michael Papadopoulos (conductor). Livestreamed (directed by Peter Jones) from the Royal Opera House, Covent Garden, 9.4.2021. (JPr)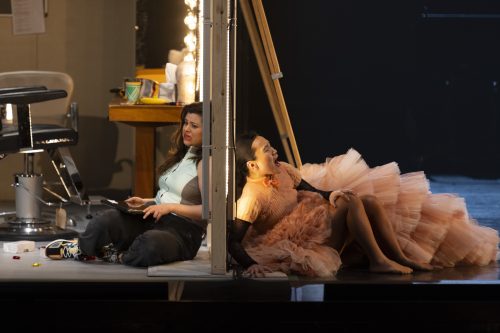 Production:
Music – Kurt Weill
Text – Bertolt Brecht
Director – Isabelle Kettle
Designer – Lizzie Clachan
Lighting designer – James Farncombe
Choreographer & Movement Director – Julia Cheng
Dramaturg – Uzma Hameed
Cast
Anna I, Jesse – Stephanie Wake-Edwards
Anna II – Jonadette Carpio
Father, Charlie – Filipe Manu
Brother, Billy – Egor Zhuravskii
Brother, Bobby – Dominic Sedgwick
Mother, Jimmy – Blaise Malaba
Dance Artist – Thomasin Gülgeç
Bessie – Kseniia Nikolaieva
No sooner do I have my first experience – thanks to Opera North (review click here) – of Behold Brecht and Kurt Weill's 1933 The Seven Deadly Sins, a second comes along thanks to the Young Artists of the Royal Opera's Jette Parker programme. On this occasion this ballet chanté (sung ballet) was paired with Brecht and Weill's 1927 half-hour concert cantata Mahagonny Songspiel (sung play), featuring a selection of Brecht's poems about Mahagonny a fictitious city in North America. This is revealed as a modern Sodom and Gomorrah and fuelled by too much whisky it is destroyed by urge to make a fast buck (legally or illegally). The sequence of songs and musical interludes was the precursor to the pair's 1930 opera Rise and Fall of the City of Mahagonny.
As I wrote previously, Weill's wife, Lotte Lenya, thought George Balanchine, was 'very courageous' in choreographing The Seven Deadly Sins for its premiere in the Théâtre des Champs-Élysées in Paris. The score was commissioned by an Englishman, Edward James, who requested from Brecht and Weill something with a part for his ballerina wife Tilly Losch. This helps explain the convoluted 'split personality' plot which worked magnificently in the Opera North staging and does so reasonably well again here, once – as before – you get accustomed to what you are watching. I understand Balanchine – who spoke no German – had the lyrics translated into Russian though this didn't prove much help to him apparently. Opera North's choreographer/director Gary Clarke set this satire on 'making it big' firmly in 1930s' America and with the famous Hollywood sign in the background we could be reminded of the movie capital's recent #MeToo exposés. Currently a Jette Parker Young Artist, director Isabelle Kettle's version is a commentary on current concerns about the sexual objectification and exploitation of women by men.
The Seven Deadly Sins follows Anna on her travels over seven years through seven American cities attempting to make it 'big' and earn enough money to send some back home to her mercenary family in Louisiana so that they can build 'a little house'. Each city is matched with one of the seven sins (in order: sloth, pride, anger, gluttony, lust, covetousness and envy) that Anna encounters. Brecht and Weill give us two Annas travelling as one person so that we experience the physical manifestation of an internal dialogue. (Kettle not only showed this but there was also an opportunity to get live updates on Anna's 'journey' thanks to Instagram.) Anna I (the singer) is more pragmatic and realises money has to be made any way they can, and Anna II (the dancer and mostly silent) is her alter ego striving – with little success – to find wealth, fame and happiness without going against her instincts and debasing herself.
Kettle begins her Seven Deadly Sins (which is sung in the original German) in a real dressing room backstage at Covent Garden and we see Anna I – Stephanie Wake-Edwards in leisurewear and trainers typical of rehearsal clothes – taking the long walk of performers over many years (though not recently!) to the stage. There she enters Lizzie Clachan's replica of the room she has just left with an adjacent bathroom; this takes up half the stage leaving the rest bare. Kettle focusses on a line in the Prologue when Anna I refers to Anna II as she sings 'She's a bit mad but my mind is sound'. She initially sees her as a reflection in a large mirror and there is more than a hint of Dr Jekyll and Mx Hyde. We soon realise there is nowhere for Anna I to go and her 'family in Louisiana' are a bunch of scrounging hangers-on whilst still acting as a Greek chorus. The 'little house' she hopes to pay for is just a pipedream read about in a glossy magazine. Without the reassurance of a pantomimic Mother in drag as Weill proscribes the male quartet pose a stereotypical ominous threat to Anna II out in the real world.
Julia Cheng's mix of street and contemporary choreography for Jonadette Carpio's Anna II is restless, often jerky, and increasingly anguished and her downward spiral seems inevitable. Working as an extra in Los Angeles (Anger) Anna II is shown filming a coffee commercial whilst the photographer (dance artist Thomasin Gülgeç) is interested in more intimate shots and eventually sexually assaults her. For Gluttony we learn how 'she has a contract as a principal dancer' and is 'weighed every day' and Anna I is shown a binge-eater. (Oddly for this, Anna II is in an extravagantly frilly pink puffball dress on a family picnic in an idyllic setting with stuffed animals including a stag and two lambs.) With Anna I throwing up in the toilet bowl thoughts turn to shocking incidences in the media of body shaming and this is emphasised in Lust which is all about sexploitation and we shockingly hear 'nobody pays for a fat cow like that'. By this time Anna I herself is reduced to performing on a live sex cam. During Covetousness Anna II is cavorting in black thigh length boots and not much else (Little Mix, The Pussycat Dolls?) and being ogled.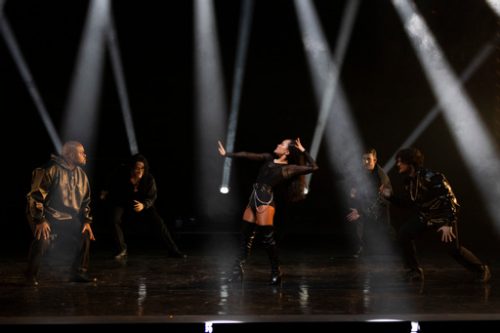 For the final sin, Envy, Anna I is increasingly angry and dependent on alcohol as Anna II exits into the light. As we hear 'Remember what happens when you give into temptation' it is Anna I who succumbs to pills and booze as four mourners in black tie and clutching bunches of lilies sing 'Those who win the battle within will reap the rewards'. She was never destined to return home and Anna I dies with the face of Anna II on her phone.
Mahagonny Songspiel with its six songs (sung in German and some English) and linking orchestral interludes lacked coherence as Kettle's postscript to her Seven Deadly Sins. Thomasin Gülgeç who had embodied in dance all Anna II's male protagonists and had notably duetted with Carpio for Lust was almost ever-present. Some of his freestyle movement was simply physical jerks and I wasn't sure of his role either as 'commentator' or master of ceremonies. The well-dressed foursome (now as Billy, Bobby, Charlie, Jimmy) from the end of Seven Deadly Sins reappeared in Covent Garden's now astroturfed stalls. Fuelled by testosterone they play football, get drunk and literally lose their shirts – and more – playing craps. For the famous 'Alabama Song' they are joined by Jessie (Stephanie Wake-Edwards) in Anna II's pink outfit from the earlier Gluttony with Kseniia Nikolaieva in a light blue version. Their makeup is smeared as if they have suffered unwanted male attention like Anna II did in Anger.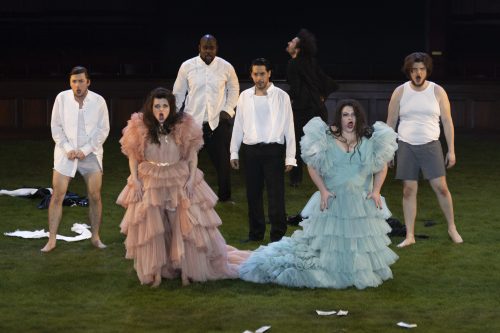 Avarice and alcohol gets the better of them all as we hear another Brecht/Weill classic 'Benares Song' with lines such as 'There is no whiskey in this town' and 'Let's go to Benares where the sun is shining' suggesting somewhere there'll always be another game of chance to try their luck with and another bar. When God (Blaise Malaba) comes to the Godless Mahagonny society he is now wearing a pink dress. All chase round and round (chasing their tails!) like many do in our twenty-first century secular consumerist world before the epilogue (sung in German) that concluded 'For Mahagonny doesn't exist; For Mahagonny never occurred; For Mahagonny is only a made-up word'. Though I could have done without the suggestion of some drunken (male!) urinating, this ending was thought-provoking and absorbing and all the better because the dancer was (temporarily it transpired) not about. He did emerge on the amphitheatre level and walking up goes into the light just as Anna II did (I'm still pondering on what this signified).
Seven Deadly Sins was played in an arrangement for 15 players by HK Gruber and Christian Muthspiel and conducted by Michael Papadopoulos and all concerned did justice to Weill's fragmented lyricism, dissonances and rhythmic angularity as did an even smaller orchestra for Mahagonny Songspiel. The sextet of singers was led by a remarkable tour de force from seemingly inexhaustible and very talented singer-actor Stephanie Wake-Edwards (as first Anna I and then Jesse) and her dark-toned – contralto-like – voice was rich, emotive and dramatic. Kseniia Nikolaieva impressed in the little she got to sing as Bessie, her voice had similar qualities to Wake-Edwards's yet was more resonant and voluptuous. Both Blaise Malaba (Mother, Jimmy, God) and Felipe Manu (Father and Charlie) sung ear-catching solos and were part of a splendid ensemble which included Egor Zhuravskii (Brother, Billy) and Dominic Sedgwick (Brother, Bobby). However, I would have liked to have heard more of the consonants from everyone's German. Last but not least, the two accomplished dance artists Thomasin Gülgeç and Jonadette Carpio were never less than indefatigable and entirely committed with Carpio proving a particular gifted and charismatic dancer who I would like to see again in something in the future.
Jim Pritchard
For more about what is on at the Royal Opera House click here.