United States Martinů, Florence Price, Dvořák: John Wilson (piano), Edward Stephan (timpani), San Francisco Symphony / Joshua Weilerstein (conductor). Davies Symphony Hall, San Francisco, 10.6.2021. (HS)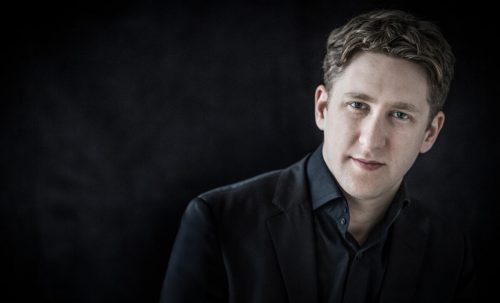 Martinů – Double Concerto for Two String Orchestras, Piano and Timpani
Florence Price – Andante moderato from String Quartet in G major (arranged for string orchestra)
Dvořák – Serenade for Strings in E major
San Francisco Symphony seems to be saving its A team for the final days of an abbreviated season of live performances. Over the next two weeks, newly minted music director Esa-Pekka Salonen leads the orchestra in concerts that will include wind instruments for the first time. They have been sidelined for live concerts, so far, by Covid rules.
For this program before a socially scattered audience at Davies Hall, guest conductor Joshua Weilerstein drew on a roster of 23 string players. None of the first chairs were present, and other familiar faces were missing. It showed.
There was nothing wrong exactly with this performance under Weilerstein, currently artistic director of the Orchestre de Chambre de Lausanne and music director designate of Phoenix, a Boston-based orchestra. The music had nuance and clear intent, and the playing was competent, even if it fell short of the sparkle and heart-grabbing intensity this band routinely achieves.
The music began and ended with seldom-heard works by Czech composers, bookending Florence Price's folksy Andante from her String Quartet in G major (1929). With Weilerstein setting a gentle pulse and getting nice shading from the orchestra, this seven-minute soothing work evoked the soulfulness of spirituals, and to these ears was the most effective of the three pieces.
The Price Andante was a canny choice to separate two markedly different string works by Czech composers. Borislov Martinů's angst-ridden Double Concerto for Two String Orchestras, Piano and Timpani, which opened the proceedings, was written in 1938 on the eve of World War II. The music restlessly shifts from mid-twentieth-century spikiness and dissonance to moments of resolution and calm, and Weilerstein's emphatic conducting favored the rough moments. The orchestra's pianist John Wilson and timpanist Edward Stephan contributed sleek playing.
Dvořák's youthful, exuberant Serenade for Strings in E major concluded the concert. It bounced along cheerfully in its sunny style, but after the heartfelt nature of Price's sincerity, its elegance ended up feeling shallow.
Harvey Steiman
For more about San Francisco Symphony click here.