Czech Republic Mozart, Don Giovanni: Soloists, National Theatre Ballet, Chorus and Orchestra / Karsten Januschke (conductor). Národní Divadlo, Estates Theater, Prague, 8.9.2021. (RP)
Production:
Director – Alexander Mørk-Eidem
Sets – Christian Friedländer
Costumes – Jenna Ljungberg
Lighting – Ellen Ruge
Chorus Master – Pavel Vaněk
Dramaturgy – Ondřej Hučín
Cast:
Don Giovanni – Jiří Brückler
Leporello – Pavel Švingr
Donna Anna – Marie Fajtová
Donna Elvira – Alžběta Poláčková
Don Ottavio – Richard Samek
Zerlina – Lenka Máčiková
Masetto – Michal Onufer
Commendatore – Zdeněk Plech
Experiencing Mozart's Don Giovanni at the Estates Theatre in Prague, where it premiered in 1787, must be on many an opera lover's bucket list, as it was on mine. The theater is steeped in musical lore. In addition to Don Giovanni, the composer's La clemenza di Tito premiered here in 1791, and it is the only theater left standing where Mozart performed.
The Neoclassical theater opened in 1783 and is one of the few in Europe from that time that has been preserved in its original state. It is a product of the Enlightenment, built to increase general access to the arts and to reflect the principle that theaters in and of themselves embody the cultural standards of a nation. Prague has an abundance of such monuments.
Jenna Ljungberg's period costumes would place the action in the late eighteenth century, but Alexander Mørk-Eidem's minimalist staging is not specific to time or place. The catch is that the performers are playing to the back of the stage. There is little in the way of sets, and those there are can generally be seen from behind – just canvas and lumber. Donna Elvira sits in one of the side boxes as she is serenaded by Don Giovanni. Donna Anna, Donna Elvira and Don Ottavio rummage about racks of clothes to find costumes for Don Giovanni's feast. Nonetheless, Mørk-Eidem created unity and entire worlds out of stage curtains.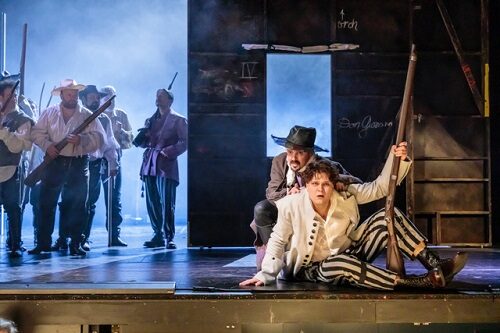 Don Giovanni is a dramma giocoso, a genre of opera common in the mid-eighteenth century that combines serious and comic action. Mørk-Eidem's concept is basically dark. Jiří Brückler's Don Giovanni's force is waning; blood seeps ever more copiously from the wound that he received in his duel with the Commendatore. Pavel Švingr's Leporello is not a comic character but a servant disgusted with his master's behavior. Alžběta Poláčková's slightly wacky Donna Elvira and Lenka Máčiková's spunky Zerlina supplied what lightness there was in this performance, the strength of which was the excellent ensemble work of the cast.
Brückler's Don Giovanni was handsome and sardonic. Even when wooing Zerlina, he employed little charm, just sexual magnetism. With his rich baritone, however, Brückler created a far more complex character. Švingr as Leporello delivered a straightforward catalogue aria with his firm bass, unsuccessful in convincing Poláčková's Donna Elvira that Don Giovanni is not the man for her. Poláčková's shining soprano sailed through Donna Elvira's demanding arias with ease.
Tenor Richard Samek makes a hero out of Don Ottavio both dramatically and vocally. This production, as are most, is a mix of the two different versions that Mozart and his librettist, Lorenzo Da Ponte, made for Prague and Vienna. It was a disappointment not to hear Samek sing 'Il mio tesoro', which was in the original Prague production, but his 'Dalla sua pace' more than compensated for it.
Marie Fajtová's Donna Anna was another exquisite characterization. She exuded femininity, especially with her light, lovely lyric soprano, but she showed a steely resolve in fending off Don Ottavio's romantic overtures, intent on pursuing Don Giovanni for murdering her father. As the Commendatore, Zdeněk Plech poured out seamless waves of impressive sound. His powerful bass rang with authority and a righteousness that would rattle the nerves of anyone but Don Giovanni.
There is an earthiness and daring in Lenka Máčiková's Zerlina that made her the perfect foil to Brückler's Don Giovanni. Vocally and physically, she is charm personified. Michal Onufer's Masetto was a likable chap, brave but ineffectual in his dealings with Don Giovanni, although his youthful bass was full of vigor.
The concluding scene where the Commendatore enters and Don Giovanni is pulled into the abyss was as exciting as it gets in the opera house due to conductor Karsten Januschke. He ratcheted up the tension incrementally to the point where it was overpowering. The madrigal that ends the opera briefly lifted the mood (and seldom makes such dramatical and musical sense as it did here), until Don Giovanni is seen very much alive running from his protagonists.
Check this one off the list.
Rick Perdian