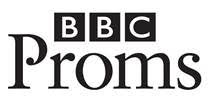 United Kingdom Last Night of the Proms 2021: Stuart Skelton (tenor), Ksenija Sidorova (accordion), BBC Singers, BBC Symphony Chorus, BBC Symphony Orchestra / Sakari Oramo (conductor). Reviewed when broadcast (directed by Marcus Viner) on BBC TV from the Royal Albert Hall, London, 11.9.2021. (JPr)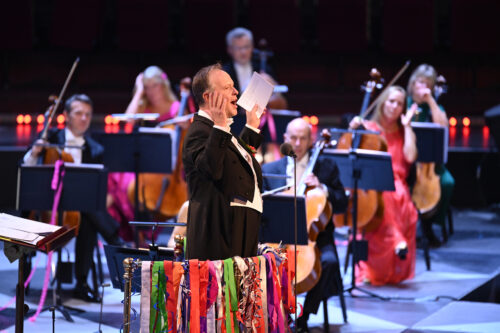 We heard an audience sing 'Land of hope and glory, Mother of the free' at the Last Night of the Proms for the first time since 2019 after a year and a half when we have never been less 'free'. Don't misread what I write and, of course, these have been deeply sad times with very few people unaffected in some way by the pandemic and many mourning the loss of loved ones. Nevertheless, freedom comes in many forms: I should be 'free' to watch this Last Night of the Proms without experiencing old battle scars (Brexit) being reopened with all the blue European Union flags and berets with their twelve stars. There was also the nonsense of a socially distanced orchestra and choruses with the soloists and conductor entering in masks. The latter totally undermining any progress the vaccine and regular testing has made in combating infections and looking ridiculous in front of mostly maskless Prommers crammed together in front of them!
It really is time to reconsider what is the point of the Last Night of the Proms but perhaps this is not the time and place. Many of those not in the Royal Albert Hall will be more than likely catching up with this event on BBC iPlayer because there was the small matter of teenage British interest in the US Open women's tennis final. (Young people – especially of mixed or non-white heritage like the champion Emma Raducanu – are always few and far between at the BBC Proms.) Television coverage involved Katie Derham, The Sky at Night presenter Maggie Aderin-Pocock and choirmaster and broadcaster Gareth Malone. There were some informative pre-filmed introductions to what we heard but I admit I fast-forwarded through some of the more irrelevant chat, especially when expected to watch tenor Stuart Skelton mix a cocktail! (To be truthful – as heard through TV loudspeakers – his voice might have benefited from a couple before he began singing!)
Coventry – this year's City of Culture – had a gathering watching in the Assembly Festival Garden but there were no other Proms in the Park though we had pre-recorded musical contributions from Wales (Johns' Boys Male Choir), Northern Ireland (vocal band Ardú) and at the Kelpies in Scotland (National Youth Choir of Scotland). Bunting, flag-waving, funny noises, community singing – therefore much of the usual silliness – was, regrettably, back after the interval.
Sakari Oramo – eighth year as the BBC SO's chief conductor and after 28 Proms and 5 Last Nights – spoke about the Prommers' online Help Musicians' Coronavirus Financial Hardship Fund and reminded us of the devastating effect shutting theatres and concert halls and locking down people in their homes – not just in the UK but throughout the world – has had on freelance musicians. He said how 'The bond between audience and performers was broken […] so it's very special for us all to be here for the Last Night of the Proms again with an audience to celebrate the healing and uplifting power of music.' He read out quite thought-provokingly the UNESCO-inspired Five Music Rights which primarily advocates access to music to all.
I am always left wondering – whether in the Albert Hall or watching on TV – how the music for the Last Night is chosen (details below). Obviously, there is never anything too long because of the perceived attention span for those looking on or in. Apart from some Barber and Ravel allowing for a brief moment of reflection for the tragedy that befell New York twenty years ago there was no theme that I was aware of. The Last Night always seems to begin with a new anthemic work and Iranian-American Gity Razaz has composed Mother for chamber orchestra which she described as 'a celebratory piece about the exquisite mastery of the natural world' and aimed to uplift our spirits. It was unusually accessible with the familiar array of percussion used more subtly than usual. Malcolm Arnold's Variations for Orchestra on a Theme of Ruth Gipps was the tribute of one somewhat neglected composer to another who was a friend of his. For me, there were pastoral moments, some march-like ones and much that sounded similar to Mother we had just heard. A succession of tutti chords ushered in a dramatically triumphant timpani-led finale. There followed Jonathan Manner's new arrangement of Barber's Adagio for Strings with the small cohort of BBC Singers intoning the liturgical Agnus Dei, it was absolutely beautiful and Katie Derham said it was 'unbearably intense', a perfect description. Each movement of Ravel's Le tombeau de Couperin is dedicated to the memory of a friend (or in the case of Rigaudon we heard, two brothers) who died in World War I. Plaintive and rather short it was nevertheless eloquently played – like everything was – by the BBC SO under Oramo's genial guidance.
Franck Angelis's Fantasie on a Theme of Piazzolla – Chiquilín de Bachín introduced us to Latvian classical accordionist Ksenija Sidorova (an alumnus of the Royal Academy of Music) who seems a wonderful advocate for her instrument. Seated on a stool her hands flew across the keys and the buttons and we were drawn to the atmosphere of cosmopolitan Buenos Aires and the restaurant there that inspired Angelis's music.
Having witnessed Simon O'Neill having the courage to pull out of a performance of Tristan und Isolde recently (review click here), unless Stuart Skelton was significantly better at rehearsal somebody should have advised him not to sing Walther's 'Morgenlich leuchtend im rosigen Schein'. I have heard this defeat many famous tenors but that is usually at the end of a long opera and although there is no problem with Skelton's burnished bronze baritone-like part of his voice, his top notes deserted him because of the Wagnerian heft the Prize Song demands. 'Im Treibhaus' from Wagner's Wesendonck-Lieder – which he sang before that – was the oddest imaginable choice, it might suit some male voices but needed more vocal refinement than Skelton could muster on this occasion.
We learnt how African-American Florence Price's mother encouraged her to pass 'herself off as a Mexican woman in an attempt to avoid discrimination' when studying music in Boston. Thankfully her pre-eminence as a symphonist has grown in the recent decade and more with the rediscovery of her music. The West African rhythms of Juba Dance had Oramo dancing on the podium. The cymbal crash near the end suggests there might be something darker behind all the jollity. More accordion for the very recognisable Libertango by Astor Piazzola (this year is the centenary of his birth) and released from her piano stool Sidorova looked eager to tango herself across the platform. She was joined by Skelton (who wrestled with the Spanish and just about came out on top) for Aníbal Troilo's Sur (South) for another tango down the back streets of the Argentine capital. This haunting elegy to lost love was also notable for Iain Farrington's tinkly 'piano stylings' as Derham called his contribution.
There was then more longing, though this time love found, in Percy Grainger's famous wistfully folksy setting of Brigg Fair sung by Skelton and the BBC Singers. The Australian tenor was at his best when having donned a sparkly black jacket he sang a heartfelt paean to his homeland, Peter Allen's 'I Still Call Australia Home'. Skelton benefited from being able to croon rather than sing full out and he nailed his high note this time. (The line 'And someday we'll all be together once more' must be particularly poignant to families distanced by Australia's draconian coronavirus restrictions.) Skelton would return later for Rule Britannia! – announced by Handel's 'Hail the Conquering Hero' – in cricket whites, baggy green Australian cap, with cricket bat and sandpaper to rough up the ball!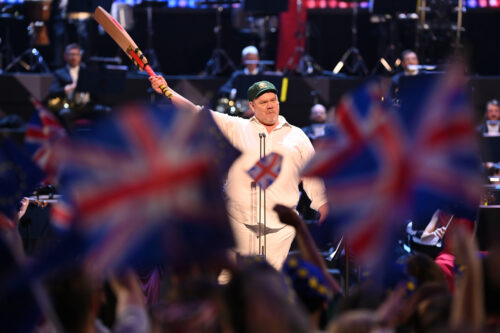 Everyone was in high spirits by now and had enjoyed the start of the traditional ending to the Last Night as we heard Henry Wood's Fantasia on British Sea Songs with a particularly mournful cello solo for 'Tom Bowling' from Susan Monks. (Throughout the concert there had been several virtuosic contributions especially from Daniel Pailthorpe's flute, Alison Teale's oboe, leader Stephen Bryant's violin, as well as Philip Cobb's trumpet.) By this time a small BBC Symphony Chorus (19 were listed) had joined the (18) BBC Singers and there seemed an element of 'going through the motions' from all concerned with 'Land of Hope and Glory' (performed in a not especially stirring reduced orchestration by Anne Dudley), followed by Jerusalem, a respectful and ultimately more rousing National Anthem (after a delayed start due to some shouting) and finally arms were linked for Auld Lang Syne in the hope the normal we have supposedly got back to will really mean normal by Friday 15 July 2022 for the first night of next year's Proms.
Jim Pritchard
Gity Razaz – Mother (BBC commission: world premiere)
Arnold – Variations for Orchestra on a Theme of Ruth Gipps
Barber – Adagio for Strings (arr. Jonathan Manners)
Ravel – Rigaudon (Le tombeau de Couperin)
Franck Angelis – Fantasie on a Theme of Piazzolla – Chiquilín de Bachín
Wagner – 'Im Treibhaus' (Wesendonck-Lieder); Prize Song (Die Meistersinger von Nürnberg
Florence Price – Juba Dance (Symphony No.1, third movement)
Piazzolla – Libertango (arr. John Lenehan)
Aníbal Troilo – Sur (arr. George Morton)
Trad. – Brigg Fair (arr. Percy Grainger)
Peter Allen – 'I Still Call Australia Home' (arr. Iain Farrington)
Arr. Henry Wood – Fantasia on British Sea-Songs (orch. Mark Millidge)
Arne – Rule, Britannia!
Elgar – Pomp and Circumstance March No.1 in D major, 'Land of Hope and Glory' (arr. Anne Dudley)
Parry – Jerusalem (orch. Elgar)
Unknown – The National Anthem (arr. Britten)
Trad. – Auld Lang Syne (arr. Paul Campbell)