United Kingdom 'Bach: Before and After': Mahan Esfahani (harpsichord). Wigmore Hall, London, 21.10.2021. (MB)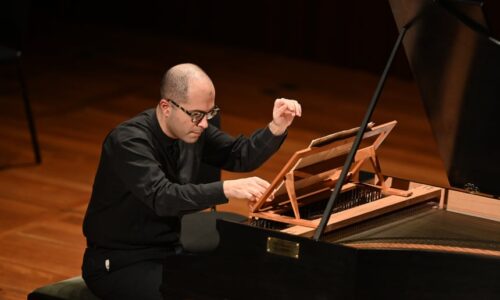 Pachelbel – Fantasia ex dis
Georg Böhm – Partita on 'Wer nun den lieben Gott lässt walten'
Pachelbel – Chaconne in D major
Samuel Scheidt – Allemande: 'Also gehts also stehts', SSWV 137
Sweelinck – Fantasia cromatica; Six Variations on 'Mein junges Leben hat ein End'
Johann Kuhnau – Frische Clavier-Früchte: Sonata No.6 in B-flat major
C.P.E. Bach – Sonata in G minor, Wq.65/17
Johann Wilhelm Hässler – Grande Gigue in D minor, Op.31
W.F. Bach – Sonata in D major, F 3
I have been to recitals by Mahan Esfahani when I have known, or rather been acquainted with, all the music; only, I think, though, when the programme has been devoted to Bach (and not even always then). More often than not, there has been a good part of the programme that was entirely new to me. In this case, all but three pieces were. What a varied conspectus of seventeenth- and eighteenth-century keyboard music this was, both as works and in their performance.
Pachelbel's Fantasia ex dis offered a bejewelled portal. Clear where it was heading but always with time to admire the view, to make a telling agogic point, Esfahani's performance offered the ideal introduction. A similar balance was struck in Georg Bohm's Partita on 'Wer nun den lieben Gott lässt walten'. Sparing, typically intelligent use of two manuals, in tandem with imaginative, meaningful changes of registration furthered character and progression. Rhetoric was stronger, more fantastical in one variation, in which registration altered after (almost) every phrase. Pachelbel's D major Chaconne is more virtuosic, perhaps a little lighter in style. (Bach's example can mislead.) Esfahani relished its potentialities, the piece's seeds growing into a fine tree indeed.
For the next set, we moved to Samuel Scheidt's Allemande, 'Also gehts also stehts'. Hearing such variation in variation writing, as it were, proved both illuminating and frankly enjoyable, Esfahani teasing out and communicating the music's secrets. Sweelinck's Fantasia cromatica, chronological distance notwithstanding, seemed to me to come closest of all the works to that of Bach — though I suspect that says at least as much about my own conception of Bach as the composer's own self-understanding and practice. At any rate, its darkly chromatic world, unmistakeably of the North, and dazzling instrumental drama in an almost Brahmsian sense (again betraying my own prejudices!) proved richly satisfying. The same composer's Variations on 'Mein junges Leben hat ein End' offered yet another varied variational journey, Esfahani ever the enlightened guide. The nice sense of return at the close here was echoed in the last of the five movements of Johann Kuhnau's B-flat Sonata. Bach's predecessor as Thomaskantor offered music that was catchy, exuberant, and much more besides. Architecture was keenly communicated, as was detail, the two clearly linked and mutually reinforcing.
The second half of the programme took us beyond Bach, or rather beyond Johann Sebastian. Two of his sons and one of his grand-pupils were heard, each with pleasure (certainly by me). Carl Philip Emanuel Bach's 1746 G minor Sonata opened in declamatory fashion, with a heightened sense of musical theatrics and well-nigh kinetic energy. Wild yet ultimately coherent and disciplined, this first movement only underlined the composer's reputation for avant-gardism. A true Adagio, albeit with typically clever complications, led to a finale that both mediated and concluded. Many, I know, are sceptical about CPE Bach's modernity, but it remains real and admirable to me. Johann Wilhelm Hässler's piece offered enjoyable light relief as well as opportunity for virtuosic display. Wilhelm Friedemann Bach's 1745 D major Sonata was for me a fascinating discovery. A first movement imbued, not unlike the music of his brother, with nervous energy prepared the way for an Adagio just as restless in its way, prior to a lovely, galant 'au revoir' in its finale, Esfahani a compelling advocate throughout. For an encore, we headed south, to Domenico Scarlatti's B minor Sonata, K.87, in an Apollonian reading that
Acknowledged yet never exaggerated discord beneath the surface.
Mark Berry