Germany Shostakovich, The Nose (Nos): Soloists, Chorus and Orchestra of Bavarian State Opera / Vladimir Jurowski (conductor). Nationaltheater, Munich, 27.10.2021. (ALL)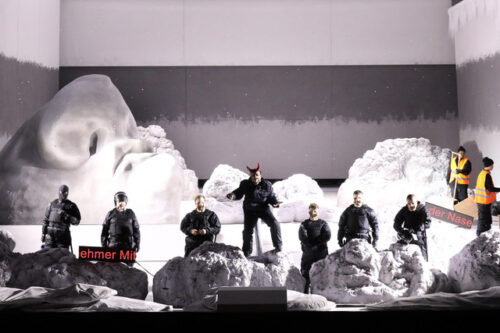 Production:
Director – Kirill Serebrennikov
Artistic consultant – Evgeny Kulagin
Set design – Olga Pavluk
Costume design – Tatyana Dolmatovskaya
Masks – Shalva Nikvashvili
Lighting – Michael Bauer
Video – Alan Mandelshtam, Alexey Fokin
Chorus director – Stellario Fagone
Dramaturgy – Katja Leclerc
Cast included:
Platon Kusmich Kovaljov – Boris Pinkhasovich
Ivan Yakovlevich – Sergei Leiferkus
A clerk in a newspaper office / a doctor – Gennady Bezzubenkov
Police Inspector – Andrey Popov
Ivan / Tenor Solo – Sergey Skorokhodov
The Nose – Anton Rositskiy
Pelagia Grigorievna Podtochina – Alexandra Durzeneva
Her daughter / Soprano solo – Mirjam Mesak
Old Countess – Doris Soffel
Praskovya Ossipovna – Laura Aikin
Iaryzhkin – Tansel Akzeybek
In 2016, director Barrie Kosky staged The Nose at Covent Garden in an English translation, highlighting the delightful absurdity of Shostakovich's opera and featuring an hilarious tap-dancing number of noses in the middle. In 2017, here at Munich's Nationatheater, Harry Kupfer brought out truculent 'Keystone Cops' in his production of Lady Macbeth of Mtsensk. Now Munich has presented Kirill Serebrennikov's unusually strong production, where the policemen have all the power, are omnipresent and are no laughing matter.
It was a definite and calculated gamble for the new Serge Dorny/Vladimir Jurowski team to select for their first opera something as demanding and dense as this one by Shostakovich: more than thirty soloists, the participation of a director still under house arrest in Moscow on very spurious pretexts, and above all a work that is not part of the usual repertoire of the Bayerische Staatsoper, famed for its Wagner or Strauss.
In Serebrennikov's vision, Kovaljov is a policeman. Like his colleagues, he exhibits a certain deformity from the abundance of (prosthetic) noses that gives them a feeling of power. With his nose disappearing, he has a certain normality and weakness that he refuses. The superb scene in the cathedral where he confronts his nose reveals him as a weak character: he knows that he is not part of the nomenklatura and that his nose belongs to a higher caste. The distress he feels when he regains the ability to go back to his original deformity but is unable to do so straightway is palpable, the character's decline accentuated by the fact that he puts himself in the same prison where he previously put his victims. The final image where, back to his shape and power, he assaults a young girl is stunning.
The settings are cold, grey and dark. The lighting effects are very well done. The quality of the director's visual imagination and the clarity of the stage action do justice to a work that can so easily become 'gently incomprehensible'. Here, the coherence of the whole is astonishing.
The musical level that Vladimir Jurowski obtains from his new orchestra is very high. The orchestral interludes are densely woven. The tension does not drop at any point. In the role of Kovaljov, Boris Pinkhasovich is a superbly expressive singing actor. It is a pleasure to hear again two senior members of the cast, Sergei Leiferkus and Doris Soffel. Laura Aikin impresses with her expressiveness. As always in Munich, the cast is of a very high standard and there is no weak link.
All in all, this is a persuasive evening and a performance of rare intelligence with tension never wavering for a moment. The hall was full and allowed the musicians to triumph. During the curtain calls, Vladimir Jurowski greeted Kirill Serebrennikov, who appeared on video. The performance was broadcast live and will be available on demand on Staatsoper.TV from early November but if you can, come to Munich. Serge Dorny and Vladimir Jurowski have clearly begun as they mean to go on.
Antoine Lévy-Leboyer