United Kingdom Janáček, Jenůfa: Soloists, Chorus and Orchestra of the Royal Opera House / Henrik Nánási (conductor). Livestreamed (directed by Rhodri Huw) from the Royal Opera House, Covent Garden, 9.10.2021 and available now on OperaVision. (JPr)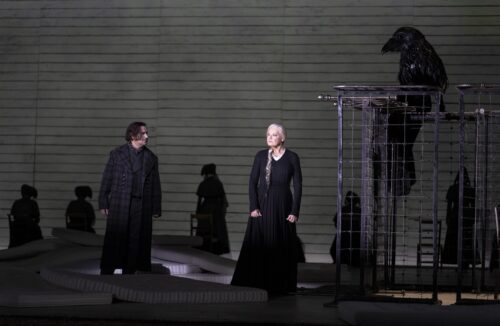 Production:
Director – Claus Guth
Set designer – Michael Levine
Costume designer – Gesine Völlm
Lighting designer – James Farncombe
Choreographer – Teresa Rotemberg
Video – rocafilm
Dramaturg – Yvonne Gebauer
Cast:
Jenůfa – Asmik Grigorian
Kostelnička Buryjovka – Karita Mattila
Laca Klemeň – Nicky Spence
Števa Buryja – Saimir Pirgu
Grandmother Buryjovka – Elena Zilio
Foreman – David Stout
Mayor – Jeremy White
Mayor's Wife – Clarissa Meek
Karolka – Jacquelyn Stucker
Herdswoman – Angela Simkin
Barena – April Koyejo-Audiger
Jano – Yaritza Véliz
Down memory lane for my first (and only until now) Jenůfa which was a David Pountney production in Glasgow in October 1989 with British singers(!) in all the leading roles: Anne Williams-King (Jenůfa), Graham Clark (Števa) and the much-missed Pauline Tinsley and Alberto Remedios as Kostelnička and Laca. Claus Guth's new production planned for March 2020 was cancelled due to the first lockdown and finally gets to the Covent Garden stage after 18 months and it is his first Janáček opera. While few of the originally planned cast remain it is notable that the central pairing of Asmik Grigorian (Jenůfa) and Karita Mattila do return, whilst Henrik Nánási has replaced Vladimir Jurowski. It is the Royal Opera's first new Jenůfa since Bernard Haitink conducted Olivier Tambosi's staging in 2001 with Mattila in the title role on that occasion.
Janáček's 1904 opera involves the tangled relationships that are frequently commonplace now in routine TV dramas. We are supposed to see a tightly knit community concealing their all-too-human failings under a veneer of moral rectitude. Števa has made Jenůfa pregnant, though he is a rather feckless drunk who expects to inherit a mill on the death of his grandmother. Jenůfa's stepmother (the) Kostelnička – who is variously described as the wife of the churchwarden or the village sacristan (either way it explains her religious zealotry) – demands that Števa cannot marry Jenůfa until he has stopped drinking alcohol for a year. Grandmother Buryjovka's other son Laca (a widower like Števa) is also in love with Jenůfa and oblivious to her pregnancy becomes so jealous of her and Števa that he scars her face.
Under the ruse that she has gone to Vienna, Kostelnička conceals Jenůfa's pregnancy and after the baby is born she reveals all to Števa, but he cannot go through with the marriage blaming her disfigurement and that he has become engaged to the mayor's daughter Karolka. In order to avoid all the shame and disgrace, as well as save her reputation I suspect, Kostelnička drugs her stepdaughter and takes the baby out into the snow and murders it (whilst telling Jenůfa that it had died while she slept). Laca returns and consoles Jenůfa and they plan the rest of their lives together. On their wedding day the body is discovered, Števa's shame is revealed and the villagers blame Jenůfa and are about to stone her before Kostelnička – who is riddles with guilt – confesses all. Jenůfa and Laca are left to pick up the pieces of their lives together.
Over a decade ago I reviewed Guth's Ring cycle in Hamburg and more recently there was his 'interesting' Sci-Fi Paris La bohème (review click here), so what does he do with Jenůfa? Well, his Konzept is not as intrusive as many I have experienced recently though we still do not see a nineteenth-century Moravian village. Shutters are referred to in Janáček's libretto and Guth and his set designer Michael Levine have them surrounding the stage and as a screen at the front that lowers onto it. There is an abiding sense of incarceration and in Act I there are sixteen metal beds around the fringes with men asleep in them and the women peeling potatoes and later tending their babies in cots which are hanging down. Gesine Völlm's costumes are mostly funereal black or grey. There are several chairs onstage during this production though none were thrown over and it is good to see that trope having been retired for once at least. We note how Janáček draws our attention to Jenůfa's beloved Rosemary plant; Rosemary has long been symbolic of fidelity, love and remembrance. There are carousing soldiers and the men's reliance of alcohol is reflected in the suggestion that it may cause them to physically abuse their women.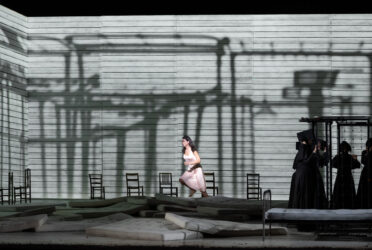 That Kostelnička and Jenůfa are prisoners of their own fate is emphasised by them being seen in the second act enclosed in a cage of upright metal bedsteads with the mattresses tossed aside and later shown to be representing the snow outside. Once again, the village women are seated at the edges of the stage with headdresses making them look as if they are from The Handmaid's Tale. Throughout this act we increasingly see the atmospheric use of silhouette from James Farncombe's lighting: this was particularly haunting with the larger-than-life Raven figure (from Edgar Allan Poe?) roaming the stage and the appearance of barbed wire. More head-scratching was the young, bloodied boy who crossed it at one point. At the end after the increasingly deranged Kostelnička blesses Jenůfa and Laca's union and curses Števa, Jenůfa comes to the front to dig up some soil and I began to wonder if we had been watching – in part – the jumbled memories of her muddled (institutionalised?) mind.
At the wedding Jenůfa is in black and it is commented on how she is 'dressed as a widow'. Many of the guests are in more colourful traditional costumes and Karolka in a stripey dress who Guth turns into a clingy, drama queen. It is Grandmother Buryjovka's turn to give her blessing to the marriage at the very point the body is discovered and Jenůfa reveals it was her baby. Kostelnička accepts the blame suggesting – before being led away – how 'The Saviour will look at her' and how she loved herself more than she loved her stepdaughter. In a rare misstep in an otherwise, pulsating, atmospheric, folk music-inspired, somewhat menacing score, Janáček conjures up a timpani-led false ending that tricked some members of the Covent Garden audience into premature adulation, before the brief poignant love duet for Jenůfa and Laca leads to another culmination – again underscored by the timpani – as they proclaim their 'Greater love in which the Lord rejoices'.
Henrik Nánási's carefully crafted account of the music showed he has an idiomatic feel for Janáček. He was ably supported – as heard through loudspeakers – by an enthusiastic chorus and wonderful playing from the Royal Opera House orchestra. Karita Mattila dominated this Jenůfa, initially sternly implacable, autocratic and authoritative, her psychological disintegration to guilt-wracked despair was a masterclass. Her voice took (to my ears) a little while to gain true focus but apart from the odd scream the composer demands of her there was never an ugly sound from Mattila (a former Jenůfa) who portrayed one of opera's ugliest characters.
In Asmik Gregorian – making her house and role debut – she had a remarkable Jenůfa, painfully conflicted over her rival suitors, dramatically convincing and vocally assured and fully capable of heart-rending lyrical singing at the end, even after three acts of full-on singing. I am yet to see and hear Gregorian in the opera house, but I stand by my earlier thoughts (review click here) that she is proving to be one the leading singing-actors of her soprano generation. Gregorian's performances are cinematic with little of the mechanics of singing on show. Števa is described as handsome in the libretto and Saimir Pirgu was exactly that whilst also being dissolute and unwilling to accept the consequences of his actions in dishonouring Jenůfa. Pirgu impressed with his fervent singing and – like Nicky Spence as his equally ardently sung, lovelorn, yet quick to anger half-brother (the one with the 'beautiful soul') – he was challenged by Janáček's tessitura and both overcame any difficulties splendidly. (Spence, especially, gave evidence that his forthcoming Siegmunds for English National Opera should prove another exciting role debut.)
This strong casting extended to many of the smaller roles: veteran Elena Zilio (almost literally) cracks the whip as Grandmother Buryjovka, almost as – possibly more? – domineering than her daughter-in-law the Kostelnička; David Stout was the concerned and accusatory Foreman of the mill; Yaritza Véliz the pert Jano (now a young girl rather than shepherd boy); and Jacquelyn Stucker caught the eye as the mayor's daughter Karolka, making more of the part than I suspect Janáček intended. Truthfully, musically there was no weak link in this Jenůfa as far as I was concerned.
Jim Pritchard
This performance will be streamed on demand via the Royal Opera House website (click here) from Friday 15 October (7.30pm BST) to midnight Sunday 14 November 2021.