Austria Liebeslieder (Jerome Robbins's Other Dances, Lucinda Childs's Concerto, and George Balanchine's Liebeslieder Walzer): Dancers of Vienna State Ballet, Johanna Wallroth (soprano), Stephanie Maitland (mezzo-soprano), Hiroshi Amako (tenor), Ilja Kazakov (bass), Stephen Hopkins, Sarah Tysman and Igor Zapravdin (pianists). Livestreamed (directed by Balázs Delbó) from the Wiener Staatsoper, 14.1.2022. (JPr)
Under some of the world's strictest Covid regulations a surprisingly large FFP2 masked, triple vaccinated – or alternatively vaccinated and recovered – and recently PCR tested throng of balletomanes appeared to fill the Vienna State Opera for the premiere of a new triple bill (Liebeslieder) from three choreographers who were contemporaries. The main event was after the interval with a restaging of George Balanchine's Liebeslieder Walzer in the sumptuous Belle Époque set from the late Rolf Langenfass and Karinska's gorgeous costumes that drew spontaneous applause from the enthusiastic audience. Balanchine created this work in 1960 for the New York City Ballet (the late Barbara Karinska was the costumer for the company) and it was danced 43 times by the Vienna State Ballet from 1977 to 1991.
The ballet transports us to the world of traditional Viennese balls in times gone by with – in the first part – four couples literally waltzing around with the men in royal blue tails suits and the women in (what looked like) silver or gold ball gowns. On stage there are also the four singers and two pianists at one piano in matching attire who perform 32 (I believe) Brahms love songs in two cycles – first his Liebeslieder-Walzer Op.52 and later the Neue Liebeslieder Op.65 – both having the idiomatic rhythms of the waltz. We are in a gilded pavilion, with a chandelier overhead and candelabras helping to conjure up a suitably grandiose and evocative atmosphere, as does the starry night sky we see though closed doors. In the second part subdued lighting creates a greater sense of mystery, the French doors are open, and dancers enter and leave with the women – now in blue – with tulle skirts and in pointe shoes. Balanchine suggested that during this soirée with its intimate gathering of friends we see 'In the first act it is real people who are dancing. In the second act, it is their souls'.
Not much outwardly seems to happen but as it goes on there is the feeling that the dancers are expressing through dance what we are hearing being sung and thereby illustrating the different emotions and aspects of love or any characters involved who are behaving in a certain way because of it. There are moments of familiarity, adoration, tenderness, joy, sadness, reluctance, trepidation, jealousy, regret and happiness, often revealed by the simplest, yet most communicative, of gestures from the dancers which reveal their natures and innermost desires. An example of this came in one of the first songs 'O die Frauen' with an exchange of hushed whispers between the always regal Liudmila Konovalova and her equally noble partner Zsolt Török who brought a sense of maturity and life experience to the ballet. They contrasted well with the (relatively) more impetuous pairing of Elena Bottaro and Denys Cherevychko who often seemed in love's first flush and Claudine Schoch and Roman Lazik or Maria Yakovleva and Masayu Kimoto who appeared to share the more tender and eloquent pieces. Balanchine once said 'The principle of classical ballet is woman' but while the men are basically there to support, spin or lift their partners, perhaps Liebeslieder Walzer allows them to have a deeper emotional connection than is usual for him.
What are we to discern from the more balletic twirling of the second part? Are these the ghosts of times past? Graceful elegance has been superseded by dazzlingly swift and intricate movement during a succession of more classical dances. Eventually Konovalova spins out into the darkness and the remarkable quartet of singers (soprano Johanna Wallroth, mezzo-soprano Stephanie, tenor Hiroshi Amako and bass Ilja Kazakov, who sing in various groupings) and the two virtuosic pianists (Stephen Hopkins and Sarah Tysman) get the stage for themselves for 'Zum Schluss'. During this meditative ending all the dancers return to the stage with the women in their original floor-length satin dresses to savour the beauty to this final song and to applaud those performing it. As now performed once again in the very city itself, perhaps Balanchine continues to show us Vienna trapped – as it eternally is – in its Golden Age.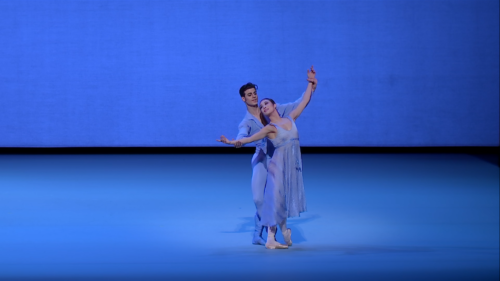 Earlier we saw Jerome Robbins's Other Dances a showy 20-minute 1976 gala piece for Natalia Makarova and Mikhail Baryshnikov to four Chopin mazurkas and one waltz (played by an onstage pianist). It was then taken into the repertoires of American Ballet Theatre and New York City Ballet and now was being performed by Vienna State Ballet for the first time. With all the mazurkas splendidly played by Igor Zapravdin – encouraging the two dancers (Davide Dato and new first soloist Hyo-Jung Kang) to sometimes move their feet and arms to mimic the lively traditional Polish dance – it is hard not to disagree with Baryshnikov that Other Dances is 'utterly Slavic'. Against a blue background and in Santo Loquasto's similarly coloured costumes it was all playfully romantic and it has a joyous conclusion. As expected in a pas de deux there is lots of pirouetting and traversing the stage and the ever-smiley Kang is all skittering feet, allied to a delightful softness and elegant grace. Dato – as accomplished as he was – didn't have the bravura technique to match the dynamism Baryshnikov brought to his solo in a performance you can see on YouTube.
Lucinda Childs's Concerto received its world premiere in Lisbon in 1993 performed by the Lucinda Childs Dance Company and it is the first time a work by this important American choreographer (now 81 years young) has been danced by the Vienna State Ballet and she was there to see it. Concerto lasts barely eight minutes and is danced to Henryk M. Górecki's Concerto for Harpsichord and Strings. It is perpetuum mobile music and movement. It is essentially minimalist and repetitious, though with a variety of moves and rigid geometric formations. The dancers are in black against a background of changing colours and – with bodies stiff, faces emotionless, and often facing upstage – are like spinning tops most of the time. There is definitely a hypnotic quality to Concerto, and it is possible to imagine the dancers carrying on ad infinitum had the music not stopped!
Jim Pritchard
Other Dances
Music – Frédéric Chopin
Choreography – Jerome Robbins
Costume design – Santo Loquasto
Lighting design – Jennifer Tipton
Staging – Isabelle Guérin
Piano – Igor Zapravdin
Dancers – Hyo-Jung Kang and Davide Dato
Concerto
Music – Henryk Mikołaj Górecki
Choreography – Lucinda Childs
Costume design – Anne Masset
Lighting design – Dominique Drillot
Staging – Ty Boomershine
Dancers – Marie Breuilles, Natalya Butchko, Laura Cislaghi, Sveva Gargiulo François-Eloi Lavignac, Duccio Tariello, Daniel Vizcayo
Liebeslieder Walzer
Music – Johannes Brahms
Choreography – George Balanchine
Stage design – Rolf Langenfass
Costume design – Karinska
Staging – Maria Calegari and Bart Cook
Dancers
Claudine Schoch and Roman Lazik (1st Pair)
Elena Bottaro and Denys Cherevychko (2nd Pair)
Liudmila Konovalova and Zsolt Török (3rd Pair)
Maria Yakovleva and Masayu Kimoto (4th Pair)
Singers
Johanna Wallroth (soprano)
Stephanie Maitland (mezzo-soprano)
Hiroshi Amako (tenor)
Ilja Kazakov (bass)
Piano – Stephen Hopkins and Sarah Tysman