Germany Berlin Festtage [5] – Mozart, Don Giovanni: Soloists, Staatsopernchor Berlin (chorus master: Martin Wright), Staatskapelle Berlin / Thomas Guggeis (conductor). Staatsoper Unter den Linden, 17.4.2022. (MB)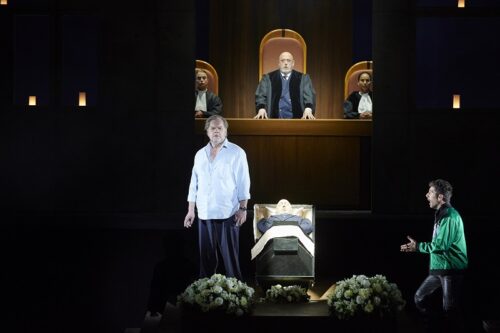 Production:
Director- Vincent Huguet
Set designs – Aurélie Maestre
Costumes – Clémence Pernoud
Lighting – Irene Selka
Video – Robert Pflanz
Dramaturgy – Louis Geisler
Cast:
Don Giovanni – Michael Volle
Donna Anna – Slávka Zámečníková
Don Ottavio – Bogdan Volkov
Commendatore – Peter Rose
Donna Elvira – Elsa Dreisig
Leporello – Riccardo Fassi
Masetto – David Oštrek
Zerlina – Serena Sáenz
Don Giovanni was the first opera Daniel Barenboim conducted: at the 1973 Edinburgh Festival. Nearly fifty years on, this new production was eagerly awaited, if more for Barenboim than for director Vincent Huguet, whose previous contributions towards this Berlin Da Ponte 'trilogy' (reviews here and here) have generally been considered disappointing at best. Alas, Barenboim, whose incendiary conducting of Peter Mussbach's production here on Unter den Linden in 2007 remains one of my Mozart operatic highlights, had to withdraw, replaced by Staatskapellmeister Thomas Guggeis.
Not that Guggeis fared poorly, far from it. In such circumstances, it is difficult to know quite how much is Conductor B and how much is Conductor B leading what is essentially Conductor A's conception. Guggeis had been involved with rehearsals and was in any case due to conduct a later performance. There was certainly no question of 'period' faddism. Possible flashpoints went unscathed, the Overture's opening and the Stone Guest scene itself taken at a well-chosen tempo that enhanced rather than detracted from the depth and grandeur of Mozart's abidingly theological conception. Guggeis always drew something approaching the best from the Staatskapelle Berlin, and generally ensured fire, drama, and where appropriate depth and heft. The all-too-familiar conflation of Prague and Vienna versions was used, but that was not his fault. Damage wrought to the second act was minimised by continuing flow. If, ultimately, there was not that Furtwänglerian Fernhören one would have expected with Barenboim, who is to say what we should have heard in something entirely of Guggeis's conception. Here is a conductor who always impresses; this was no exception.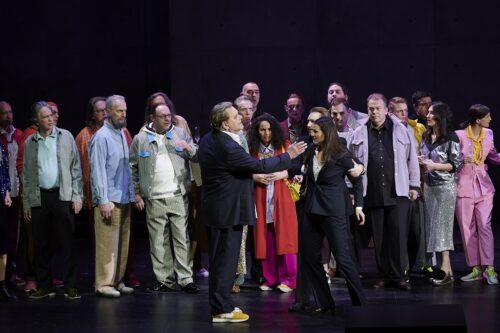 As for Huguet's staging, it made some creditable efforts to connect with what we had seen before, but alternating as they did between vague and specific, without much in the way of rhyme or reason, it was difficult to know what to make of them. It seemed to be set in the present, the baritonal-heroic baton passed slightly awkwardly from Guglielmo to the Count to Don Giovanni. Leporello likewise seemed to be picking up from Figaro and Donna Elvira from the Countess. Whether they were intended to be the same people a generation on, or simply to be read with reference to what had gone before was never clear. On the one hand, there were clear references; on the other, much seemed not to make sense at all when one followed them through. Giovanni was a photographer, or was credited as such, though it seemed to be Leporello who took the photographs — of his master's conquests, of course. Displayed on a tablet, projected onto a screen for the Catalogue Aria, the similarity of their subjects, without exception young, slim, and conventionally good-looking (see also Così) was markedly at odds with the variety of which Leporello sang. Whether this were a deliberate mismatch or mere carelessness was unclear; to be honest, it become difficult to care very much.
Why Elvira briefly became a politician/dignitary, handing Giovanni a prize for his retrospective during the first-act finale, I have no idea; at any rate, she took her wig off — or did she put it back on? — and that line of transformation abruptly closed. I wondered whether there was also a hint at Don Ottavio and Donna Anna reincarnating Ferrando and Dorabella, but perhaps not. A strange gap at the end of the first scene, entirely halting the action for a less-than-necessary scene change, did not do wonders for continuity; perhaps it was a metaphor. Don Giovanni's brief appearance in a coffin, which first I thought was a bath (!) might have seemed suggestive, but it was simply part of an unconvincing move, for no evident reason, to a chapel of rest. And why he, supposedly dead (straightforwardly murdered here) stood around in the wings to watch the scena ultima was never clear either. Perhaps he too was trying to work out whether there had been any meaning to what had just unfolded. (In the programme, Huguet says that the hero died, merely adding to the confusion.) There was little, if anything, in the way of social differentiation, let alone of sin and punishment (that despite the Commendatore suddenly, arbitrarily, becoming a courtroom judge). One might have wondered why Mozart and Da Ponte bothered.
Singing was mostly admirable, though it cannot be said that the production afforded singers much in the way of inspiration. Michael Volle is ever a consummate professional; and so he was here, fully in command of the title role and its demands. Riccardo Fassi's agile Leporello provided vocal complement and contrast, differently dark in hue. Slávka Zámečníková and Bogdan Volkov perhaps lacked a little in dramatic stage presence, but that was as much a matter of the production as anything else. Guggeis might have drawn out the seria distinction of their parts more strongly, but again that would not necessarily have made much sense, given what unfolded (or did not) onstage. They sang well, at any rate, as did Elsa Dresig in a welcome return as a volatile Donna Elvira. If Peter Rose were on occasion slightly woolly as the Commendatore, David Oštrek and Serena Sáenz offered a winningly straightforward peasant couple, physical and vocal selves as one. If an air of missed opportunity proved impossible to dispel, responsibility lay squarely with the production.
Mark Berry