United Kingdom Dvořák, Verdi, R. Strauss – A Gala Evening with Renée Fleming: Renée Fleming (soprano), London Philharmonic Orchestra / Enrique Mazzola (conductor). Royal Festival Hall, London, 22.4.2022. (JPr)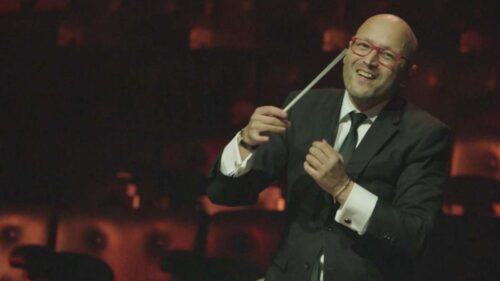 Dvořák – Overture, Othello
Verdi – Ballet Music; 'Willow Song' and 'Ave Maria' from Otello
R. Strauss – Introduction, Moonlight and Finale from Capriccio
Note the title for this concert – 'A Gala Evening with Renée Fleming' – and you might expect what you saw and heard to linger more in the memory than it will prove to, for me at least. We were in the presence of genuine operatic royalty still at the height for her considerable powers in what was a rare visit to London for Fleming and presumably one of the last opportunities for the capital's audience to experience the voice of 'the people's diva'.
The London Philharmonic Orchestra's programme was, however, a mishmash of a largely unknown Dvořák overture, the ballet music and Desdemona's last moments from Verdi's Otello, and some Richard Strauss unfamiliar to many and an especially acquired taste. Fleming was in radiant voice, largely untouched by time, and showed she still retains all of her remarkable abilities to communicate the emotion of a given text. At the end when you fully expected Fleming to enter into the spirit of 'a gala evening' and fully acknowledge the thunderous applause from her admirers in the Royal Festival Hall, there was only one encore. That was Strauss's 'Morgen!' which despite its reflective intimacy and tender longing is accompanied by a mournful sounding violin (exquisitely played by Pieter Schoeman). It was certainly not the uplift I needed at the end of my first visit for three years to hear music live at the Royal Festival Hall.
Dvořák's Othello (1892) is part of a trilogy consisting of overtures the composer originally titled Nature, Life, and Love. They were originally meant to be linked and indeed they all have the same nature theme. Probably to give them a better chance of being performed they were published separately, and Love was retitled Othello. Dvořák seems to have wanted in these three works to illustrate an appreciation of nature, life's joys, and the tragedy that ensues when jealousy ruins what people have gained from all that. I suspect only on repeated listening to Othello would I follow Dvořák's allusions to Shakespeare's original drama. However, amongst much 'borrowed' – and unacknowledged – Wagner in the piece (a few moments of Lohengrin and a great deal of the Tannhäuser Act I Bacchanale) there definitively is the falling 'magic sleep' motif from Die Walküre heard as Desdemona is sleeping and little of the rest of Othello sounds like typical Dvořák.
In order for Verdi to premiere his Otello at the Paris Opéra in 1894 dance music was obligatory. Because it held up the drama in Act III the composer wrote to Giulio Ricordi (his publisher) referring to his ballet music as 'artistically speaking, it is a monstrosity'. Of course in staged performances it is frequently – and quite rightly – cut and is five or so minutes of orientalist hokum totally unrecognisable from the rest of Otello. It was just included in the opera to keep the members of Paris's influential Jockey Club (who Wagner also had to contend with in his time there) happy. Enrique Mazzola and the musicians of the London Philharmonic Orchestra – who were on top form for an amiable conductor they know well – brought a keen sense of drama to the Dvořák and colourful exuberance to the ballet music and this belied the inconsequential nature of both works.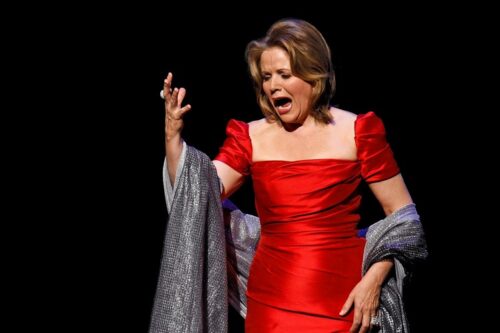 The still youthful sheen and power of Fleming's voice was undeniable in her captivating accounts of the 'Willow Song' and subsequent' 'Ave Maria' from Verdi's Otello. The former was a sorrowful lament but with a hint of steely resolve in the face of death she knows is coming and her prayerful, heart-wrenching 'Ave Maria' culminated in a long-held plangent final 'Ave'.
The Introduction we heard to Capriccio for a sextet of strings is not only the prelude to Richard Strauss's final opera, but also highlights the topic debated in it. Premiered in 1942 Capriccio is an opera about opera, dealing with the dichotomy of words versus music. The curtain will rise and the sextet is still heard as if coming from another room and onstage we would see the Countess's two suitors, Flamand, the composer (representing music) and the poet Olivier (obviously representing words), both eager to learn of the Countess's reaction to the piece. Strauss called Capriccio a 'conversation piece for music' – an unconventional but fairly apt description – and it goes on to deal with an aesthetic question; what is of primary importance in opera, is it the music or the words? The music which is typical Strauss – wonderfully elegant and unashamedly romantic – takes up this topic of conversation in a most imaginative way, enabling the sextet to serve the drama or to be performed on its own. It is Strauss's own Siegfried Idyll with colour, counterpoint and contrasting emotions handled majestically and it becomes clear how music can say things words simply cannot: the LPO sextet were exceptional and virtuosic.
As Capriccio draws to close the Countess walks in the moonlight and Strauss's music sets the scene for when she tries to make up her mind between Flamand and Olivier and so answer the problem they have set her. She finds the choice painful and virtually impossible and it is left to Strauss to provides us with the answer, and as the Countess prevaricates, we appreciate immediately how it is music that wins in the end. Fleming sang this monologue about the indivisibility of words and music with great sensitivity and simply let her voice do all the 'talking'. Her technique remains flawless, however Strauss – with the extreme dynamic range it demands – is perhaps not so easy for Fleming now as Verdi is. Nevertheless her Strauss gained from elements of self-absorption and deeply affecting world-weariness which is what this demanding soprano solo needs. As we know the composer's wife, Pauline, was a soprano and probably not the easiest woman to live with and as a result I am tempted to think that Strauss tried to get his own back on the female voice through his compositions since so many are fiendishly difficult. In accompanying Fleming with conspicuous care, Mazzola and his orchestra played through their own musical arguments fervently yet brought to it the transparent textures needed to reveal its ravishing beauty.
Jim Pritchard