United States Various: Angela Meade (soprano) and Myra Huang (piano). Wexford Festival Opera, Merkin Hall, NY, 15.4.2022. (RP)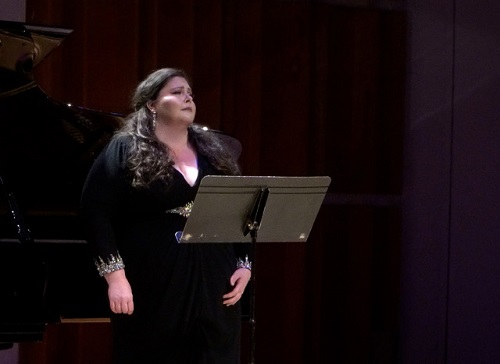 Wagner – 'Dich, teure Halle' (from Tannhäuser)
Meyerbeer – 'Le voeu pendant l'orage'; 'La barque légère'; 'Sicilienne'
Korngold – Drei Lieder, Op.22
Beach – Three Browning Songs, Op.44
Soprano Angela Meade appeared in recital in New York as part of the celebration of Wexford Festival Opera's 70th anniversary. It was the third in a series of four concerts entitled W4WOMEN | AROUND THE WORLD by Eleonora Buratto, Mariangela Sicilia, Ermonela Jaho and Meade in as many cities in Europe and America. All four renowned sopranos had breakthrough successes at the WFO that helped launch their international careers.
Organized in conjunction with the Irish embassies in each of the four host countries – Italy, Russia, America and England – W4WOMEN is both an anniversary celebration and an effort to reach out to audiences in countries around the world by making streams of the recitals available on the Wexford Festival Opera website (click here). Meade's recital was the third in the series, which will conclude with Jaho in London on 20 June.
Opera in Wexford, a town in southeast Ireland, was prompted by a suggestion from Compton MacKenzie to Thomas J. Walsh. MacKenzie was an English-born Scottish writer, cultural commentator, raconteur and lifelong Scottish nationalist, as well as the co-founder in 1923 of Gramophone magazine. Walsh, a medical doctor from Wexford, had studied singing; his PhD thesis became the basis of his 1973 book, Opera in Dublin.
Since the first 'Festival of Music and the Arts' in October 1951, the WFO has evolved into one of the world's leading opera festivals. In 2017, it won Best Festival at the International Opera Awards. From its earliest days, the WFO made a name for itself by introducing audiences to long-forgotten works, many of which have since found a place in the repertoire.
Rosetta Cucchi joined the WFO in 1995 as a répétiteur and became the company's artistic director in 2019. Cucchi, who spoke briefly to the audience, has steered the company though the pandemic. The past two seasons have been a combination of fully staged productions and concert performances of operas, as well as concerts and pop-up events that included music, drama, singing and dance, performed in non-traditional settings around Wexford town. The 71st Wexford Festival Opera will feature Halévy's La Tempesta, Dvořák's Armida and Félicien David's Lalla-Roukh.
Meade made her European debut at WFO in 2010 in Saverio Mercadante's Virginia, which was premiered in Naples in 1866. Since then, the soprano has gone on to perform to great acclaim in star roles with prestigious opera companies on both sides of the Atlantic. Noted for her sumptuous sound and total technical command, Meade did not disappoint in a recital of music by nineteenth- and twentieth-century composers that was ideally suited for her voice and temperament.
The only constraint on enjoying Meade and the superb pianist Myra Huang was the acoustical limitations of Merkin Hall, as both soprano and pianist were on overdrive when it came to enthusiasm and volume. With no texts in the program, it was best to just sit back and enjoy the sumptuous sound that flowed from the stage, beginning with an exuberant, glowing 'Dich, teure Halle' from Wagner's Tannhäuser.
Meade lavished rich, vibrant tone, sweeping phrases and resplendent high notes, whether loud or what passed for soft, on every song that she sang. The highlights were Meyerbeer's 'Sicilienne' in which Meade sang joyously of the beauty of nature; and a rapturous account of Beach's 'The Year's at the Spring' where her exuberance brimmed to overflowing. Details were lost in Korngold's Drei Lieder, but their rich chromaticism and soaring vocal lines are ideal vehicles for Meade's luxuriant soprano, as was the case with her first encore, Richard Strauss's 'Zueignung'.
In all ways, Meade's final encore, 'Art Is Calling for Me (I Want to Be a Prima Donna)' from The Enchantress, Victor Herbert's 1911 operetta, was the most musically satisfying performance of the evening. She pushed aside the music stand and, rather than flooding the hall with sound, sang with a lightness and finesse that had been missing previously. Tossing off delicate trills, rapid-fire runs and brilliant high notes, she reveled in this tour-de-force which is a favorite of sopranos and audiences everywhere.
The vocal and comic gem was also a nice nod to the bond that immigration forged between Ireland and America. Dublin-born Herbert found fame and fortune in America as a cellist, conductor and composer.
Rick Perdian