United States Various, Concert for Ukraine: Dignitaries, Performers, Richard Gere (host). Carnegie Hall, New York, 23.5.2022. (RP)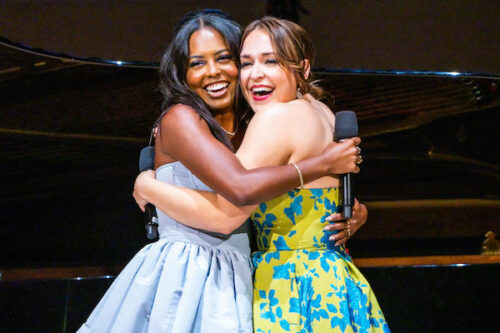 The spirit of the late Leonard Bernstein hovered over Carnegie Hall's Concert for Ukraine. Actor and humanitarian Richard Gere, host of the gala benefit concert, quoted the late composer and conductor in his opening remarks: 'This will be our reply to violence: to make music more intensely, more beautifully, more devotedly than ever before'. Bernstein penned those words immediately after the assassination of President John F. Kennedy in 1963. The extraordinary array of talent assembled by Carnegie Hall for this concert weaponized them in support of the Ukrainian people.
Before any of the dignitaries spoke a word or any of the star performers sang or played a single note, however, the capacity audience at Carnegie Hall stood for the Ukrainian national anthem, 'Shche ne vmerla Ukrainy', which translates into English as 'Ukraine Has Not Yet Perished'. It was sung by Ukrainian Chorus Dumka of New York, conducted by Vasyl Hrechynsky. The singers stood on a stage bedecked with huge bouquets of sunflowers, flanked on either side by the US and Ukrainian flags and beneath the projection of a tranquil scene of a field of sunflowers beneath a sky of blue from which a heart-shaped pieced had been ripped away.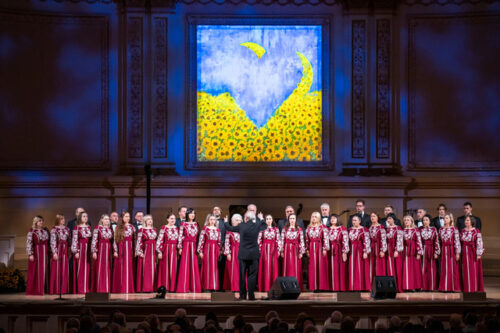 Clive Gillinson, Executive and Artistic Director of Carnegie Hall, welcomed the audience. He thanked all of the performers who had donated their time, as well as Robert F. Smith, Chairman of Carnegie Hall's Board of Trustees, and the other board members for personally covering the costs of the concert so that all proceeds from it could go to Direct Relief, a humanitarian nonprofit organization that provides urgently needed medical supplies to groups on the ground in Ukraine.
The other dignitaries who spoke included Sergiy Kyslytsya, Ukraine's Permanent Representative to the United Nations. In his remarks, Kyslytsya invoked the spirit of Eleanor Roosevelt, a tireless champion of human rights, who too had once stood on the stage of Carnegie Hall speaking out against oppression. Linda Thomas-Greenfield, US Ambassador to the UN, and Earle Courtenay Rattray, Jamaica's Permanent Representative to the UN, who appeared on behalf of UN Secretary General António Guterres, also spoke. All were united in condemning the Russian invasion of Ukraine, which has resulted in a humanitarian crisis on a scale not seen in Europe since World War II.
Ambassador Kyslytsya introduced a prerecorded address by Ukrainian First Lady Olena Zelenska. In addition to describing the horrors of the Russian invasion and the desperate situation in Ukraine, she acknowledged that music has long united Americans and Ukrainians through a Christmas carol: Ukrainian composer Mykola Leontovych composed a melody in 1914 that, with the addition of lyrics by Peter J. Wilhousky, became the ever-popular 'Carol of the Bells'.
The concert opened with Ensemble Connect (a program of Carnegie Hall, The Juilliard School and the Weill Music Institute in partnership with the New York City Department of Education) performing the 'Allegro' from Boris Lyatoshynsky's Ukrainian Quintet. Lyatoshynsky, who was active in the early twentieth century, is known as the father of contemporary Ukrainian music. Ensemble Connect played the driving, almost frenetic music with remarkable precision and intensity.
If anyone needed to be reminded how special Carnegie Hall's acoustics are, Denyse Graves did just that. The warmth and richness of her voice wafted from the stage like a soft cloud of sound as she sang H. Leslie Adams's setting of the Langston Hughes poem 'Prayer' and the spiritual 'Swing Low Sweet Chariot'.
Graves was not the only artist to address the audience, but her words were among the most personal. Her husband, Dr. Robert Montgomery, a leading transplant surgeon, had just returned from Ukraine where he had been volunteering in the country's only remaining transplant facility – all the others had been destroyed in the Russian invasion.
Two other opera stars also performed. Angel Blue sang Richard Strauss's 'Morgen', which begins with the words 'Und Morgen wird die Sonne wieder scheinen', which in English means 'And tomorrow the sun will again shine'. Without pause, Bryan Wagorn played a few rolling chords and Blue began to sing 'Deep River'. Blue's resplendent soprano instilled every word of the spiritual with the utmost of feeling, especially in the final strain in which she sang of 'that Promised Land where all is peace'.
Isabel Leonard sang 'Nana', a Manuel de Falla lullaby, accompanied by Wagorn, who collaborated with several of the artists. He then stepped aside for Mary-Mitchell Campbell and an instrumental ensemble that accompanied Leonard in a peerless performance, both vocally and emotionally, of 'Children Will Listen' from Stephen Sondheim's Into the Woods.
Cabaret singer Michael Feinstein, backed up by a delightful trio of women singers who exuded an infectious, 'pinch-me-because-I-can't believe-I'm-here' vibe, sang Walter Earl Brown's 'If I Can Dream'. If not as honey-voiced as Elvis Presley, who had a hit with the song, Feinstein sang it with equal, if not more, fire and passion.
American mandolinist, singer, songwriter, composer and radio personality Chris Thile instilled British folk legend Richard Thompson's 'How Will I Ever Be Simple Again' with a chilling ferocity. Thile's singing was sweet enough as he sang of a woman who, torn like a rag doll, danced in the rain in a street with guns all around her, but his mandolin playing gave the song an edge that drove home the horrors of war. With this performance, Thile captured in music the images of Ukrainian musicians performing in the streets in front of bombed-out buildings, of which Olena Zelenska had spoken in her remarks.
In contrast, two jazz greats, singer Cécile McLorin Salvant and pianist Sullivan Fortner, performed Stevie Wonder's 'Visions' with smoothness and optimism. Salvant's beaming smile, creamy vocalism and stunning phrases left one believing that a world where hate is a dream and love lasts forever can indeed become a reality.
Two Broadway stars, Adrienne Warren and Jessica Vosk, electrified the atmosphere in the hall. Warren, who has triumphed as Tina Turner on Broadway and in London's West End, sang 'The Impossible Dream' from Man of La Mancha with equal parts introspection and mega-watt star power. Vosk turned Benji Pasek and Justin Paul's 'A Million Dreams' into a soaring anthem of hope through the energy and excitement that has made her a star. Warren and Vosk joined voices in 'The Prayer' by Carole Bayer Sager and David Foster, in a performance that was equal parts wistfulness and magic.
After Midori's performance of Kreisler's 'Rondino on a Theme by Beethoven', as stunning for its simplicity as for the richness of her sound, introspection was provided by Itzhak Perlman and Evgeny Kissin performing the John Williams theme from Steven Spielberg's Schindler's List. Grief has seldom been turned into music as effectively as did Perlman and Kissin in their playing of one of Williams's most memorable melodies.
Kissin was born and raised in Russia and, as a Jew, witnessed firsthand his homeland's xenophobia. He wrote in the program that he is too old to take up arms and fight in Ukraine but is doing everything that he can by sending money and playing in benefit concerts. Kissin performed Chopin's Scherzo No.2 in B-flat minor, and his tour-de-force playing of the powerful coda of the Scherzo brought the audience to its feet.
'Somewhere' from Bernstein's West Side Story, ended the concert. It was sung by a chorus perhaps unrivaled in the history of Carnegie Hall, and made up of opera singers, Broadway stars, cabaret performers, amateur chorus and every other person, save the stagehands, who had appeared on stage for the 100-minute concert. The music performed at this remarkable event won't stop the war, but it will resonate far beyond Carnegie Hall.
Rick Perdian