United Kingdom BBC Proms 2022 [5], Prom 10 – 'Music for Royal Occasions': BBC Singers (chorus master: Martin Fitzpatrick), BBC Concert Orchestra / Barry Wordsworth (conductor). Royal Albert Hall, London, 22.7.2022. (MB)
Bliss – Jubilant Fanfare No.1
Handel – Coronation Anthem No.1, 'Zadok the Priest
Walton – Coronation March: 'Orb and Sceptre'
Elgar – O hearken thou, Op.64
William Henry Harris (arr. Jonathan Manners) – The Windsor Dances
Henry VIII – Pastime with good companie
Britten – Gloriana: Courtly Dances
Parry – Coronation Anthem: 'I was glad'
John Ireland – Epic March
Judith Weir – I love all beauteous things
Byrd – O Lord, make thy servant Elizabeth our Queen
Handel (arr. Hamilton Harty) – Water Music: excerpts from Suite No.1
Vaughan Williams – Silence and Music
Cheryl Frances-Hoad – Your servant, Elizabeth (world premiere)
Elgar – 'Pomp and Circumstance' March No.4 in G major
Having gone to this BBC Prom with an open mind, I am tempted to conclude so much the worse for open minds. Should one keep an open mind about 'Brexit' as living standards plunge, goods disappear from shops, stations and airports overflow, vehicles pile up en route (sorry, 'on the way') to Dover, and so on? Of course not, though the Foreign Secretary Liz 'Pork Markets' Truss's 'innovative' demand that France should sort things out is doubtless worth considering. Certainly France could have sorted out some of this programme: if 'Music for Royal Occasions', where was Versailles, let alone Vienna, Dresden, or Berlin? But really, even were one to take the English/British restriction at face, non-political value, a 'Music for Royal Occasions' that excluded Purcell in favour of William Henry Harris? The programming looked eccentric, but perhaps we should 'make Harris work', 'get Parry done', and so on?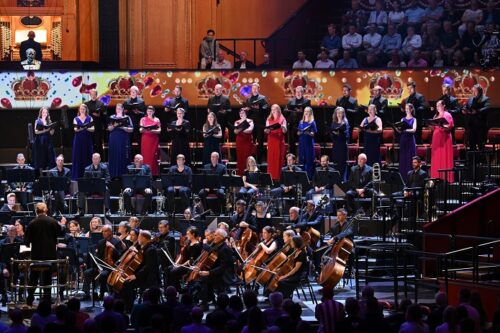 Perhaps. There were, to be fair, some better moments, a good few of them, although the BBC Singers seemed an odd match for the repertoire. A local choral society might have been more apt. The brass and percussion of Arthur Bliss's Jubilant Fanfare No.1, apparently composed for a BBC broadcast of George VI's Christmas speech, made for an effective, even anticipatory curtain-raiser. The contrast with those celebrated anticipatory strings of Zadok the Priest, mercifully free of 'period' affectation from the BBC Concert Orchestra and Barry Wordsworth, worked well and if the performance were a little on the small side for the Royal Albert Hall, one could hear the words, largely thanks to splendid articulation from the BBC Singers. I could have done without the weird twirling crowns behind them, though, presumably set up for Sunday's television broadcast but increasingly aggravating in the hall. Elgar's O hearken thou, written for the coronation of George V, was far more interesting than its monarch. It may be a 'minor' work, but it is a finely crafted one: a prayer, rather than a public profession, and moved through its mastery of harmonic progression both in work and performance. If there is little that cannot be traced back to Mendelssohn or, if not, to Wagner, these are two masters worthy of the utmost respect, and what Elgar does can be reduced neither to influence nor to function. Drums, woodwind, and voices made for a refreshing Pastime with good companie from Henry VIII (so far as we know).
Moreover, in the second half, Byrd's O Lord, make thy servant Elizabeth our Queen, from about the time of his appointment to Elizabeth I's Chapel Royal, came as a relief in every sense: neither simpler nor more complex, shorter nor longer, than needed be, a jewel that gleamed even in a setting to which it was hardly suited. In the circumstances, a relatively 'neutral' performance from the BBC Singers was no bad decision, more or less allowing the illusion of words and music 'speaking for itself'. A little later, the evening's commission, Cheryl Frances Hoad's Your servant, Elizabeth, took Byrd's words and music and refracted them through a twentieth-century aural lens, various elements, different tonalities included, intelligently set in counterpoint (literal and metaphorical) with one another, imparting also a sense of Anglican versicle and response. More of this spirit would have been welcome. In between, an outing for Vaughan Williams's Silence and Music, written for an Arts Council set of part-songs for Elizabeth II's coronation, revealed harmonic oscillation and persistence in happy alliance with thoughtful English word-setting.
One could even have waved through Walton's Orb and Sceptre Coronation March. Its opening, after all, breathed the air of a post-war, televisual age. The reprise, however, of that opening more than outstayed its welcome, and the composer's typical self-satisfaction soon had one realise this was music that, a certain technical skill notwithstanding, was all surface — without that surface ever approaching that of, say, a Ravel. Walton came across as a kindred spirit to Webern, though, by comparison with the aforementioned William Henry Harris, whose Windsor Dances, receiving their first and, let us hope, last performance at the Proms, barely attempted, let alone achieved musical interest. It was plausible enough to imagine them 'inspired' by our current Head of State. The titles of these mercifully brief orchestral arrangements from piano duet pieces — 'Castle Walls', 'Down by the River', 'At a Canter' — said it all.
The same drum used to announce Henry VIII's contribution did so for Britten's 'Courtly Dances' from Gloriana. The opera has its devotees, I know, making typically extravagant claims for it, but these dances are thin gruel, far from helped by a pretension that the material cannot and does not justify. I thought the Pavane would never end. The Lavolta was at least a little more colourful, though a programme description of it as 'fiery' bewildered. Maybe the performance was lacking, for it sounded about as fiery as, well, Elizabeth II. Alas, Judith Weir's strangely inconsequential I love all beauteous things, written for the Queen's ninetieth birthday, also seemed to have its dedicatee in mind. Harris, I suppose, had not even managed the 'strangely' part.
John Ireland was certainly capable of writing music of interest, especially for the piano. His Epic March, though seemingly played well, proved utterly devoid of musical interest. Intended, apparently, as wartime propaganda music, it seemed more likely to disillusion those poor souls on the Home Front fated to endure it. And where — I should have asked this earlier — was even a desultory nod towards decolonisation? Place these pieces in some sort of counterpoint with a wider world, especially a wider world brutalised by the empire they (often) hymned, contrast them with other 'royal' music, even simply choose better examples: but this, really? Did anyone seriously think it worth of revival; and, if so, why?
Hamilton Harty's Handel may sound intriguing on paper, but rarely has it emerged with the courage of convictions. Wordsworth here seemed curiously tentative, as did the orchestra. The abiding impression left would probably have been that the 'authentic' movement had a point, which is surely to have missed the point. If one wants Handel-Harty, one should go to Georg Szell. Even Elgar's Fourth Pomp and Circumstance March was treated with kid-gloves. What initially sounded as though it might have offered a fresh look, inspired by Mendelssohn-like lightness, turned out merely to be glib and, reading between the lines, a little embarrassed by it all. Lack of sentimentality was welcome; what stood positively in the performance's favour remained unclear.
I have saved nearly the worst (after Harris) until last: Parry's execrable I was glad, which manages somehow to be both vulgar and tedious. (I see it was revived for the marriage of Prince William and Kate Middleton, which again makes a sort of grimly apt sense.) Here the clash with the BBC Singers seemed strangest, a mismatch that certainly did not reflect badly on them. What empty, shop-worn rhetoric, and to what end? Pierre Boulez once referred to Shostakovich's music by way of an olive-oil metaphor: a third pressing of Mahler. This sounded like a fifth of an already bowdlerised Victorian-Edwardian Brahms. It was as dull as ditchwater. All hail the House of Saxe-Coburg-Gotha/Windsor.
Mark Berry