United Kingdom BBC Proms 2022 [24], Prom 57 – Bach's Mass in B minor: Rachel Redmond, Mary Bevan (sopranos), Iestyn Davies (countertenor), Guy Cutting (tenor), Matthew Brook (bass), Choir of the Age of Enlightenment, Orchestra of the Age of Enlightenment / John Butt (harpsichord/conductor). Royal Albert Hall, London, 29.8.2022. (CK)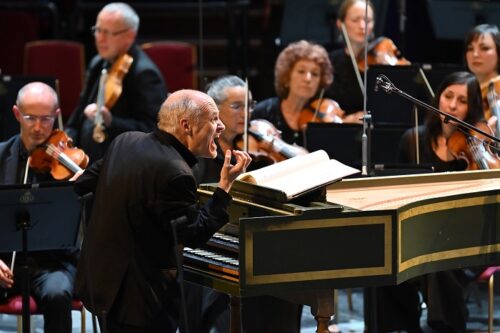 A great cry of 'Kyrie!' summons our attention; then Bach's wonderfully transparent fugue (Donald Tovey compared it to watching the wave patterns in Brodick Bay from the shoulder of Goatfell) gets under way. In this BBC Prom performance John Butt took it at a flowing pace – a notch slower than is John Eliot Gardiner's wont, perhaps, but certainly sprightlier than the lumbering tempo adopted by Otto Klemperer in the recording through which I originally got to know this work.
Butt is quoted in the programme: 'If any piece of classical music can be considered universal, I think it is the Mass in B Minor. It goes down so well across a wide range of cultures.' And yet it challenges us as listeners: we have to forget the assumptions bred in us by the music of the intervening centuries – Classical, Romantic, post-Romantic – and, in doing so, we find ourselves unable to account for the greatness of this collection of pre-composed, adapted and newly-composed musical settings of the Catholic Mass by a devoutly Lutheran musician.
We are by now well used to modern performance practice. The challenge of performing the Mass in a great barn of a place like the Royal Albert Hall poses problems: these were well solved by Butt's use of an orchestra of just over 40 and a 50-strong choir, ensuring clarity, flexibility and – where needed – sufficient heft. The Orchestra of the Age of Enlightenment's use of period instruments was a continual delight: particularly the quartets of flutes and oboi d'amore, whose mellow sounds have an effect on the senses comparable to the ripple of running water.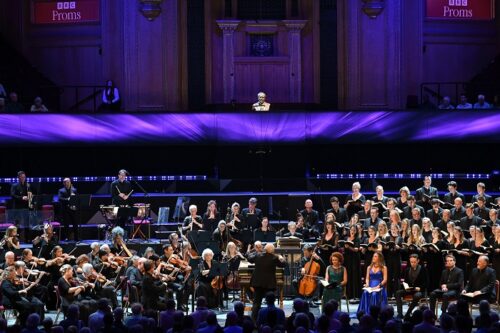 It goes without saying that the obbligato playing throughout was splendid – including Roger Montgomery's bold corno da caccia in Quoniam tu solus sanctus. In one of the later movements – culpably, I cannot recall which – there was an engagingly busy accompaniment on a double bass with the two bassoons. The choir was beyond criticism: light and athletic in Cum Sancto Spiritu, sensitive and responsive to the central mysteries of the Credo, stirring in the grandeur of the six-part Sanctus. The soloists were equally fine: the sopranos Rachel Redmond and Mary Bevan chasing each other deliciously through the Christe eleison, tenor Guy Cutting graceful in the Benedictus. Bass Matthew Brook was indefatigable in the low-lying runs of Quoniam, elegantly lyrical in Et in Spiritum Sanctum.
In his marvellous book on Bach (Music in the Castle of Heaven), John Eliot Gardiner writes of a much earlier work – the Actus Tragicus – as 'music of extraordinary profundity' which 'comes close…to piercing the membrane of awareness that separates the material world from whatever lies beyond it'. This Prom performance of the Mass in B Minor came closest to this not in the great choral moments, but in Qui sedes (with obbligato oboe d'amore) and the Agnus Dei, Iestyn Davies's countertenor penetrating the furthest reaches of the hall with unforced purity of tone. And then the return of the sublime music of Gratias agimus tibi, set this time to words we can all sign up to – Dona nobis pacem – as the trumpets soar once more like seraphim, and the last emphatic crack of the timpani leaves us wondering where the passage of two hours has left us. Gardiner quotes György Kurtág: 'Consciously, I am certainly an atheist, but I do not say it out loud, because if I look at Bach, I cannot be an atheist. Then I have to accept the way he believed.'
Chris Kettle